Buzz about American Idol — Season 8
By Dr Matt
Top 13 Contestants
Dr Matt's weekly review of American Idol from the Top Thirty Six Singers to the Final Two:
36 - 1 36 - 2 36 - 3 Wild Card 13 11 10
9 8 7 6 5 4 3 Final 2
Hello American Idolaters:
Surprise, surprise . . . we've got a Top 13 this year! On the surface, it appeared to be a popular decision that Anoop was added to the mix; amazingly, Mr. Desai is the leading vote getter in a popularity poll of 11,085 voters at Rickey.org
But those were the poll numbers BEFORE Anoop sang "Beat It" on Michael Jackson night — the Judges did not like his performance. My how things can change in 24 hours: now in another Rickey.org Poll, Anoop is ranked #3 most deserving of "the boot" with 16% of the vote, Jasmine Murray is #2 with 23% of the vote, and Jorge Nunez is the #1 ranked contestant/victim mostly likely to be kicked to the curb.
Ricky.org's Poll is not exactly a random sample that will match all of America's sentiments, but this Poll at least give you something to talk about.
Top row: Allison, Scott, Jasmine, Alexis, Megan, Danny, & Adam
Front Row: Kris, Jorge, Michael, Anoop, Matt, and Lil
Tuesday, March 10th, 8:00 pm EDT = Ricky.org Poll
Who's your Favorite Idol?
13. Michael Sarver 1% 87
12. Jasmine Murray 1.7% 183
11. Jorge Nunez 2% 228
10. Scott MacIntyre 2.7% 298
9. Alexis Grace 3% 324
8. Lil Rounds 5% 556
7. Allison Iraheta 6% 625
6. Megan Corkrey 6.8% 755
5. Matt Giraud 7% 801
4. Kris Allen 8% 854
3. Adam Lambert 16% 1750
2. Danny Gokey 17% 1832
1. Anoop Desai 25% 2792
Total = 11085 votes
Tuesday, March 10th, 8:00 pm EDT = America Online Poll
From the Lowest to the Most Votes:
13. Michael Sarver
12. Lil Rounds
11. Jasmine Murray
10. Matt Giraud
9. Scott MacIntyre
8. Jorge Nunez
7. Alexis Grace
6. Megan Corkrey
5. Allison Iraheta
4. Kris Allen
3. Anoop Desai
2. Danny Gokey
1. Adam Lambert
Dr Matt's Red-Hot ReCap:
Pre-show, Lil Rounds was #12 in the AOL Poll, . . . but after her singing performance, and a little time for America to realize how good she is, especially in comparison to other Idol contestants, Lil has moved up four spots to #8. Based upon her ample singing talent, it hard to imagine Lil Round being in the bottom 3 after tonight's show. She's one of the older performers, and it may be that the "youth" vote is NOT swinging her way.
Also, AOL voters have cooled off slightly on Anoop Desai, and decided that "Beat It" was a little too "Karaoke" . . . so he's slipped one notch down to #4 one day after, and then slipped again to #5 two days after — still a ridiculously HIGH ranking for the guy who butchered "Beat It," and took us all to Karaoke Hell while doing it.
I expect Lil Rounds to be far from elimination for many weeks to come. Her vocal talent is good enough to take her to Top 5-dom — but the burning question is . . . does America like her (beyond her singing ability).
In the exact opposite analysis, Megan Corkrey has great popular appeal with the audience, and it's not about her singing which is enthusiastic, but average as to technique — still, quirky Megan does have a charm that appeals to a large audience (according to dozens American Idol Blogs).
Dr Matt's Red-Hot Rankings from Less to Best:
13 - Jasmine Murray — "I'll Be There"
Home Town: Starkville, Mississippi
Audition City: Jacksonville, Florida
Pageant-like performance. Not enough passion and soul in this performance — like Alexis and Allison were able to deliver. Jasmine could be the very first one OUT. Good singer compared to thousands of other singers, but when compared to the rest of the Top 13 . . . she's doesn't stand out. Prediction for the season: 13 or 12
12 - Jorge Nunez — "Never Can Say Goodbye"
Home Town: Carolina, Puerto Rico
Audition City: San Juan, Puerto Rico
The first few bars of this song were enough to make me hurl my lunch: play it back, and you'll see what I mean. Jorge took us all to Lounge-Singer-Hell. Judges have previously praised this Spanish-accented singer from Puerto Rico, but his popularity is waning after this bland performance on Michael Jackson Night. Season prediction: 12 or 11
11 - Michael Sarver — "You Are Not Alone"
Home Town: Jasper, Texas
Audition City: Phoenix, Arizona
The Oil Rigger from Texas sings surprisingly well. On this song, the Judges gave him good reviews, but compared to the rest of the competition, Sarver is NOT going to last in this competition. He's a nice guy with nice voice, suited for country singing. Unless the Texas vote can save him, he should be out early. Season prediction: 11 to 9
10 - Anoop Desai — "Beat It"
Home Town: Chapel Hill, North Carolina
Audition City: Kansas City, Missouri
Anoop make the huge mistake of taking on a song that, Michael Jackson — the Icon, the King of Pop — totally owns. This means Anoop Dawg came up short, big time, and took us all to Karaoke Hell while doing it.
Season prediction: Anoop's early popularity should deteriorate the more he sings, and the MORE his talents are contrasted against those competitors who will out last him — singers who are better. Anoop should be tossed in the trash at 8 or 7
9 - Alexis Grace — "Dirty Diana"
Home Town: Memphis, Tennessee
Audition City: Louisville, Kentucky
Alexis sang Dirty Diana with power and passion. The Judges thought she over-sang it; I wonder if Alexis-voters will get messed up with the unusual call-in number . . . IDOLS-36. The Judges have proclaimed Alexis as a dark horse. I don't think she has the personality to capture America's fascination. Season prediction: eliminated from 7 to 5
8 - Matt Giraud — "Human Nature"
Home Town: Kalamazoo, Michigan
Audition City: Louisville, Kentucky
Matt sings best when he's singin' the blues. I liked his piano licks to open the song. Nice performance. Matt is a white version of Ray Charles: Great piano player and soulful singer. In the end, there are too many singers that America will like MORE. Happy for him: Matt should make the American Idol Top 10 tour. Season prediction: 10 to 7
7 - Kris Allen — "Remember the Time"
Home Town: Conway, Arkansas
Audition City: Louisville, Kentucky
I agree with Randy Jackson on this one. This song and guitar strumming do NOT go very well together. It was kind of awkward on that level. Yet, Kris' sunshine personality sold the song anyway. I liked his performance overall.
Season Prediction: Kris seems to have appeal with the ladies! But then again, all the young girls of America just discovered that HE'S MARRIED. Talented guitar-player with an upbeat personality. Bye, bye Mister Nice Guy at 4 or 5
6 - Megan Corkrey — "Rockin Robin"
Home Town: Sandy, Utah
Audition City: Salt Lake City, Utah
Megan Corkrey has shown a lot of originality, and she's totally embracing the quirkiness, and talk about uninhibited: Megan made bird noises at the end of "Rockin' Robin" — throw caution to the wind girl! That's Totally Megan! the pre-song build-up was touching. She loves her 2-year-old son a lot, and her mom is a beautiful lady! Not a great singing performance, but her enthusiasm and uniqueness is entertaining. It was memorable!
Megan will be the "pretty girl who gets far on her looks" with average yet enthusiastic singing ability. The judges adore her and it appears America does too. She's ranking HIGH in the AOL American Idol Poll (currently #4 72 hours after the Top 13 Show). Season prediction: Megan gets kicked to the curb from 6 to 4
5 - Allison Iraheta — "Give In To Me"
Home Town: Los Angeles, California
Audition City: San Francisco, California
The Judges like her singing talent a lot: they think this girls got great singing chops. I agree mostly, but I think Allison is an "over-singer" — power and push seem to be her style thus far. In the end, Allison is personality challenged: the more she just smiles and keeps her mouth shut, the farther she will go. Season prediction: eliminated at 5 or 4
4 - Scott MacIntyre — "Keep the Faith"
Home Town: Scottsdale, Arizona
Audition City: Phoenix, Arizona
Simon said of Scott's performance: "It's fine being artistic, but not on this show." What a curious comment from Mr. Cowell. Sometimes ballads work, and sometimes they bore the heck out of the audience. I enjoyed Scott's artistry completely. He sang the song with great sensitivity and believe-ability! His piano playing intro was impressive! Nice job Scott.
Season prediction: Scott will exit gracefully after competing admirably. Ultimately, America will judge him on his singing and piano playing ability, and not upon his disability. Final finish: 9 or 8
3 - Lil Rounds — "The Way You Make Me Feel"
Home Town: Memphis, Tennessee
Audition City: Kansas City, Missouri
Pleasant performance. She started off the show with pizzazz! But it was a little safe and predictable — because we know she can do so much more. She needs to go out of her comfort zone in future performances. Nice quote from the mother of three . . . from Tennessee: "The day you let go of your dreams is the day you let go of your life."
Season Prediction: At least Top 3 for this powerful singer. Yet, I think America will ultimately embrace the personality of another competitor, more. But time will tell if the way a person actually PEFORMS and SINGS from week to week makes a difference? Nice finish for Lil Rounds: 3 to 1
2 - Danny Gokey — "PYT"
Home Town: Milwaukee, Wisconsin
Audition City: Kansas City, Missouri
While some thought his dancing was like a "drunk uncle at a wedding," that thought never crossed my mind. Danny's dancin' moves were no distraction from his singing performance, and I should know: Coz Dr Matt knows Dance. The Church Music Director from Milwaukee sang the Heck out of this song!
Season prediction: Paula proclaimed him as a sure-fire finalist. I think he could win the whole thing. As the week's go along, the picture will get clearer, but Danny is destined for Top 2-dom. final finish between 2 & 1
1 - Adam Lambert — "Black and White"
Home Town: Los Angeles, California
Audition City: San Francisco, California
Adam is so over the top it when he sings, that he's casts a surreal spell over the audience that is kind of awesome! You're saying to yourself: Did he just do that? Was he really screaming at the top of his lungs? Adam owns the stage.
Season prediction: I'm thinking Top 2 for Adam as well. But he will need to demonstrate some singing versatility to be the American Idol. So far, his screaming-rocker riffs are fantastic. He should be the American Idol, or at least the runner-up: 1 or 2
* * * * * * *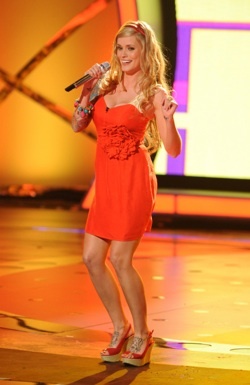 Megan has many fans. She is currently ranked #4 in the
AOL American Idol Poll — best among female contestants
Who's going home tonight?
Because I watched American Idol via DVR, I missed the 5 minutes that when "over-time," so I heard through the grape vine about a surprise . . . a twist in the A. I. Rules! Speculation is that America's popular vote might be over-ruled by the Judges?
If the Judges/Producers are UP TO dirty tricks again, they might over rule America's vote and SAVE a certain contestant that they WANT to have more TV time — for whatever reason (usually it for better marketing and money).
American Idol Producers did their best to make the Top 13 a little LESS Caucasian, by adding Jasmine Murray? If A. I. needed to fill a quota with a singer of color, there was an obvious choice more deserving: the gal with the great legs, Jeanine Vailes. But I suspect that Vailes was not young enough.
The A. I. Producers know the demographic that they are selling to, and I suspect that demographic is young! Anyway, Jasmine Murray should be scheduled for early EXIT, based upon her lack-luster performance — amid many other singers who shined brighter.
Along with Jasmine, the most likely contestants to be booted are Jorge Nunez or Michael Sarver. With speculation running wild on the new "rule twist," maybe the Judges will bestow themselves with the power to toss out 3 contestants this week (instead of 2), and bring back Tatiana?
We'll see what happens?
Top 13 Results Show: which Two Contestants get Tossed in the Trash?
Adam is one cool customer! Very poised and gracious at the announcement of him moving on to the next round. Of course, Adam, along with Danny Gokey were the TWO most obvious contestants NOT in danger of elimination.
You must listen carefully to the words that come out of Ryan Seacrest's mouth: At no time did he say that Megan or Anoop were in the bottom three or four. He simply asked them to come out on the floor and stand beside another contestant who truly was in the bottom two, for sure — because they ultimately went home.
The elimination pairing of Megan with Jasmine was totally a Bottom-2 Illusion. Megan was put there simply to appease viewers that consider her singing to be Bottom-2-worthy (and maybe it is), but this apperant "bottom 2" also bolsters singing-competition credibility. Yet, there is NO WAY that Megan was in the bottom 2, 3, or 4 — she's too popular at this point.
Megan was ranked #6 in the AOL Poll pre-top-13-show; then, her popularity grew even more 72 hours post-show: she's amazingly moved up to the #4 position — the population of Utah is NOT large enough to sustain that kind of ballot-box stuffing, so her popularity must be wide spread.
Along with singing-competition credibility, I believe that the A. I. Producers put Megan in the Bottom Two, to server their own marketing/money purposes: They want Megan to make the A. I. tour so they can sell her infectious personality and great looks. This means, that the Bottom-2 Illusion was intended to SHOCK millions of Megan Fans into voting even MORE for her next week, thus securing her position in the Top 10 and the A. I. Tour.
To give this singing competition further credibility as a singing competition, A. I. also paired up Jorge Nunez with Anoop — because Anoop Dawg's singing performance was suspect. However, by no stretch of the imagination is Anoop Desai in the bottom 3 or 4 — he's waaaaaay too popular.
Pre-show Anoop was #3 in the AOL American Idol Poll. Over the years, this AOL Poll has been a pretty good indicator, with few exceptions (72 hours post-show, Anoop has slipped to #6) — which is STILL an over-rated position compare to the merits of his singing performance. His friends at Chapel Hill are clearly stuffing the ballot box.
After a little suspense spun by the great Elimination Master, Ryan Seacrest, . . . Jasmine and Jorge are unceremoniously kicked to the curb. After explaining the NEW RULE to America, the Show did a pretty UN-gracious, awkward job of applying it!
Here's the NEW RULE: If the Judges, by unanimous vote, view that a particular singer is eliminated prematurely, they can exercise ONE SAVE per season. But this SAVE only applies to the elimination of contestants from 12 through 6.
It's NOT that America got it Wrong and thus must be over-ruled, but the new rule is in place for cases when America ASSUMES that someone was soooo Good that they didn't need to vote for them. Thus, the rule is about giving the Judges power to protect a contestant that clearly has public popularity AND great singing ability. Here are some examples of "premature" elimination from previous seasons:
Season One: Tamyra Gray voted off at #4 of 10 total contestants
Season Three: Jennifer Hudson voted off #7 of 12 contestants
Season Five: Chris Daughtry voted of at #4
Season Seven: Michael Johns voted of at #7
The NEW RULE would NOT have been applied to the elimination of Chris Daughtry and Tamyra Gray (even though they were both mentioned in the justification of the new rule) — they were eliminated at #4, and the rule does NOT apply to the final #5 contestants.
This New Rule is might be called: the Jennifer Hudson or Michael Johns Rule.
The American Idol Producers may have put this rule into place after seeing Lil Rounds' early Poll numbers — which are NOT proportionate to her ample talent. Hours before the Top 13 Show, Lil Rounds was in the 12th position (2nd from the bottom) in AOL's American Idol Poll. 72 hours post-show Lil Rounds is in 7th place.
If the New Rule is invoked this season, Lil is the most likely beneficiary, because she is obviously great as a singer and performer, but her Poll popularity is lagging.
Back to the ABRUPT application of the rule. As Jorge stands on the big stage, like a "deer in the headlights," Ryan announces: "Simon, will the Judges save Jorge?" Simon loudly croaks his answer like a grumpy bullfrog: "NO!" In retrospect, A. I. might have had Paula handle the application of this New Rule on its maiden voyage; because she has a tendency toward softer words.
Yet, Simon Cowell's UN-gracious bullfrog blast at "deer in the headlights" Jorge, gives America something to talk about at the water cooler tomorrow, and it sells more tickets to the Freak Show that Simon creates with his brutal bluntness.
:o)
Dr Matt
P.S. Here's ALL of the 36 contestants of American Idol Season 8. Take one last look; you are likely to forget most of them in the coming days (if you haven't already) — their 15 minutes of fame has run out. I'm already saying Jorge Who?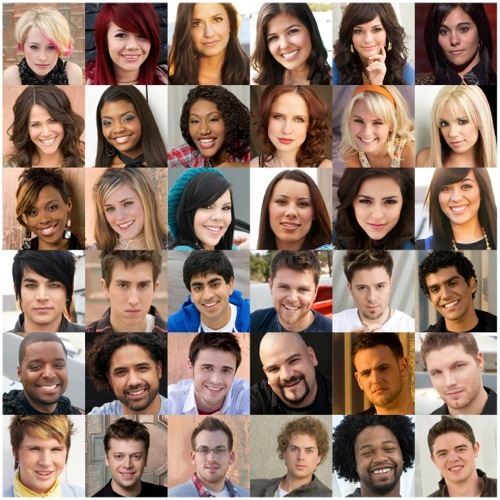 From Left to Right & Top to Bottom — Alphabetical by First Name:
Row 1: Alexis Grace* Allison Iraheta* Anne Marie Boskovich Arianna Afsar Casey Carlson Felicia Barton
Row 2: Jackie Tohn Jasmine Murray # Jeanine Vailes Jessie Langseth Kendall Beard Kristin McNamara
Row 3: Lil Rounds* Megan Corkrey # Mishavonna Henson Stevie Wright Tatiana Del Toro Taylor Vaifanua
Row 4: Adam Lambert * Alex Wagner Anoop Desai # Brent Keith Danny Gokey* Jorge Nunez*
Row 5: Ju'not Joyner Kai Kalama Kris Allen* Matt Breitzke Matt Giraud # Michael Sarver*
Row 6: Nathaniel Marshall Nick Mitchell Ricky Braddy Scott MacIntire* Stephen Fowler Von Smith
* Finalists chosen by America's popular vote
# Wild Card Finalists chosen by the Judges = Top 13
Next Tuesday is Grand Ol' Opry week; it should be VERY interesting to see Adam Lambert's interpretive twist on a country tune? Check out American Idol's -----> Top 11