Buzz about American Idol — Season 8
By Dr Matt
Top 36 Group #3
Dr Matt's weekly review of Americal Idol from the Top Thirty Six Singers to the Final Two:
36 - 1 36 - 2 Top 36 - 3 Wild Card 13 11
10 9 8 7 6 5 4 3 Final 2
Aloha, Idol Worshippers:
One singer stood out above the rest this week, and I believe she's a LOCK to make the final 12: Lil Rounds. the Am. Idol Producers helped the audience figure out how GREAT she is . . . by putting her in the coveted Pimp Spot!
Lil Rounds blew away the competition in Group #3
Dr Matt's Red-Hot Rankings
3 Best Girls:
1 - Lil Rounds — "Be Without You"
Home Town: Memphis, Tennesee
Audition City: Kansas City, Missouri
Lil Rounds was by far the BEST singer of this evening! She even looked stylish with her yellow and black outfit! She brought the whole package tonight! I can't see her NOT making it to the Top 12.
2 - Kristen McNamara — "Give Me One Reason"
Home Town: Napa Valley, California
Audition City: Louisville, Kentucky
Kristen McNamara sang "Give Me One Reason." This girls got serious singing skills. Judge Kara calls her a "great singer." I think she delivered a vocal performance on par with Alexis Grace, BUT without the passionate visual performance that Grace gave; and on this basis, many Americans might find her performance persona lacking. Again, her vocals are absolutely good enough to make it to the final 12 — but will America see it this way?
3 - Felicia Barton — "No One"
Home Town: Virginia Beach, Virginia
Audition City: Louisville, Kentucky
Felicia Barton sings a song she's very comfortable with: "No One." Here a YouTube clip of her singing this Alicia Keyes Song. She's a good enough singer to make the final 12, but so is Kristen McNamara — both could be left out of the finals, with the Texas cutey, Kendall Beard, garnering the popular vote?
3 Best Guys:
1 - Von Smith — "A Song For You"
Home Town: Kansas City, Missouri
Audition City: Kansas City, Missouri
Von Smith sang "You're All I Need To Get By" — this guy can definitely sing. He hit every note right on — no pitchiness — and this among numerous runs and vocal embellishments. Impressive. Simon compared him to Clay Aiken, which was a high compliment, given Aiken's success. I didn't really want to like this contestant, because his facial expressions while singing, really make me squirm, but I can't deny his singing talent. Excellent singer!
2 - Jorge Nunez — "Don't Let The Sun Go Down On Me"
Home Town: Carolina, Puerto Rico
Audition City: San Juan, Puerto Rico
Jorge Nunez picks a sleep-inducing ballad: "Don't Let The Sun Go Down On Me." Even though this song choice was a real YAWNER, his natural talent shine through. But, in my view, he didn't play to his strength: which is his Latin flavor. He tried to TAKE OUT his Latino accent based upon what the Judges said previously. Now, Simon adivises hit to bring back the Latin accent— I agree! The Judges did their best to encourage America to vote in a Latino competitor. We'll see! I can see him in the finals. I think he's got lots of natural talent. But will American agree?
3 - Scott MacIntyre— "And I Am Telling You, I'm Not Going"
Home Town: Scottdale, Arizona
Audition City: Phoenix, Arizona
Scott MacIntyre performed "Mandolin Rain" with great passion. I tried to evaluate his singing apart from knowing that he's blind. I just closed my eyes and listened to his voice. Honestly, he's not as technically talented as Von or Danny Gokey or Adam Lambert, but he's going to get the sympathy vote, and Simon led that movement by his encouraging comments. I'm tempted to give him a vote or two, just because he's overcoming a his disability. But in the end, that shouldn't be the basis for making the final 12.
Dr Matt's Buzz about the other contestants in Group #2 - Top 36
Taylor Vaifuana sang "If I Ain't Got You" and was criticized for singing the SAME song as she did in Hollywood week. I agree, every contestant needs to continually preform FRESH songs and show versatility. It's nice to see a genuine amateur performer have her chance on the BIG stage: Taylor V. is a real high school student from Hurricane, Utah. But, unless her school-girl innocence clicks with millions of Americans . . . she's a goner. Her performance of this Alicia Keyes song was not as polished as the other contestant that sung an "Alicia" song — Felicia Barton. But Barton IS a pro singer, and NOT a high school student.
Alex Wagner-Trugman is a pretty good singer when you close your eyes and just listen. Alex W-T performance of "I Guess That's Why They Call It The Blues" was pretty darn good. But that "hawking-up-a-loogy" sound has GOT TO GO! Kara even called him on his spit-filled, growling sounds. Simon said Alex was like a Hamster trying to be a Tiger. Visually, this guy just doesn't have the LOOK; his skinny, nerdy look is definitely NOT American-Idol-icious! Listen to Alex do his gargle-ing growl set up your spit-guard first.
Arianna Afsar chose an Abba song: "The Winner Takes It All." Weird song choice! Last note was on the verge of screaming. The judges didn't like it: they described it as "dark" "gloomy" "awful." She's GONE! At age 16, she's very cute and talented. You wonder if talent like this would be better off trying out a few years later . . . giving the voice and the performance persona some time to mature?
Ju'Not Joyner sang "Hey There Delilah" in Hollywood week, and was called out by the Judges for singing the SAME song. But different from Taylor V., Ju'Not changed up the arrangement enough to make it interesting. I liked his singing a lot, but listening to this slow ballad on replay . . . was like taking a sleeping pill. I'm guessing most Americans will fall asleep when it come to voting for him.
In previous seasons of American Idol, the Judges (and/or Producers) seemed to try for a balance of singing-genres (Rock, Country, Pop) and a reasonable distribution of race. This year, the distribution is left up to the audience. This means, regardless of what ethnic background you come from . . . it all about singing—bottom line! Ju'Not did not stand out enough to make it in my view. In contrast, Lil Rounds DID stand out BIG TIME and would have made it to the final 12 regardless of whether she was black, green, red, or yellow. And the same is true for Alexis Grace.
It's good that racial quotas are not a consideration (if they ever were), because this is a singing competition, where GREAT singers like Fantasia Burrino and Carrie Underwood win based upon their singing talent.
"This One's For The Girls" was performed by Kendall Beard — a song that fits her perfectly. Kendall is NOT a strong singer, but she has "commercial" appeal similar to season 7 performer Kristy Lee Cook. Kendall is the only female country singer to make it this far. I think there are better singers, but I would not be surprised if she makes it through to the next round.
Under the selection system of previous years, the American Idol Producers bent over backwards to "cast" a collection of singers that represented various musical genres. This means, they would look to fill a spot for a country singer, a rock singer, a blues singer, etc. But this year, America is going to have its way by selecting the contestants they like best from 3 Groups of 12.
Nathaniel Marshall gave a ghastly performance of "I Would Do Anything For Love." The Judges were mildly complimentary, which I didn't understand at all? I'm thinking he's gone! He just didn't stand out, at the vocal technique level, as other singers did, like Von and and Jorge.
* * * * * * *

Predictions:
It's pretty obvious that Lil Rounds will be IN the Top 12. And the BEST male singer, in my view was Von Smith, but I'm wondering if America is going to like him — apart from his excellent vocal skills? The Top Male spot could go to Jorge Nunez, or possibly Scott McIntyre — if America goes with the sympathy vote (which they very well could). And if the NEXT hightest vote getter is a GUY, for the 3rd week in a row, we'll know that the majority audience watching American Idol . . . IS girls! Although I like Kristen McNamera's voice a little better, Felicia Barton brings a more polished package, when you add in the visual performance.
And if this is the case, I see the Wild Card Spots being filled by more girls than guys . . . and the Judges and Producers try to deliver gender equality — gender quotas if you will. You see, this will be the FIRST year that the Top 12 is NOT 6 girls and 6 guys — if the Judges don't choose three girls to fill the Wild Card Spots. Honestly, they shouldn't be considering gender at all, . . . just singing! We'll see how it shakes out!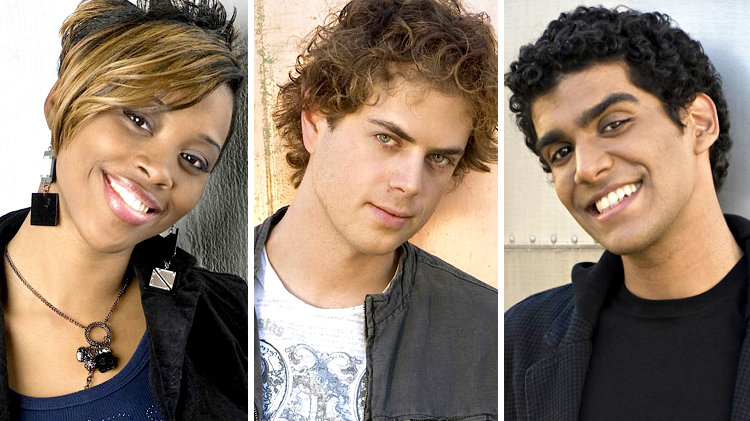 From Left to Right: Lil Rounds, Scott McIntire, and Jorge Nunez
Dr Matt's Results Show Recap
The elimination among the 1st Group of 12 of the final 36, was an EXTREMELY predictable process. The 2nd elimination show last week was much more interesting! Now were back to Naseatingly Predictable.
They start with a quick announcement that Lil Rounds has made the final 12. So, now we've got 2 winners among the remaining 11 contestants.
Ryan Seacrest asks 5 contestants to stand, and you're pretty sure that the first person they talk to is GONE: because the last person standing will make the final 12. So, Seacrest chats first with Arianna Afsar . . . let me guess? SHE'S GONE . . . then Seacrest talks to Taylor Viafunua. . . gee I wonder if she made it? NOT . . . she's GONE . . . obviously. Then Alex is on the "YOU'RE A GONER" spotlight. Come on, if Alex Wagner-Tugman makes it . . . then what do you do with Scott and Kendall?
The basic rule of thumb is this: People with hyphenated names Don't make it to the next level — it's too confusing for America. Plus, singers that gargle their spit, while singing, also DO NOT make it! Bye bye Mr. Wagner-T.
It's PAINFULLY obvious that it will come down to the last two of the 1st five contestants to stand: Scott McIntyre and Kendall Beard. Finally, we have a little suspence because either of these contestants is likely to garner many votes. Scott beats out the Texas cutey . . . to my mild surprise.
Then they expedite matters by dumping 2 at a time. First pair to get the axe: Nathaniel Marshall and Kristen McNamara. Gone like the wind! Then two more dead ducks are asked to place their heads on the chopping block: Felicia Barton and Von Smith. Departures that were painfully obvious! Tossed into the trash.
That leaves Ju'Not Joyner and Jorge Nunez. I personally think Am Idol Producers tried to create an illusion that Ju'Not was CLOSE in votes to Jorge (I don't think so). Because blacks are so under-represented in this particular contest, I think the American Idol Producers decided to create the illusion that Ju'Not was CLOSE. Caucacians as far as the eye can see: So, at least the Producers can say "one black man was close." Again, I think it was a racially patronizing illusion.
Jorge was the last man standing, in the end. To me, this choice was pretty obvious, when paired up with Joyner. And on the "racial" theme, I don't care if Jorge is black, white, yellow, or brown . . . this guy sings with great passion, and America chose him based upon his singing talent!
Now it's Wild Card time: Here's the 8 finalist that will compete for the final three spots in the Top 12:
Adding Tatiana Del Toro to the Wild Card Show is sure
to satiate the appetite of Reality TV Voyeurs everywhere!
* Von Smith
He sang great in Group #3 competition. If this is a "singing competition," this was the right choice.
* Jasmine Murray
A pick motivated by racial quotas and age appeal? For me, her pervious singing performance was very forgettable — there were stronger singers than Jasmine!
* Ricky Braddy
A selection that is very deserved based upon singing talent; he's sure to perform well on the Wild Card Show.
* Megan Corkrey
The Judges love her, especially Simon. Again, she's NOT making it on the sole merits of singing talent or performing ability; instead, she IS an interesting personality with a tattooed shoulder, and a drop-dead pretty face.
* Matt Giraud
Solid musician. Fantastic piano player. We'll see how he does. He has a Michael Buble look — don't ya think?
* Tatiana Del Toro
American Idol is selling tickets to the Freak Show. Taitana is sure to inspire thousands of viewers to tune in, just to see what kind of emotional train wreck she will cause.
* Jesse Langseth
Added in a last-minute decision, probably replacing a Group #3 Girl — else Von Smith is the ONLY contestant initially chosen from Group #3?
* Anoop Desai
Adequate singer and very popular with the Judges: Anoop Dawg!
I'm sure the judges already have in mind who they want in the finals at this point. If this is so, you can WATCH them rationalize away great singing performances . . . to choose whoever they will.
:o)
Dr Matt
Check out the next week of American Idol -----> Wild Card