Dancing with The Stars
Season Seven Review — Top 9 Couples
By Dr Matt
Here are the weekly Recaps from the Top Thirteen Couples to the Final Three:
Intro 13 12 11 10 9 8 7 6 5 4 Final 3
Guter Tag Dance Fans!
"Guter Tag" means "good day" in German. If you continue visiting Dr Matt's Fantastic Website, you will eventually learn how to say "Hi, how are you?" in at least a dozen languages!
Get insightful reviews of DWTS . . . AND expand your linguistic horizons. Is that awesome . . . or what?
Last week, Misty May had a season-ending injury, so Misty and Maksim were the couple eliminated by default—all the other competitors survived. BUT last week's scores carry over to this week, which means that Rocco & Karina are in deep do do!
If Misty had NOT been injured Rocco & Karina would have been kicked to the curb . . . which, I suspect will be their fate this week.
Holy Boogaloo Batman! Maurice and Cheryl totally took me back to the 70's: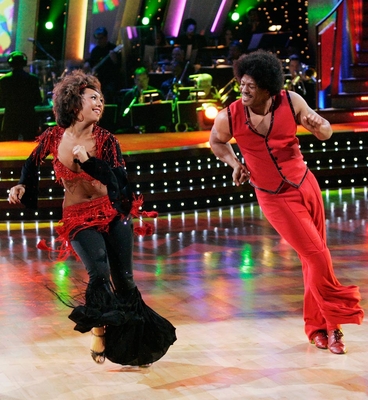 Here's my Less to Best Ranking for Week Number Four:
** Click the Pro's Name to see a Video of my top three couples
9 - ROCCO DISPIRITO — Karina Smirnoff ( J-Score: 18, J-Rank #9 )
Samba—
Rocco is such a nice guy, and such a terrible dancer. The saying goes: "nice guys finish last." That is how it should be for Rocco. Unless the TV Viewers decided to vote outside of their usual popularity patterns, Rocco has roasted his last turkey on Dancing with The Stars.
Beyond this, Warren Sapp suggests that "you can't trust a skinny chef"—that pretty well sums it up.
8 - WARREN SAPP — Kym Johnson ( J-Score: 22, J-Rank #5 )
Samba—
The first time watching this performance, I didn't even notice Warren. Aussie Kym completely commanded the stage. But on the re-play, Big Boy was a Big Mess. I admit, Samba technique is MORE challenging for a beginner to GET, compared to Tango. And Warren Sapp didn't GET IT, and he wasn't close either.
He did a lot of Frankenstein-like Clomping through the routine, while the Kim played the Samba seductress, distracting most viewers from noticing Big Boy's bloopers.
7 - MAURICE GREENE — Cheryl Burke ( J-Score: 20, J-Rank #8 )
Samba—
Maurice continues his "wild untamed beast" ways, with a pretty sloppy Samba. But, I LIKED IT. The FUN quotient was HIGH for this 70's throwback routine.
6 - CLORIS LEACHMAN — Corky Ballas ( Judges Score: 22, Judges Rank #7 )
Tango—
Cloris was determined to put some technique into her dancing, and NOT just get by with her comedy act. Even though her movement were very small, . . . she showed proper technique in many of her movements. Considering that she's 82 years old, . . . you gotta give her credit for pretty competent performance—small and clean.
5 - CODY LINLEY — Julianne Hough ( J-Score: 23, J-Rank #4 )
Tango—
The good news, Cody kept his top line up. His frame was solid throughout. The bad news, Cody was as stiff as a Corpse while doing the Tango. Even though his frame was up and solied, his body looked tense. I'm thinking that his performance was feeling the effects of rigor mortis BIG TIME.
4 - TONI BRAXTON — Alec Mazo ( J-Score: 22, J-Rank #6 )
Samba—
Toni has more natural dancing ability compared to other competitors found at the bottom of my rankings. She does well with her samba. But her partner, Alec Mazo, has a like-ability problem: he fails to project a fun personality (he's on the quiet side), this will ultimately impact viewer voting.
Alec and his partner captured the Mirror Ball trophy in season one, but he has not been very competitive since. And has exited the competition early a few times.
3 - SUSAN LUCCI — Tony Dovolani ( J-Score: 24, J-Rank #3 )
Tango—
As usual, a tidy performance; and this time, Susan was able to infuse the performance with her ample acting abilities: She put on a pretty passionate Tango pout . . . throughout! But, she's still dancing small--which may be a function of being 60 years old and only standing 3 foot 8 inches tall.
2 - LANCE BASS — Lacey Schwimmer ( J-Score: 26, J-Rank #2 )
Tango—
Lance and Lacey return to their edgey interpretation of ballroom dancing, with a Zombie-like Tango. So You Think You Can Dance Fans should love this routine totally! Why so? Because the Zombie-Dance Theme is one of SYTYCD's most popular approaches, especially when Wade Robson is the choreographer.
Anyway, for their kinky creativity they got docked a point by the prudish prune, Len Goodman. Scores from left to right: Carrie Ann "9" . . . Len "8" . . . and Bruno "9."
1 - BROOKE BURKE — Derek Hough ( J-Score: 26, J-Rank #1 )
Samba—
Four weeks in a row, Brunette Barbi and Ken Doll deliver the best performance! If Brooke didn't have a large Fan Base going into this competition, she's gaining Fan Base every week!
Elimination Prediction:
Who will Go? It should be Chef Rocco. Cloris Leachman's two week total was tied with Rocco's for the lowest scores from the judges; but Cloris appears popular with the fans, so she will survive! That's my call.

Rocco DeSpirito & Karina Smirnoff Kicked to the Curb!
Results Show Recap:
The Results Show starts off with a performance from a bunch of over-hormoned Spaniards, doing a Flaminco Dance. The performance was a cross between a Sleezy Chippendale Strip Routine and Michael Flatley's River Dance on Steriods.
First to be saved: Susan Lucci & Toni, as well as Lance Bass & Lacey. Both of these couples were in the top half of my rankings. This week, for the first time, DWTS is going to reveal the REAL bottom two—great idea. It's alway good for the viewing audience to get a REAL sense of how their votes effect the elimination process.
It also gives the 2nd to the Bottom couple, as week to save themselves—it they can! They announce Rocco & Karina as being in the REAL Bottom Two.
More entertainment: DWTS features two youth performances: A very HOT Cha Cha Cha by Jessica & Mitchell from San Deigo, Calif. Then Hannah & Kirill from Staten Island, New York perform a Spicy Samba. Both girls are 10 years old and the boys are 11 years old.
* DWTS Kids Competition = Mitchell & Jessica — Cha Cha starts @ 1:13
Kirill & Hannah — Samba starts @ 3:33
Whoopeee! Next week DWTS introduces four new styles that have never been danced before on the show: Jitterbug, Salsa, the Hustle, and West Coast Swing.
Could they drag the Elimination Process out any slower? Next to be saved: Brooke & Derek, then Cody & Julianne, Toni & Alex, Warren & Kym, and finally Maurice & Cheryl. That leaves Cloris & Corky in the REAL Bottom Two.
Suspense over: No surprise, GONE is Rocco & Karina. Just looking at their body language and their faces, immediately prior to the elimination announcement, you could tell they were totally expecting the BOOT.
Next on the chopping block: Cloris & Corky.
:o)
Dr. Matt
P.S. Here's the Recap and Review for DWTS Week #5
* * * * * * *
Dancing with the Stars Season Six
Order of Finish:
Penn Jillette, Magician & Kym Johnson — 12th
Monica Seles, retired Tennis Player & Jonathan Roberts — 11th
Steve Guttenberg, Actor & Anna Trebunskaya — 10th
Adam Carolla, Comedian & Julianne Hough — 9th
Priscilla Presley, Actress & Louis van Amstel — 8th
Marlee Matlin, Actress & Fabian Sanchez — 7th
Shannon Elizabeth, Actress & Derek Hough — 6th
Mario, Singer & Karina Smirnoff — 5th
Marissa Jaret Winokur, Broadway Actress & Tony Dovolani — 4th
Cristian de la Fuente, Actor & Cheryl Burke — Third Place
Jason Taylor, NFL Football player & Edyta Sliwinska — Second Place
Kristi Yamaguchi, Olympic Figure Skater & Mark Ballas — DWTS Season 6 Winners
* * * * * * *
Dancing with the Stars Season Five
Order of Finish:
Josie Maran, Model & Alec Mazo — 12th
Albert Reed, Model & Anna Trebunskaya — 11th
Wayne Newton, Entertainer & Cheryl Burke — 10th
Floyd Mayweather, Boxing Champion & Karina Smirnoff — 9th
Mark Cuban, Billionaire Entrepreneur & Kym Johnson — 8th
Sabrina Bryan, Cheetah Girls member & Mark Ballas — 7th
Jane Seymour, Actress & Tony Dovolani — 6th
Cameron Mathison, Soap Actor & Edyta Sliwinska — 5th
Jennie Garth, Actress & Derek Hough — 4th
Marie Osmond, Entertainer & Jonathan Roberts — Third Place
Mel B, Spice Girls member & Maksim Chmerkovskiy — Second Place
Helio Castroneves, Indy 500 Champion & Julianne Hough — DWTS Season 5 Winners
* * * * * * *
Dancing with the Stars — Season Four
Order of Finish:
Paulina Porizkova, Supermodel Alec Mazo — 11th
Shandi Finnessey, former Miss USA & Brian Fortuna — 10nd
Leeza Gibbons, Talk show host & Tony Dovolani — 9rd
Clyde Drexler, Retired NBA player & Elena Grinenko — 8th
Heather Mills, Charity Campaigner & Jonathan Roberts — 7th
John Ratzenberger, Actor & Edyta Sliwinska — 6th
Billy Ray Cyrus Country Singer and Actor Karina Smirnoff — 5th
Ian Ziering, Actor & Cheryl Burke — 4th
Laila Ali, Boxing World Champion & Maksim Chmerkovskiy — Third Place
Joey Fatone, 'N Sync Member & Kym Johnson — Second Place
Apolo Anton Ohno, Olympic Gold Medalist & Julianne Hough — DWTS Season 4 Winners
* * * * * * *
Dancing with the Stars — Season Three
Order of Finish:
Tucker Carlson, Political Pundit & Elena Grinenko — 10th
Shanna Moakler, Former Miss USA & Jesse DeSoto — 9th
Harry Hamlin, Actor & Ashly DelGrosso — 8th
Vivica A. Fox, Actress & Nick Kosovich — 7th
Willa Ford, Pop Singer & Maksim Chmerkovskiy — 6th
Sara Evans, Country Singer & Tony Dovolani Withdrew (withdrew due to family matters)
Jerry Springer, Talk Show Host & Kym Johnson — 5th
Monique Coleman, Actress & Louis van Amstel — 4th
Joey Lawrence, Actor & Edyta Sliwinska — 3rd
Mario Lopez, TV Host & Karina Smirnoff — Second Place
Emmitt Smith, retired NFL Running Back & Cheryl Burke — DWTS Season 3 Winners
* * * * * * *
Dancing with the Stars — Season Two
Order of Finish:
Kenny Mayne, ESPN Sports Anchor & Andrea Hale — 10th
Tatum O'Neal, Actress & Nick Kosovich — 9th
Giselle Fernandez, TV journalist & Jonathan Roberts — 8th
Master P, Rapper & Ashly DelGrosso — 7th
Tia Carrere, Actress & Maksim Chmerkovskiy — 6th
George Hamilton, Actor & Edyta Sliwinska — 5th
Lisa Rinna, Actress and TV host Louis van Amstel — 4th
Stacy Keibler, former WWE Diva and Actress Tony Dovolani — Third Place
Jerry Rice, retired NFL Wide Receiver & Anna Trebunskaya — Second Place
Drew Lachey, 98 Degrees member & Cheryl Burke — DWTS Season 2 Winners
* * * * * * *
Dancing with the Stars — Season One
Order of Finish:
Trista Rehn, The Bachelorette & Louis van Amstel — 6th
Evander Holyfield, Heavyweight Boxing Champ & Edyta Sliwinska — 5th
Rachel Hunter, Supermodel & Jonathan Roberts — 4th
Joey McIntyre, New Kids on the Block member & Ashly DelGrosso — 3rd
John O'Hurley, Actor & Charlotte Jørgensen — Second Place
Kelly Monaco, Actress & Alec Mazo — DWTS Season 1 Winners