So You Think You Can Dance: —
Season 6 Six
Review By Dr Matt
Hey There Dance Fans:
Dr Matt here! The ONLY PhD on the planet that can fix your messed-up mind and teach you how to Mambo!
Different from previous years, I'm not going to give weekly recaps of SYTYCD Season 6 Six. This year, I'm going to offer random yet salient observation of the show.
What strikes me in this season, more so than any other, is how the Jidges (a.k.a., the Judges) are openly manipulating America's vote. Nigel shamelessly admitted precisely THAT, by saying that the Judges would be trying to shape the Top 10 to their preference, after which, America can choose their favorite dancer (without a lot of meddling and manipulation from Narcissistic Nigel, Screaming Mary, and Adam "Let Me Be Frank" Shankman).
Season 6 Six SYTYCD compared to Season 5 Five
The hype for Season 6 Six was that this season was going to blow Season 5 Five out of the water. Those comments came out during Las Vegas Week where, many contestants were quite spectacular dancers (maybe MORE in overall quantity) compared to season 5 five contestants as a group. But some of those spectacular dancers were also Personality Challenged, and one was under a professional contract and could not compete.
The Judges had high expectations for Channing going in, but she feel short of them. She failed to project her personality to the audience. But then again, is she were simply quiet and polite AND also partnered up with Jacob or Russell . . . she would have made the Final 5 Five Couples (Top 10 Dancers). That's where the luck of the draw comes into play. I have to admit, all the Top 10 Dancers made good connections with the audience by projecting their personalities.
Will the producers ask Channing to be an alternate on the tour? I think so!
The Producers have learned that it BETTER to put on a great show, than make sure dance styles are truly chosen randomly. In case you didn't notice, Ryan supposedly pulled "out of the hat" more than his share of Ballroom Dances. Again, the Judges want to put on a good show, and they knew that Ryan was going to KILL every dance that required a lot of partnering skills.
BUT when it came down to the Final 20, some of the spectacular "blow season 5 five out of the water" dancers got CUT because they were personality-challenged, and in the end, the final 20 Twenty for Season 6 Six were not really better than Season 5 Five, but just different from Season 5 Five
Consider the quality of these three ladies: Melissa, Kayla, and Jeanine.
And the strength of Male dancers: Ade, Evan, and Brandon.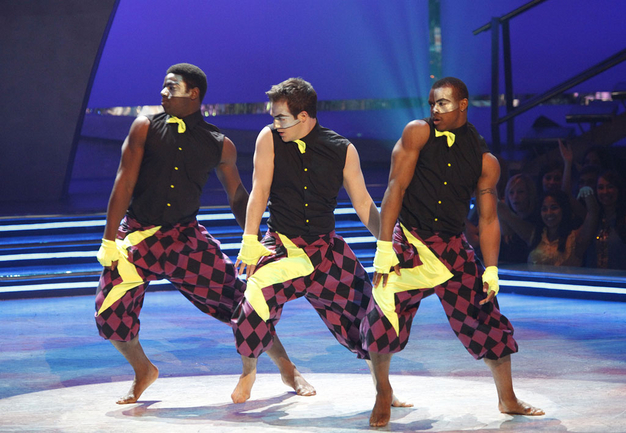 Who in Season 6 Six compares to the previous two trios from Season 5 Five? Ellenore, Kathryn, and Ashleigh? Jakob, Ryan, and Legacy? No, they don't compare. It's Apples and Oranges, with both fruits being delicious in their own unique way. So the rhetoric of Season 6 being better than Season 5 . . . it ain't flying from my airport.

Brandon Bryant & Kayla Radomski
Contemporary, choreographed by Stacey Tookey
Music: "All I Want" by Ahn Trio
Brandon and Kayla were solid performers in Season 5 Five, and in Season 6 Six, Jacob and Kathryn matched their competence quite completely.
Random Ramblings about the Top 8 Eight Couples
What intrigues me is this: America is going along with the Jidges' Meddling. For example, last week, the Judges let Ryan and Ellenore know that their Krumping was crap! So, America, like sheep, put Ryan and Ellenore in the bottom three.
Curiously, I had a strong suspicious that Peter and Pauline would be the couple tossed in the trash — and the Judges were more or less positive about their performance. Nevertheless, P & P were placed in a forgettable order slot (#3 of 8 performances) AND they were assigned the dreaded Quick Step!
The QuickStep choreographers did not cooperate with the pre-determined intent of the Producers: They choreographed a clever Quick Step that included not-a-lot-of quick step and many moves that P & P could do well with! Brilliant choreography. Even Nigel admitted that the clever story-line of a Military Man and a Hula Girl drew attention AWAY from the technical execution of the Quick Step.
I say "assigned the dreaded Quick Step" because, let's keep it real here, the so-called Luck of the Draw really means, the Producers/Judges strategize and figure out precisely HOW they want to show to go, as well as who will do well, and who will be IN DANGER!!!
In the "How Have You Danced For Me Lately" category, Ryan and Ellenore received NO carry-over credit for being brilliant in the previous 3 three weeks. The Jidges thought their Krumping was crap. On this topic I've got to say, Lil' C is an awesome and articulate Judge, with interesting and insightful comments and a clever word-smith, but as a choreographer . . . not so much!
Excellent choreographers like to see their dancers succeed! Therefore, brilliant choreographers like Jean-Marc Genereaux will NOT really do a Viennese Waltz when Twitch and Kherington pull that Dance out of the Hat. Instead, Jean-Marc, being a brilliant choreographer, creates a contemporary dance to Viennese Waltz music and then dedicates the performance to a handicapped relative.
Brilliant choreographers take inventory of what their dancers can do, and give them something they can succeed at, so preparation and practice and focus upon synchronizing movements and putting passion into the performance.
Top 7 Seven Couples
Travis, being a brilliant choreographer, expressed his goal for Ryan and Ellenore: "My goal was to get them out of the bottom 3 three." And how did he go about doing that? He started with choreography moves that took advantage of each dancers unique skills and strengths.
Clearly, Ryan's strength . . . is STRENGTH. Travis took advantage of this and put in a lot of partnering work, where Ryan was lifting Ellenore. The beauty of these moments is . . . that they don't need to be synchronized in terms of each dancer doing exactly what the other is doing. Instead, each dancer simply does his or her complementary part of the duet.
Plus Travis infused the dance with the emotions of a good story line. Winning performances also have the advantage of great music. And this is where Victor and Channing's number was NOT as powerful. Even the Judges said that the unique vocal-stylings tended to over power the dance performance – draw attention away from what should have been the focal point.
My Rankings:
1) Ellenore and Ryan
2) Ashleigh and Jakob
3) Kathryn and Legacy
4) Mollee and Nathan
5) Noelle and Russell
6) Channing and Victor
7) Karen and Kevin
The Jidges are wielding their influence openly and shamelessly this season. Their telling America exactly who disserves to be in the Top 10 Ten. I guess I can blame them — them, meaning Nigel "the Narcissist" Lythgoe. SYTYCD is selling a product that makes money after the TV series is over. So, Nigel is just being a good capitalist, and protecting an investment. He's trying to GET INTO the Top 10 Ten, the dancer that will yield the best financial return (and put on a pretty good dancing performance too!)
I can't believe that Kat Deeley actually throws out the question, So, judges who do you think is in danger of being in the Bottom 3 Three? Poor Karen and Kevin . . . they get singled out! Kevin looked like a deer in the headlights. He looked like his dog just died. Anyway, I'm thinking that Kevin (who was saved by a narrow margin last week) is set up to be eliminated.
Speaking of selling a product, the old saying goes: "Sex sells!" And on that theme, Karen has a huge contribution to give to the SYTYCD touring product! Even if Karen gets eliminated, I'm thinking she will be asked to be a part of the touring company. Besides offering Sizzling Hot talent for Latin Dancing numbers, she would be the perfect "extra" to back up Ashleigh (or any other dancer) in Ballroom numbers. YES, I think Ashleigh is going to make the Top 10 Ten! How can she NOT, being paired up with Jakob! And, by the way, the Jidges thinks she is Top 10 Ten material too!
I'm thinking Mollee and Nathan deserve to get a little "scare" by being in the Bottom 3 Three — maybe Nigel can "fudge" with the voting numbers and make it happen anyway? Even if they are in the Bottom 3 Three, Nigel and the other Judges will NEVER eliminate such a popular duo! They ARE great dancers, though raw and unpolished because of their youth.
I'm seriously wondering which one the Judges are rooting for between Noelle and Channing. The Producers — and what I mean by Producers is . . . Nigel Lythgoe — have done an excellent job of finding a good match for Channing, and then "pulling out of the hat" dances that Victor and Channing could do (Contemporary & Jazz). AND they've given Noelle and Russell ever chance to get into the competition. Russell is praised as a "star," so Noelle might just ride his coat tails into the Top 10 Ten?
On the other hand, Noelle was absolutely exquisite in her Foxtrot — imagine that, pulling the Foxtrot of the Hat AGAIN, completely by chance. If you believe that, I've got some beach front property to sell you in Iraq!
The more I think about it, the more I'm convinced that Channing will be eliminated over Noelle, simply because Russell Is NOT going to be in the Bottom 3 Three any time soon! It will REALLY be interesting if Boston and Miami get out the Vote for their native residents, and force the Judges to pick someone else (one of their favorites).
Like Karen, I think Channing will be invited to be an "extra" on the tour. And like Karen, Channing has her own unique look and talent that adds value to the Tour-Product!
Top 6 Six Couples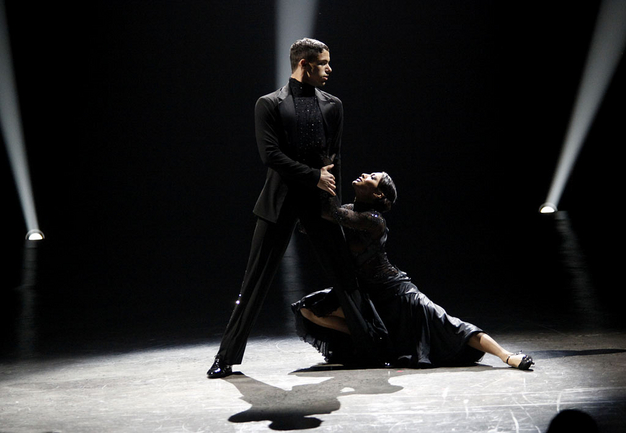 Victor and Karen performed a fantastic tango, but alas, all the other dancers are more popular. Truth be told, Victor KILLED his "dance for your life" solo, while Nathan gave a mediocre performance — one of those "feeling" dances where a lot of emoting happens and not much dancing. Nigel wanted to eliminate Nathan and keep Victor, but he got out voted by Mary and Adam.
Karen should be asked to do the Top 10 Ten Tour as an alternate. She is competent outside of her style, and absolutely WOW in it. Between her and Ashleigh, they can deliver a high quality performance product on tour in the Ballroom Dance category. Interestingly, Kathryn — a contemporary dancer — danced a sizzling HOT Cha Cha Cha with Ryan, and I'm not sure I'd prefer to have Ashleigh replace her in this dance! Like Nigel, I think Ashleigh looks better when partnered by Jakob (as opposed to her husband).
Top 5 Five Couples
When it comes to dancing on your head, Legacy delivers the goods big time! Ashleigh and Legacy made an interesting pair. Like Janette in Season 5 Five, Ashleigh, a Ballroom Dancer, was a capable performer in all the other dance styles! Legacy surprised a lot of people! He also danced quite well out of his style — especially contemporary. He was a bit weak in Ballroom, however (but who isn't? except the Ballroom Dancers). On the other hand, the best contemporary dancers, like Danny Tidwell and Jakob, delivered great performances in the Ballroom Style
Top 4 Four Couples
Ashleigh is injured: She dislocated her shoulder during a lift in the Bollywood number. Best Performances of the Night: Put Your Hands on Me, Cha Cha performed by Ryan & Kathryn.
1 - Ryan & Kathryn — Cha Cha (above)
2 - Legacy & Ellenore — Contemporary (pictured below)
3 - Jakob & Mollee — Broadway
4 - Russell — Bollywood (dances with Choreographer Assistant)
5 - Jakob & Mollee — Viennese Waltz
6 - Russell — Hip Hop (dances with Choreographer Assistant)
7 - Ryan & Kathryn — Disco
8 - Legacy & Ellenore — Hip Hop
Another Table Dance! The first one was made famous by Sabra and Neil, choreographed by Mandy More. Travis Wall's version involved much more danger. Ellenore and Legacy were a perfect pair for this very difficult routine!
Top 3 Three Couples
This is the last time the Season 6 dancers got to dance for America's vote before one of the Top 6 is crowned "America's Favorite Dancer." Host Cat Deeley introduced the three judges - Adam Shankman, Mary Murphy, and Nigel Lythgoe. The three girls would be dancing with each of the three guys tonight, calling for nine performances in just one hour.
Up first were Kathryn McCormick and Ryan Di Lello dancing a Jason Gilkison choreographed samba to "Magalenha" by Sergio Mendes. This sexy samba was "a great start to the show," as Nigel put it. Mary noticed that Ryan was right at home in this style of dance. Adam said, "This show should now be called "The Rise of Kathryn,'" because week after week he's blown away by her.
Next, Ellenore Scott and Jakob Karr performed a Broadway number to "I Gotcha" from Fosse. Both of these dancers were perfect for Fosse-style Broadway, and choreographer Tyce Diorio made use of Ellenore's quirkiness and Jakob's technique and ability to take on characters. Mary and Adam agreed that Ellenore was smoldering and has never looked so beautiful, and Adam called Jakob "one of the most selfless partners out there."
Sonya Tayeh choreographed a beautiful lyrical jazz number for Ashleigh Di Lello and Russell Ferguson. Dancing to Jewel's "Angel Standing By," the piece started off with staccato movement and then transitioned into lyrical movement with a nice flow to it. Nigel said that Russell "was so outstanding, I couldn't take my eyes off of him...you are just bloody incredible." Mary said that Ashleigh was "drop dead gorgeous tonight. Your lines are amazing and your passion is right on and so believable."
Former dance partners from the beginning of the season, Ellenore and Ryan were ready to dance their second number of the night. Garry Stewart choreographed a jazz number to "Kontact Me" by Boys Noize. The intentionally robotic routine made use of Ellenore's locking and Ryan's partnering. The judges had mixed reactions on the dance itself, but thought Ellenore and Ryan did well with what they were given. Adam said that Ellenore was like Garry's muse in this routine, and he called Ryan "a great utility."
Original partners Jakob and Ashleigh took on a Foxtrot choreographed by Jean Marc Genereux. Dancing to "Let The Good Times Roll" by Chuck Brown & Eva Cassidy, Jakob and Ashleigh showed that they still work well as partners. Nigel said, "The chemistry between you two this season is unbelievable." Mary was impressed with Latin dancer Ashleigh's lines, legs, and quality of movement. The judges continued to be impressed with Jakob's leaps.
Ellenore and Russell performed a Jason Gilkison Paso Doble to "Village Attack" from Blood Diamond (original soundtrack). Ellenore rose from behind the stage and her silhouette danced in front of a red background until Russell slid onto the stage on his knees. The judges said that Ellenore had all of the fiery passion needed for this number. Adam was impressed with krumper Russell's rond de jambe.
Contemporary dancers Jakob and Kathryn paired up to take on a contemporary piece choreographed by Desmond Richardson & Dwight Rhoden. Dancing to "At This Moment" by Michael Buble, Jakob and Kathryn showed amazing partner work, chemistry, and technique, and their performance had the crowd and judges out of their chairs for a standing ovation. Kathryn and Jakob's dance made all three judges emotional, and Mary called it "one of the best performances I've ever seen." Nigel and Adam called it a show stopper and a game changer. Nigel told Kathryn, "You are my favorite girl, you have been for many, many weeks. You just rise to every occasion and you just pick up whatever's thrown at you." He also encouraged Jakob to join a dance company because he's "outstandingly brilliant."
Husband and wife Ryan and Ashleigh Di Lello performed a contemporary piece choreographed by Season 2 runner-up Travis Wall. Travis always does a great job of choreographing love stories with amazing chemistry, and tonight's piece was no different. Dancing to "I'm There Too" by Michelle Featherstone, the ballroom dancers looked like contemporary dancers and both cried at the end of the routine. Mary summed it up saying, "It's very rare for a married couple to have a moment like this on a world stage. What a memory for the two of you." And Adam said he experienced incredible tenderness while watching the couple perform that piece together.
Kathryn & Russell closed out the night with Hip Hop choreographed by Tabitha and Napoleon D'umo. Dancing to "I Can Transform Ya" by Chris Brown feat Lil Wayne and Swizz Beatz, Kathryn and Russell rocked this hard-hitting hip hop routine and even pulled off the counts where Russell had to dance with a dancing Kathryn on his shoulders. Nigel told Kathryn, "I cannot believe you were as gangster as you were. You got down and dirty. You may have stolen Russell's heart then, but you stole mine and many others' hearts weeks ago." Adam thought Russell "killed it," and he also thought the number was so hot.
Russell Ferguson was the "So You Think You Can Dance" Season 6 Winner. A dancer who learned to be quite competent in a various styles outside of his krump-comfort zone. Based purely upon dancing proficiency, I would have chosen Jakob or Kathryn, but Russell was the people's choice.