The fact that you feel like 90% of your life thus far is "hell," means you are not living Life Right; it means you need to make an adjustment and experience a Change.
You will NOT be able to make your Life better simply by THINKING your way into a new direction. Why so? Because of truth taught by Albert Einstein: I call it Einstein's Mind Bind -- You Can't Change Your Mind using the Same Mind that Needs Changing. Learning about Einstein's Mind Bind will be KEY to escaping the Self-Defeating Trap that YOU are in — and millions like you.
Said in another way: It is your present Mind that is creating and harboring "this fear" that is ruining your whole life. When you get a New Heart and a New Mind through Christ, you will no longer "fear." Consider these words from the Bible:
"God is love; and he that dwells in love dwells in God,
and God in him. Herein is our love made perfect:
because as He is, so are we in this world.
There is no fear in love; but perfect love casts out fear:
because fear has torment. He that fears is not made perfect in love."
1 John 4: 16-18
"For God hath not given us the spirit of fear;
but of power, and of love, and of a sound mind.
Therefore be not ashamed of the testimony of our Lord."
2 Tim. 1: 7-8
So get going! While you Can't simply THINK your way into a new direction, it IS up to you to choose the Change process: You do this by choosing the Author of Lasting Change. It is Jesus who makes the miracle of personal transformation possible:
"Old things pass away, and all things become new;
you become a new creature in Christ."
2 Cor. 5:17
Best Regards,
Matt Moody, Ph.D.
Social Psychologist
* * * * * * *
Dr. Matt offers telephone counseling that will fix your problems fast!
The Greatest Prize
for Life's labors isn't
in material possessions
or impressive accomplishments,
but in the progress of personal character.
You labor for your own becoming, this is your richest reward.
Who You Become is your greatest possession,
make it your Masterpiece!
(Changing Your Stripes, 2nd Edition, page 274)
The book, "Changing Your Stripes" presents principles for getting out of
the ditch in which you've been dumped (the difficulties of which you are a victim), and
the ditch in which you've jumped (the difficulties for which you volunteer).
"Mastering a challenging situation
is ultimately a matter of
mastering yourself!"
- Matt Moody
"Changing Your Stripes," teaches you the principles that lead to lasting change,
making you a new kind of creature capable of communicating
with calm, even as storms of contention swirl.
If these principles resonate and ring true,
then . . . this book is for you!


Sold Exclusively
through this website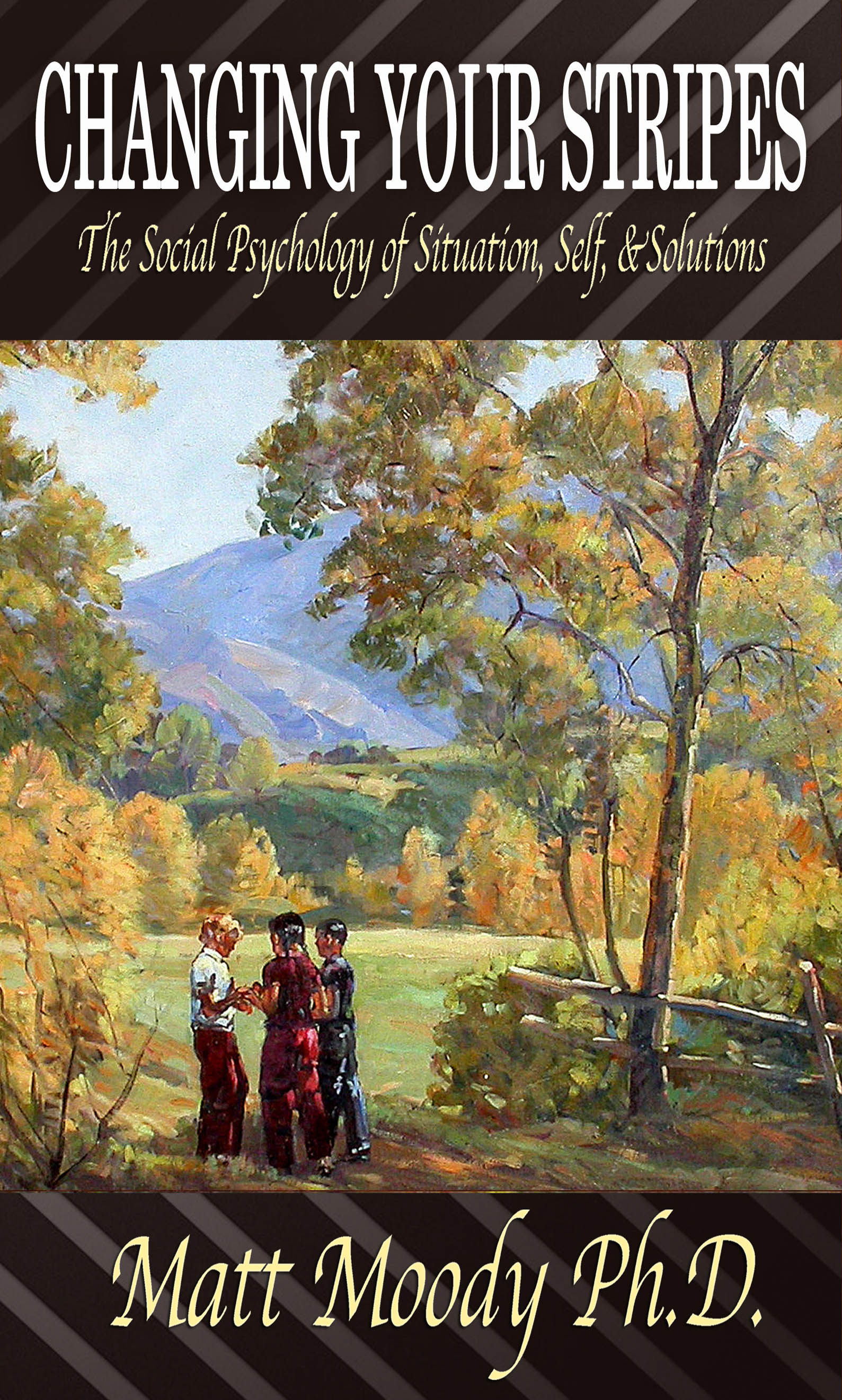 Changing Your Stripes is a
unique reference book that will help
you understand, . . . and solve all of
Life's ever-appearing problems.
Here are more reasons to buy
Changing Your Stripes


Social Psychologist & Personal Advisor