For what happens in cultural decline both leaders and followers are really accountable. Historically, it is easy to criticize bad leaders, but we should not give followers a free pass. Otherwise, in their rationalization of their degeneration they may say they were just following orders, while the leaders say we were just ordering followers! Much more is required of followers in a democratic society wherein individual character matters so much.
A visionary leader like Lincoln warned of how individuals of ambition would arise and that such "thirst and burn for distinction, and if possible . . . will have it, whether at the expense of emancipating slaves or enslaving freemen" (cited in John Wesley Hill, Abraham Lincoln--Man of God [1927], 74).
Of unselfishness it has been written: "In all history few men who possessed unassailable power have used that power so gently and self-effacingly for what their best instincts told them was the welfare of their neighbors and all mankind" (James Thomas Flexner, "Washington: The Indispensable Man" [1984], xvi). Power is most safe with those, like George Washington, who are not in love with it!
A narcissist society, in which each person is busy looking out for number one, can build neither brotherhood nor community. Aren't we glad that Jesus did not selfishly look out for number one? No wonder the Bible established from the beginning: "Thou shalt have no other gods before me," (Ex. 20:3) and this includes self-worship! One way or another, the grossly selfish will finally be shattered, whimpering, against the jagged concrete of their narrow narcissism.
May selfless Humility and Christ-like Charity be our path too, for it is the pathway to peace, and the joyful bonds of love one to other. Making the transition from Selfish Hedonist to having a Humble Heart is thoroughly explained in my book, Changing Your Stripes.
Sincerely,
Matt Moody, Ph.D.
Social Psychologist
** Most of the Ideas and Words in this article are inspired by, and borrowed from, the late Neal A. Maxwell and his eloquent sermon on Selfishness (April, 1999).
* * * * * * *
Dr. Matt offers telephone counseling that will fix your problems fast!
The Greatest Prize
for Life's labors isn't
in material possessions
or impressive accomplishments,
but in the progress of personal character.
You labor for your own becoming, this is your richest reward.
Who You Become is your greatest possession,
make it your Masterpiece!
(Changing Your Stripes, 2nd Edition, page 274).
The book, "Changing Your Stripes" presents principles for getting out of
the ditch in which you've been dumped (the difficulties of which you are a victim), and
the ditch in which you've jumped (the difficulties for which you volunteer).
"Mastering a challenging situation
is ultimately a matter of
mastering yourself!"
- Matt Moody
"Changing Your Stripes," teaches you the principles that lead to lasting change,
making you a new kind of creature capable of communicating
with calm, even as storms of contention swirl.
If these principles resonate and ring true,
then . . . this book is for you!


Sold Exclusively
through this website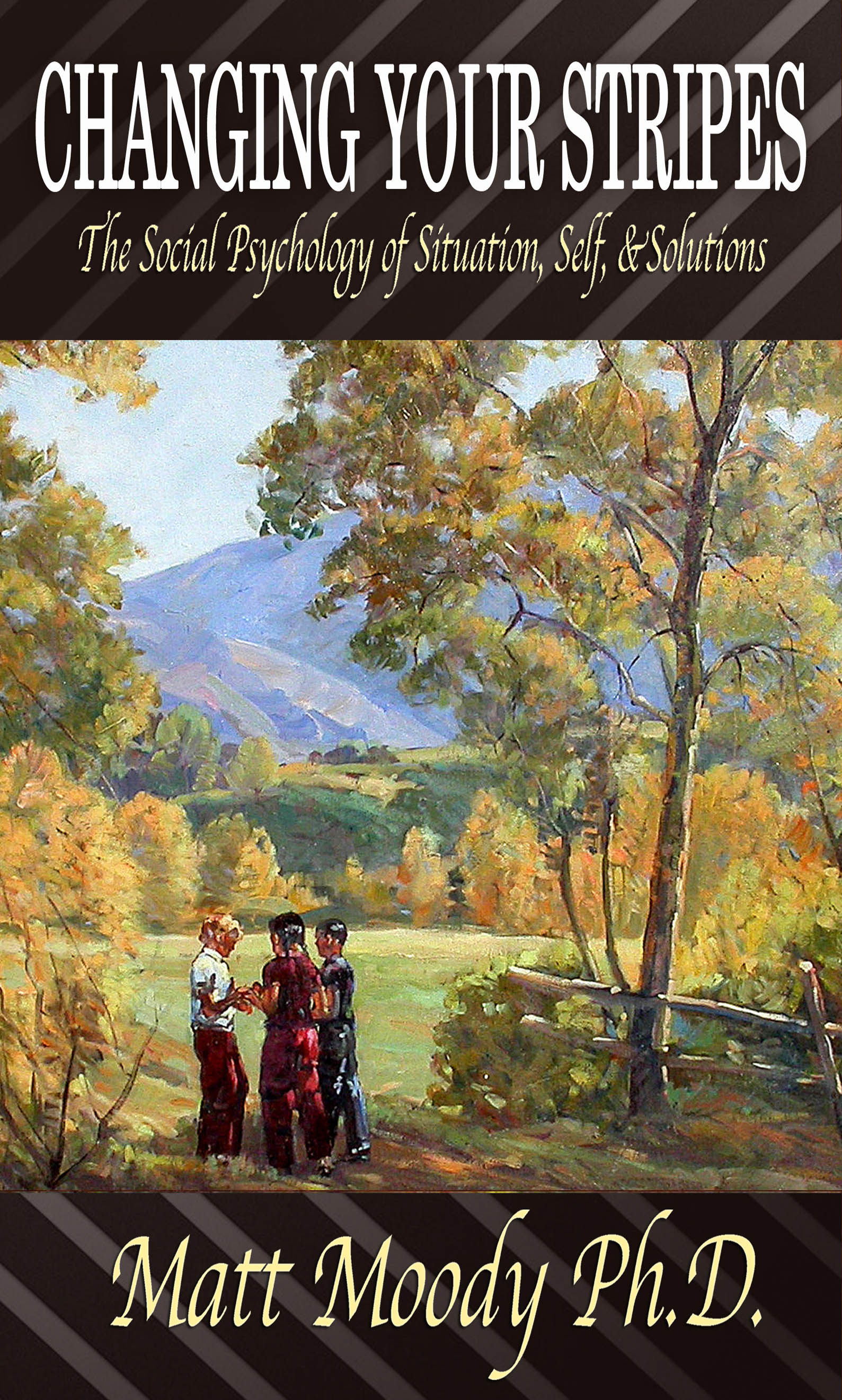 Changing Your Stripes is a
unique reference book that will help
you understand, . . . and solve all of
Life's ever-appearing problems.
Here are more reasons to buy
Changing Your Stripes


Social Psychologist & Personal Advisor