When we yield to the nature of darkness, we are naturally drawn to self-serving ways; being self-absorbed is instinctive when wallowing in betrayal. Thus we see more clearly why betrayers engage in self-justifying behavior—it's natural. Conversely, when yielding to the nature of Light, it is natural to have genuine concern for others; it is natural to live with compassion; it is natural to live . . . to give. But only when you actually live in the world of Light and simplicity, can you "see" that living altruistically . . . is a real possibility.
Finally, let me briefly explanation the dividing line between "loving" someone by serving their wants and needs, and "enabling" someone in a negative pattern of narcissism:
The answer comes in understanding what it means to love! Love is to impact other to their long-term advantage; hence, we do not really "love" a person, when serving his or her immediate needs in the moment, leads to reinforcing a selfish pattern — enabling narcissism.
When the person you are serving fails to reciprocate similar service, this is an indication that you may be enabling narcissism. On the other hand, when the person that you serve does give back similar service to your needs and wants, then that person has a healthy sense of consideration for others — and is NOT stuck in the obsessive pattern of narcissism.
Ultimately, in the best relationships, you don't keep track of good-deed-doing one for another; instead, you simply pour out all your compassion and affection, and it will naturally return back to you, when you have a spiritually and emotionally healthy relationship.
Sincerely,
Matt Moody, Ph.D.
Social Psychologist
* * * * * * *
Dr. Matt offers telephone counseling that will fix your problems fast!
The Greatest Prize
for Life's labors isn't
in material possessions
or impressive accomplishments,
but in the progress of personal character.
You labor for your own becoming, this is your richest reward.
Who You Become is your greatest possession,
make it your Masterpiece!
(Changing Your Stripes, 2nd Edition, page 274).
The book, "Changing Your Stripes" presents principles for getting out of
the ditch in which you've been dumped (the difficulties of which you are a victim), and
the ditch in which you've jumped (the difficulties for which you volunteer).
"Mastering a challenging situation
is ultimately a matter of
mastering yourself!"
- Matt Moody
"Changing Your Stripes," teaches you the principles that lead to lasting change,
making you a new kind of creature capable of communicating
with calm, even as storms of contention swirl.
If these principles resonate and ring true,
then . . . this book is for you!


Sold Exclusively
through this website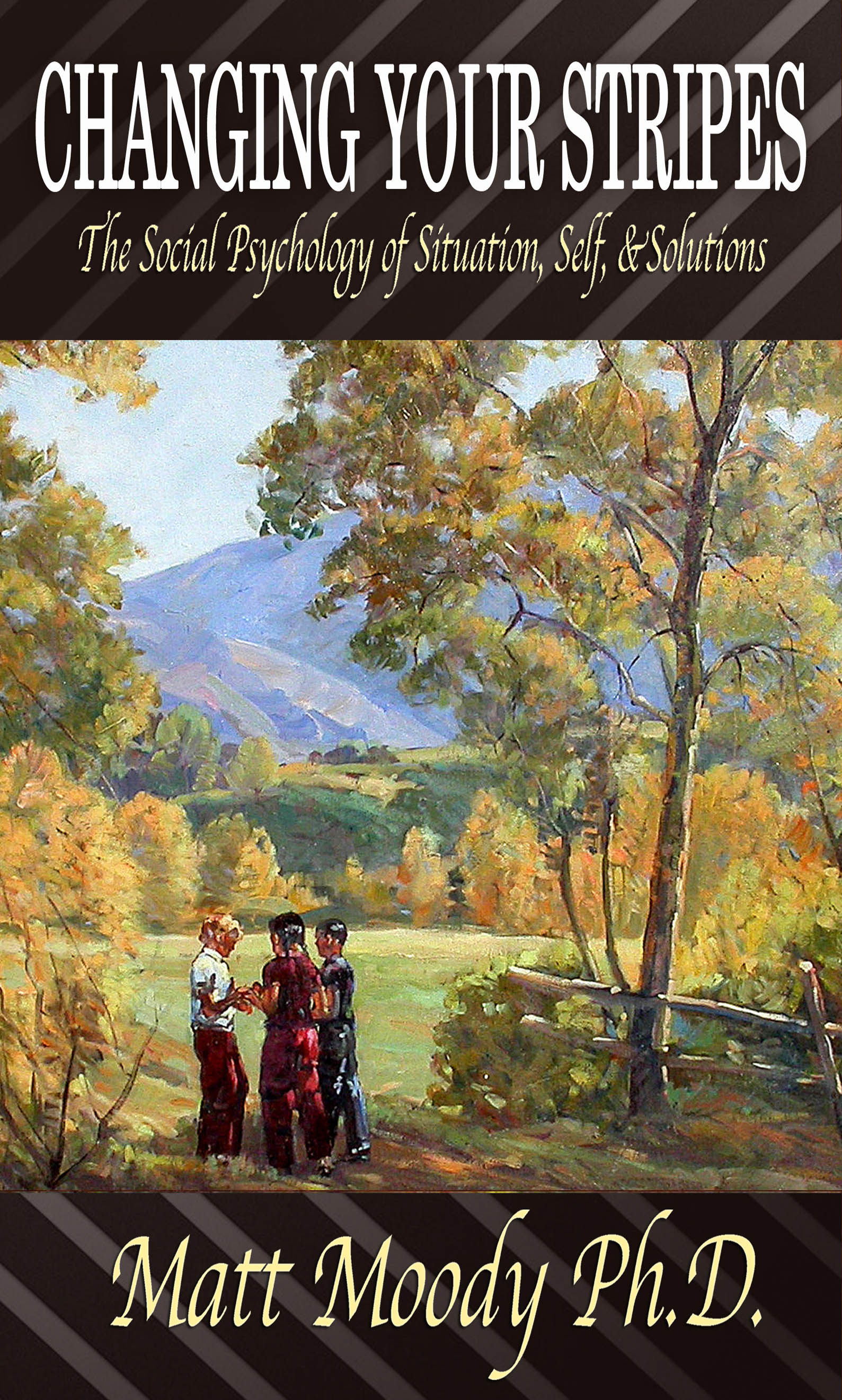 Changing Your Stripes is a
unique reference book that will help
you understand, . . . and solve all of
Life's ever-appearing problems.
Here are more reasons to buy
Changing Your Stripes


Social Psychologist & Personal Advisor