Since you have a copy of my Book, I refer you to the Changing Your Stripe's Index, under the topic "Better vs. Bitter" — this information will add to a more complete answer. Also, reading the account of Viktor Frankl's experience of extreme abuse in Nazi Death camps is very valuable (CYS, p. 12).
Yes, some people appear to be "born that way" from the start (see Ether 12: 27), but it is not inevitable that they stay that way, because the possibilities of being "changed" and "redeemed" are also every before us. What happens when a person is changed from their core? (read Mosiah 5: 2).
The final sections of my book are entitled "Recovering the You that is True" and "Returning to Innocence." Purely innocent is how we began as babies. As a result of free will choices to Be True or Betray — within an environment of bad and/or abusive constraints — we either lose our innocence, becoming what the Bible terms a "natural man" (1 Corinthians 2: 14), OR we are strengthened through every trial and transformed (1 Peter 1: 7; & 5: 10) as we choose to abide in the True Vine.
It is the habitual tendency of all natural men and natural women to be selfish. Narcissism appears in all human beings who betray their own sense of inner truth. Inner Truth is the guiding light given to all humanity; this Inner Truth is called "conscience" (Romans 9: 1; 2 Cor. 1: 12; Hebrews 8: 10 & 9: 13) — which is the Voice of the Creator giving you and I personal guidance, that we might be happy and fulfilled in mortal life.
These ideas will point you in the right direction. I've written more about whether Narcissism appears by Nature or by Nurture; and I've detailed the Cure for Narcissism too. A thorough explanation of how to escape the Narcissistic Trap is explained in my book, Changing Your Stripes.
Sincerely,
Matt Moody, Ph.D.
Social Psychologist
* * * * * * *
Dr. Matt offers telephone counseling that will fix your problems fast!
The Greatest Prize
for Life's labors isn't
in material possessions
or impressive accomplishments,
but in the progress of personal character.
You labor for your own becoming, this is your richest reward.
Who You Become is your greatest possession,
make it your Masterpiece!
(Changing Your Stripes, 2nd Edition, page 274).
The book, "Changing Your Stripes" presents principles for getting out of
the ditch in which you've been dumped (the difficulties of which you are a victim), and
the ditch in which you've jumped (the difficulties for which you volunteer).
"Mastering a challenging situation
is ultimately a matter of
mastering yourself!"
- Matt Moody
"Changing Your Stripes," teaches you the principles that lead to lasting change,
making you a new kind of creature capable of communicating
with calm, even as storms of contention swirl.
If these principles resonate and ring true,
then . . . this book is for you!


Sold Exclusively
through this website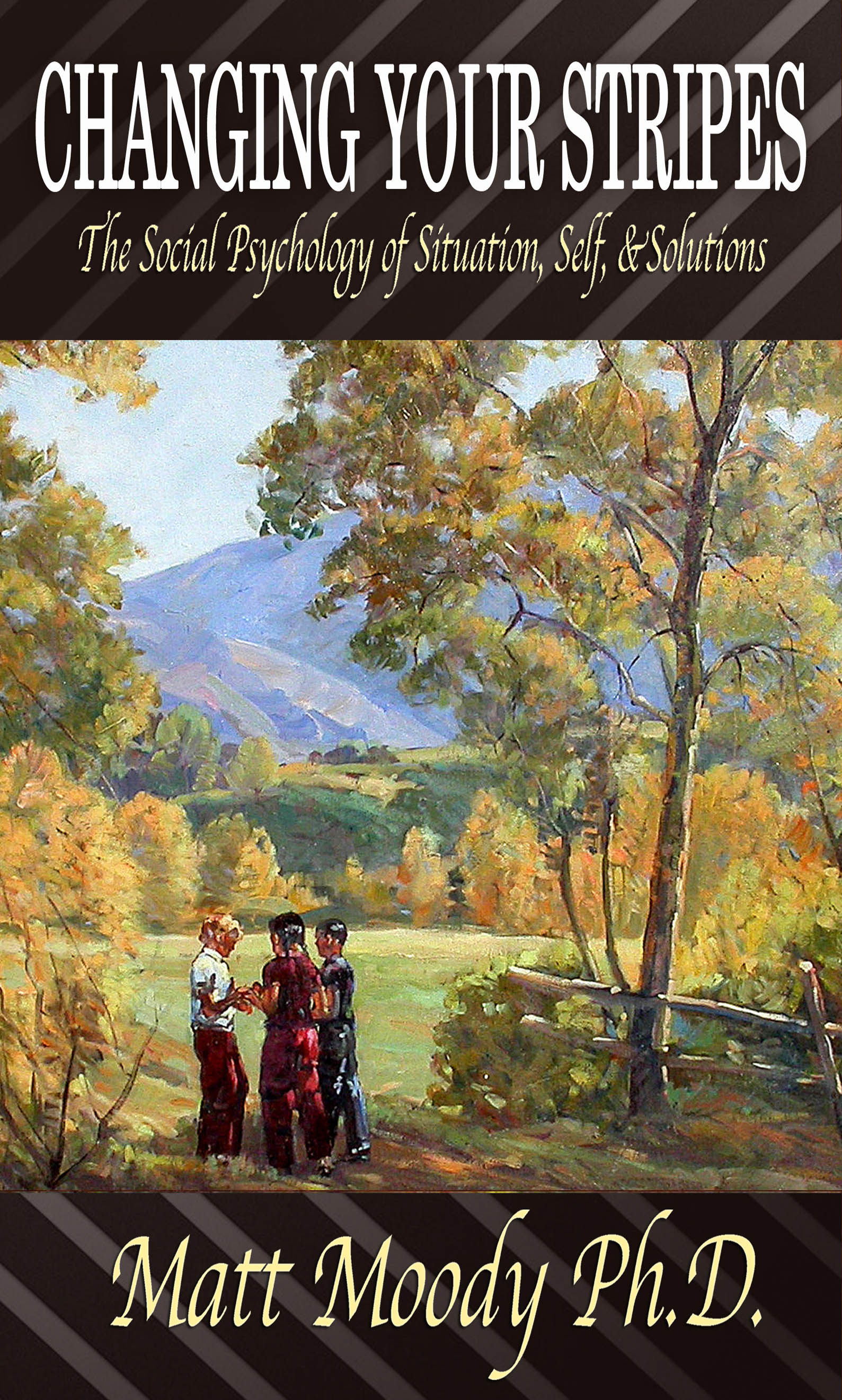 Changing Your Stripes is a
unique reference book that will help
you understand, . . . and solve all of
Life's ever-appearing problems.
Here are more reasons to buy
Changing Your Stripes


Social Psychologist & Personal Advisor