What to do When All Men Want Barbi-Doll Babes?
Dear Dr. Matt,
My name is Heather, I'm 52 and I live in Helena, Montana.
After 27 years of happy marriage, my husband passed away. I've been alone for 2 years now and a friend has talked me into posting a profile on a single's dating website. I am looking for someone to spend the rest of my life with, to be a good companion, to love him, to take care of him and to make his life enjoyable. I know I can make some man very happy.
Because I spent all my married years taking care of my husband and children, I didn't have time to take good care of myself. I am a few pound heavier than I would like to be right now.
But my experience on the dating website has been terrible so far. I'm finding that all the men out there want a gorgeous barbi-doll babe with a perfect model-shaped figure. I have lots of inner beauty, if only men would look past the exterior and see my good heart.
What do you suggest I do?
Thanks,
Heather
Related Articles: The Cure for Narcissism and the Key to Joyful Living!
What Causes Narcissism: Can Extreme Selfishness be Overcome?
What is Narcissism: Are Human Beings Selfish by Nature or by Nurture?
Important Elements of Attraction and Compatibility
Dear Heather:
Happy Holidays to you!
If you are serious about finding a man to marry, a man you can take care of like you did your deceased husband, then a different approach is required. I'm going to give you a Christmas Present!
Few men will want to become your friend, let alone your mate, after you've slapped them across the face. And here's your SLAP: "all the men out there want a gorgeous barbi-doll babe with a perfect model-shaped figure." You've expressed this resentful sentiment in your Dating Website profile.
Your Profile is not going to win friends and influence people anytime soon.
As men read your profile, they will be put-off by your over-generalizing attitude about men; a profile that comes across as bitter about "all the men" seeking "barbi-doll babes" and will not look passed your less-than-fit exterior, to see your beautiful interior. To make matters worse, what men will likely see in your profile is an overweight woman making excuses.
While you've tried to convince yourself that taking care of husband and children left no time for you, let's be honest here: You're fooling yourself on this point! Taking time to get fit and stay in shape was always an option for you. You simply did not choose it.
But better than altering your profile to remove the obvious resentment in it, . . . is to remove the bitterness and resentment from your life!
Let's get clear the motives and benefits for becoming physically fit and staying in shape. First, there are two opposing motives to be physically fit, one is Vain and the other is Virtuous:
Virtuous: A person gets fit so their physical body can function at its optimum to better love and serve others, and to be personally productive — expanding one's gifts and talents. This motive is other oriented and compassionate.
Vain: A person gets fit so that superficial appearances will be impressive, intentionally trying to project the image of a "babe" or a "macho man" to others. This motive is selfish and egocentric.
Heather, not "all" men are looking for "a gorgeous barbi-doll babe with a perfect model-shaped figure" (especially one who has a vain intent of heart). The saying goes: "Pretty is as pretty does!" Some divorced men have already tried marrying a "trophy wife" and through that sad experience, they discovered a dead end. Now, they look for a woman with inner beauty — a woman who will be kind and compassionate.
Again, the words in your Online Dating Profile come across as bitter and resentful; your profile unfairly judges "all the men out there" as having superficial and vain motives. It is a fact some men and women do have vain motives; nevertheless, the man that you hope to become friends with, court and eventually marry, will not fit into your over-generalizing attitude about "all the men out there."
Remember, a person can take care of his or her body, and become fit and physically appealing for altruistic purposes. Steven R. Covey calls this kind of physical preparation: "sharpening the saw" — it's one of the 7 Habits of Highly Successful People.
When your body is physically fit, you have more energy to serve others. If you had taken time to stay in shape when your husband was alive, he would have been better served by you. He would have enjoyed your physical appearance more, and you would have had a more satisfying feeling of self worth.
But what's done . . . is done. You can learn from yesterday's mistakes. Today, you can work on being the best you can be physically, without having vain motives. Physical fitness can be viewed in terms of tuning an efficient running engine, as opposed to just touching up a glossy exterior — to coin a "car" metaphor.
It's absolutely OK to present your physical exterior in the best way possible, as your motive of heart is not egocentric and vain. Alter your personal attitude to allow for the fact that there are some men who do not have vain intentions: these men will be the ones you will want to become friends with.
Finally, realize that getting in shape can be completely about "feeling great" and about "sharpening the saw." When your saw blade is sharp, every stroke of life cuts more efficiently. As you do this, your inner beauty and outer beauty will shine!
Best Regards,
Matt Moody, Ph.D.
Social Psychologist
* * * * * * *
Dr. Matt offers telephone counseling that will fix your problems fast!
The Greatest Prize
for Life's labors isn't
in material possessions
or impressive accomplishments,
but in the progress of personal character.
You labor for your own becoming, this is your richest reward.
Who You Become is your greatest possession,
make it your Masterpiece!
(Changing Your Stripes, 2nd Edition, page 274).
The book, "Changing Your Stripes" presents principles for getting out of
the ditch in which you've been dumped (the difficulties of which you are a victim), and
the ditch in which you've jumped (the difficulties for which you volunteer).
"Mastering a challenging situation
is ultimately a matter of
mastering yourself!"
- Matt Moody
"Changing Your Stripes," teaches you the principles that lead to lasting change,
making you a new kind of creature capable of communicating
with calm, even as storms of contention swirl.
If these principles resonate and ring true,
then . . . this book is for you!


Sold Exclusively
through this website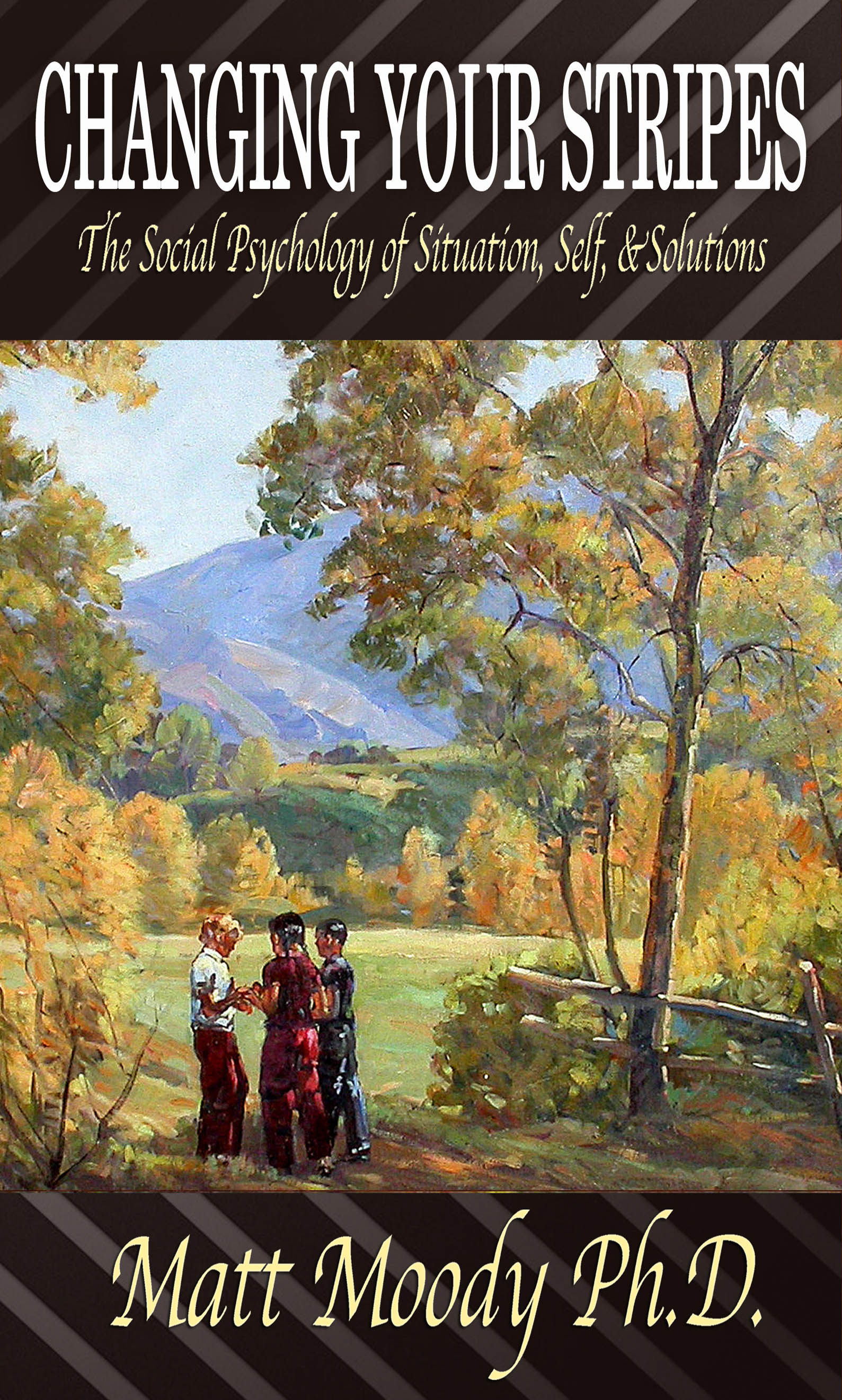 Changing Your Stripes is a
unique reference book that will help
you understand, . . . and solve all of
Life's ever-appearing problems.
Here are more reasons to buy
Changing Your Stripes


Social Psychologist & Personal Advisor