Since he didn't acknowledge you, and failed to show consideration for you, he has exposed his true intentions toward you: You are being used for his sexual pleasure. And possibly you are using him too, as you have kept your sex with him, "casual" — as opposed to being an intimate expression of total committment and love.
Again, you were hoping that he would care enough to notice what needed to be done, due to the heavy snow storm. He really didn't need to "read your mind," he needed only to see 19 inches of snow on the ground outside. And in the end, he treated you as he did, because he doesn't really care about you (at the same level of as commitment love-makers do). His reactions are consistent with him keeping the sex between you "casual." That is the deal you bargained for:
You are now reaping a harvest according to the seeds you have sown.
Why should anyone make a firm commitment to another person? A commitment so strong that he or she is willing to announce that commitment, and love, to the whole community?
Part of the answer is this: Because only within the bonds of a committed relationship, can you enjoy something more than "sex" — you get to experience the euphoria of celebrating a love that is mutually felt and completely committed. This celebration of Love is many times more wonderful and satisfying, compared to casual sex.
Here's another part of the answer: The Creator intended that sexual Intimacy should be reserved for committed relationships only. Why so? Because sexual intimacy sometimes brings babies into the world, and it is absolutely unfair for new born babies to have parents that aren't committed to one another. It's like building a house on a faulty foundation — the house will eventually fall.
So, your house has fallen. It couldn't stand in the first place, because the foundation was faulty. What to do from this point?
You need to take care YOUR SIDE of RESPONSE-ABILITY. (If I were talking to him, I would advise him to do the same.) You can only make decisions for YOUR LIFE. And because he has no commitment to you, he also has no accountability to you.
This will get you pointed in the right direction, and suggest the RIGHT WALL against which you might lean your ladder, and commence climbing. You might also see if you can get Unstuck from your Story: (he needs to do this as well, but I'm not talking to him, only you)
Good luck,
Matt Moody, Ph.D.
Social Psychologist
ChangingYourStripes.com
The pathway to finding our Purpose is discovered in a Journey:
The Journey
For this is the Journey that mortals make:
To find themselves. If they fail in this, it matters little
whatever else they may achieve: Money, Fame, Revenge, Pleasure.
When they end the Journey, they can put them all into
a bin marked "ashes." They mean nothing.
But if one has found that she has within her
a divine soul, if she has discovered the principles
upon which the fulfillment of that soul is based, and
if she implements those principles, then she has a mansion
within which she can live with dignity
and joy each day of her life.
* * * * * * *
Dr. Matt offers telephone counseling that will fix your problems fast!
The Greatest Prize
for Life's labors isn't
in material possessions
or impressive accomplishments,
but in the progress of personal character.
You labor for your own becoming, this is your richest reward.
Who You Become is your greatest possession,
make it your Masterpiece!
(Changing Your Stripes, 2nd Edition, page 274)
The book, "Changing Your Stripes" presents principles for getting out of
the ditch in which you've been dumped (the difficulties of which you are a victim), and
the ditch in which you've jumped (the difficulties for which you volunteer).
"Mastering a challenging situation
is ultimately a matter of
mastering yourself!"
- Matt Moody
"Changing Your Stripes," teaches you the principles that lead to lasting change,
making you a new kind of creature capable of communicating
with calm, even as storms of contention swirl.
If these principles resonate and ring true,
then . . . this book is for you!


Sold Exclusively
through this website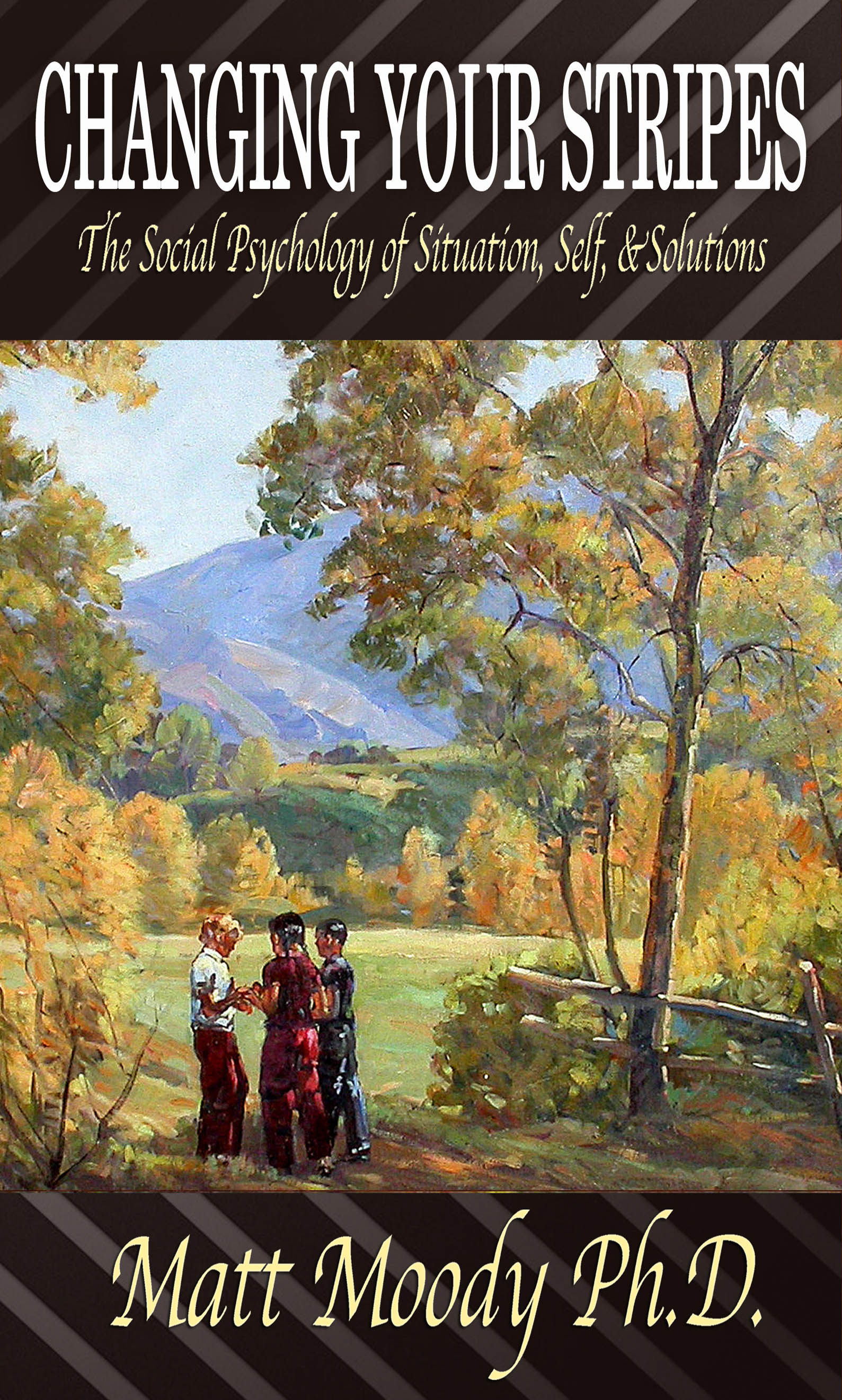 Changing Your Stripes is a
unique reference book that will help
you understand, . . . and solve all of
Life's ever-appearing problems.
Here are more reasons to buy
Changing Your Stripes


Social Psychologist & Personal Advisor