Entangled in the Thick of Thin Things - Part 3
To make a long story short, here are the things my Mother says to me:
- There are clothes that I have in my closet I like better than others
- I like the sweater from the 99 cent store but I don't love it, even if I bought somewhere else
- The 99 cent sweater is very nice, but I am sure that it would cost about $20 in other stores.
- Mary, you have a wide range of clothes bought at the 99 cent store—retail value from $20 to $100
- Some are better quality than others. The outfit you wore to Julieanne's party I love and wanted to grab out of your hands.
-The two blouses you bought me I loved. The other two you bought me, I am giving away because I think someone else wore that and I don't want to wear what someone else bought." (Mother said this because the inside ticket was not on the blouses).
- How come you like the raincoat you just bought and not the other one you saw, better quality?
- The clothes you bought at the 99 cent store, some are nicer than others.
- The jewelry you bought at the 99 cent are gorgeous costume jewelry, but can you compare it to diamonds.

The reason I am asking about these statements made by my Mother, is because of this conversation:
Mom: "As you know tomorrow I am going to visit Doris, but do you remember what I wore the last time I went to visit her"
Mary: "You wore the cashmere sweater"
Mom: "I did"
Mary: "Yes you did. Why don't you wear the sweater you bought at the 99 cent store"
Mom: "I don't like it. Can you compare it to the Ralph Lauren or the Vera Wang sweaters." (Mother bought these sweaters at Lord & Taylors & Kohl's)

This made Mary upset because she thought her Mother was putting down the clothes Mary bought at the 99 cent store, which are gorgeous.

Mary: "Are you saying you don't like your sweater because you bought it at the 99 cent store?
** Read Mary's Other Emails about Thin Things: #1 #2 #3 #4
Related Articles: Inner Beauty vs Superficial Looks of Barbi-doll Babes & Macho Men
Important Elements of Attraction and Compatibility
Hello Again Mary:
It's been two years since I last heard from you. And it appears you're dealing with essentially the same issues: You're caught up in the "THICK" of "THIN" things—which is tendency that millions of people in this world have. But your quest in life is to be better than "average" . . . your BEST quest is in the pursuit of . . . excellence!
As I did two years ago, I am going to "disappear your question" rather than answer it. Why so? Because life is too short to spend it groveling in mediocrity. Here's the Good News!
I have a very detailed analysis of being "Insulted" versus being "insulting" in my book. You would benefit from learning the distinction—as would a million more people living lives that are caught up in the THICK of THIN THINGS.
What I recommended that you do 2 years ago, . . . still applies: Suggestion #1 and Suggestion #2.
If you sincerely want to move forward in your life—a life committed to excellence—the ideas expressed in my book will absolutely assist you in that Quest . . . for BEST.
Sincerely,
Matt Moody, Ph.D.
Social Psychologist
Read Mary's Other Emails about Thin Things: #1 #2 #3 #4
* * * * * * *
Dr. Matt offers telephone counseling that will fix your problems fast!
The Greatest Prize
for Life's labors isn't
in material possessions
or impressive accomplishments,
but in the progress of personal character.
You labor for your own becoming, this is your richest reward.
Who You Become is your greatest possession,
make it your Masterpiece!
(Changing Your Stripes, 2nd Edition, page 274).
The book, "Changing Your Stripes" presents principles for getting out of
the ditch in which you've been dumped (the difficulties of which you are a victim), and
the ditch in which you've jumped (the difficulties for which you volunteer).
"Mastering a challenging situation
is ultimately a matter of
mastering yourself!"
- Matt Moody
"Changing Your Stripes," teaches you the principles that lead to lasting change,
making you a new kind of creature capable of communicating
with calm, even as storms of contention swirl.
If these principles resonate and ring true,
then . . . this book is for you!


Sold Exclusively
through this website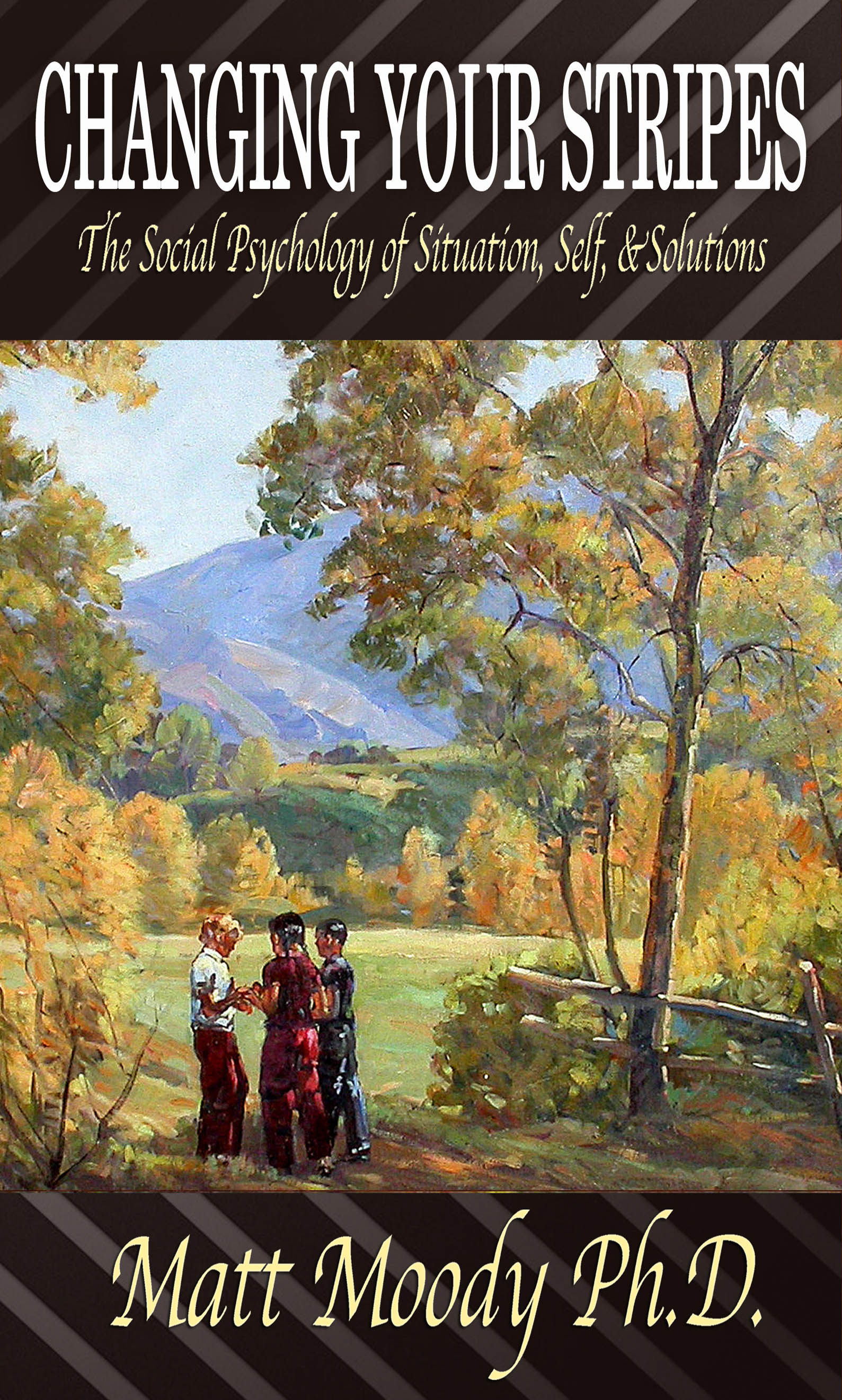 Changing Your Stripes is a
unique reference book that will help
you understand, . . . and solve all of
Life's ever-appearing problems.
Here are more reasons to buy
Changing Your Stripes


Social Psychologist & Personal Advisor