Controversies Created Out of Context:
Clarifying Conundrums by Considering Context
Filling in the Final Puzzle Pieces..Paul did not undercut his own teachings, nor did he undercut the words of Christ, with these words to the Ephesians: "For by grace are ye saved through faith; and that not of yourselves: it is the gift of God: Not of works, least any man should boast" (Eph 2:8-9). By simply reading the very next verse, we realize that Paul did not intend to toss good works out the window: "For we are his workmanship, created in Christ Jesus unto good works, which God hath before ordained that we should walk in them" (Eph. 2:10).

So what is Paul trying to say with the words: "For by grace are ye saved through faith"?
This phrase identifies both sides of a saving covenant between God and man: Through the power of the atonement, God saves us Graciously as we serve him Faithfully, which faithful service is a Good Work given with a pure heart. This means salvation from sin happens "together with Christ" (Eph. 2:5), and cannot be accomplished without Him -- "and that not of yourselves" (Eph. 2:8).

Walking in the "good works" of Christ (Eph. 2:10) with heartfelt faith in Him is our part of the New Covenant. Entering into that Covenant is necessary for Grace to "reign through righteous-ness" (Romans 5:21). We must come to the Well and drink of "living waters" to complete the Covenant.
Conundrums Created "Out of Context." Another scripture that creates a small conundrum is found in the writings of Isaiah: "But we are all as an unclean thing, and all our righteousnesses are as filthy rags" (Isaiah 64:6). And just like the quandary with Paul's utterance to the Ephesians, interpretive clarity comes quickly as questionable phrases are read in context.

In the two verses preceding the one in question, Isaiah speaks of a glorious reward that God "hath prepared" for those "that rejoiceth and worketh righteousness, those that remember thee in thy ways" (Isaiah 64:4-5). Clearly, the so-called righteousness that "are as filthy rags" cannot be the faith-filled righteousness that abounds to "sufficiency" through his "grace" (2 Cor. 9:8). Further, Isaiah cannot be speaking of "the peaceable fruit of righteousness" (Hebrews 12:11) that is made "perfect" and "wellpleasing in his sight, through Jesus Christ" (Heb. 13:20-21). On the contrary, Isaiah is imparting the principle of the True Vine: All efforts to be righteous are "as filthy rags" unless those efforts are attached to, and fed by, the "true vine" (John 15:1-5).
Isaiah is not tossing heartfelt works out the window! Neither is he dismissing our efforts to faithfully fulfill the New Covenant. As for his epistle to Titus, Paul did not contradict the terms of the New Covenant with his words: "not by works of righteousness which we have done, but according to his mercy he saved us" (Titus 3:5). If we read all that Paul wrote to Titus, the "hard to be understood" (2 Peter 3:16) pieces of the interpretive puzzle come clearer. Here are the preceding verses:

"Put them in mind . . . to be ready to every good work, to speak evil of no man, to be no brawlers, but gentle, shewing all meekness unto all men. For we ourselves also were sometimes foolish, disobedient, deceived, serving divers lusts and pleasures, living in malice and envy, hateful, and hating one another." (Titus 3:1-3).

In these verses, Paul is speaking of his sinful past as Saul, before his conversion: "we ourselves also were sometimes foolish." It is clear that no works of righteousness are done by those engaged in disobedience, lustful pleasures, living in malice and envy, and being hateful to others. Paul continues: "But after that the kind-ness and love of God our Savior toward man appeared" (Titus 3:4) and by divine mercy, Paul and "foolish" others were saved from their former lives of sin.

Since Paul is still fighting the good fight, he is not talking about his ultimate salvation; nor is he talking about a final salvation for others generally. Rather, Paul is specifically describing how some are saved from a wretched state of sinfulness by God's mercy and grace; thereafter, they are called to do as Paul: "fight the good fight, finish their course, and keep the faith" (2 Tim. 4:7). Then, at the end of much faithful enduring is a final judgment made accord-ing to the conditions of the New Covenant, with a "crown of righteousness" graciously given "unto all them also that love his appearing" (2 Tim. 4:8).

Paul did no earthly "works of righteousness" to deserve his visit of Grace on the road to Damascus. On the contrary, he persecuted the believers of Christ (Acts 8:3, 26:10; Gal. 1:13), until Grace "appeared" saying: "Saul, Saul, why persecutest thou me?". . . I am Jesus of Nazareth, whom thou persecutest" (Acts 22:7-8).
To the Romans, Paul lavishly praised God for the richness "of his goodness and forbearance and longsuffering," and lamented that His perfect patience often goes unacknowledged and unappreciated yet "the goodness of God leadeth thee to repentance" (Romans 2:4) anyway. Many who have been saved from the dark depths of sin remark, "there but for the grace of God, go I."

The appearance of Grace to Paul was an invitation from the resurrected Lord; Paul was at choice to follow the Savior or to continue in the ways of sin. With infinite wisdom, God will influence and invite but will not override our ultimate choices. Given his invitation of Grace, sinful Saul chose to become faithful Paul--a new name for a "new creature" in Christ.
Paul was saved from a life of "malice" by a visit of Grace. And through faith in Jesus Christ and baptism for remission of sins (Acts 22:14-16), Paul accepted his calling to "take up his cross daily, and follow" in the His footsteps (Luke 9:23-24). Since
"God is no respecter of persons," (Acts 10:34) an invitation of Grace and "intercession for us" (Romans 8:26-27, 34-35) is available to all. As Paul taught Titus: "the grace of God that bringeth salvation hath appeared to all men" (Titus 2:11).
In our journey through life, there will be times when the loving hand of God lifts us out of the darkness and graciously saves us from our foolish choices—not because of "works of righteousness which we have done," but because He loves us. Nevertheless, once we are graciously lifted into the Light and become aware of the New Covenant, from that new day, we are accountable before God to work the works of righteousness with heartfelt faith in Him.
Paul's Salvation Puzzle Solved. Reflecting back upon the parable of the crossword puzzle and now in light of many clear and definite doctrines taught by Christ himself, we can conclude with clarity that certain out-of context interpretations of Titus 3:5 absolutely cannot fit into the whole picture of God's plan of salvation. Paul would never undercut the words of Christ; in fact, Paul exhorts Titus to "good works" six times in three short chapters. He reiterates the Savior's teaching that true believers will "maintain good works" (Titus 3:8; John 14:12), adding that "These things are good and profitable unto men."
Paul further reinforces a reason why the grace of God appeared:

"For the grace of God that bringeth salvation hath appeared to all men, teaching us that, denying ungodliness and worldly lusts, we should live soberly, righteously, and godly, in this present world: Looking for that blessed hope, and the glorious appearing of the great God and our Saviour Jesus Christ; Who gave himself for us, that he might redeem us from all iniquity, and purify unto himself a peculiar people, zealous of good works." (Titus 2:11-15).
The out-of-context, interpretive "tail" of a few passages should never "wag" the doctrinal "dog" as established by a thorough reading of the scriptures. While it is true that the mercy of God may momentarily save us from darkness—not by works of righteousness which we have done—and lift us up into his loving light, yet we must enter into a covenant to continue in that light, "take up his cross daily" (Luke 9:23), and endure in Christ's New Covenant, just as the Apostle Paul has done.
Whatever meaning is derived from some "hard to be understood" verses of scripture, those meanings must fit within the broadest context established by all clear and uncontroversial revelations pertaining to a given doctrine. As to salvation, the following truths must not be overturned:

* The gift of salvation from the grave is a free gift given to all, regardless of good or evil deeds. Everyone who is born into this world will be saved by grace from physical death: Those who have "done good" unto the "resurrection of life" and those who have "done evil" unto the "resurrection of damnation" (John 5:29; Daniel 12:2).

* The gift of salvation from sin and entrance into the kingdom of God is explicitly given to those who have "done good" in this life (John 5:28-29) and "do the will of my Father" (Matt. 7:21). But because our heartfelt efforts to walk in his ways inevitably fall short (Rom. 3:23), a mighty Atonement was made and exalting Grace extended "unto all them that obey him" (Heb. 5:9).

The scriptures teach that God is a covenant maker (Exodus 19:5); He makes covenants with his children (Romans 8:16-17). Without recognizing the Lord's legacy of covenant making, and without an awareness of the contingent character of covenants, we cannot fully understand Salvation by Grace through Faith.

The following summarizes New Covenant contingencies declared by Christ that are necessary for salvation from sin; they represent the good works we must diligently do to complete our side of a saving covenant. God graciously gives us the gift of eternal life as we faithfully do the following:

1) Believe in Christ (John 3:16; 5:24); which means: Do the works that Jesus
did (John 14:12); not walking in darkness, but walking in his light (John 8:12),
shining forth the good works of Christ (Matt. 5:16).

2) Do good in this life (John 5:29); which means:

3) Administer to "the least of these" as one would to the Lord (Matt. 25:31-46).

4) Overcome trial and temptation; faithfully enduring to the end
(Matt. 10:22; Rev. 2:26; & 3:5, 21; James 1:12).

5) Suffer with Christ, remaining true to the witness of Christ
in the face of persecution (Matt. 5:10-12).

6) Become humble as a little child (Matt. 18:3-4).

7) Be converted--infusing faith with unwavering action; committed to Christ
even unto death (Acts 3:19 & 4:7-20).

8) Keep the commandments (Matt. 19:16-17).

The Witness of our Faith. Finally, those who are willing to follow Christ are further admonished by the Savior to witness their willingness in two ways:

* Be "buried with him in baptism" (Col. 2:12-13), and

* Partake of his flesh and blood (John 6:53-54).

Jesus Christ directly declared that baptism is a work required for our salvation:
"He that believeth and is baptized shall be saved" (Mark 16:16).
Paul taught that baptism openly manifests our willingness to "walk in newness of life" (Rom. 6:4); he explained that "as many of you as have been baptized into Christ have put on Christ" (Galatians 3:27). These are they who believe in Christ and "work the works of God" (John 6:28) and witness their commitment to Christ's New Covenant through baptism.
Further, Jesus used covenant language to express the necessity of partaking of His sacrament:

"Then Jesus said unto them, Verily, verily, I say unto you, except ye eat the flesh of the Son of man, and drink his blood, ye have no life in you. Whoso eateth my flesh, and drinketh my blood, hath eternal life. . . This is that bread which came down from heaven: not as your fathers did eat manna, and are dead: he that eateth of this bread shall live for ever." (John 6:53-54,58).

And this shall we always do, even as Jesus has done. He has broken bread and blessed it, and given it to us in remembrance of his body and blood, that we will always remember him. And if we always remember him, we shall have his Spirit to be with us. For this is the fulfilling of his commandment, and by so doing, we witness unto the Father that we are willing to obey all that he commands.
At the last supper, Jesus administered the emblems of his sacrament to the disciples; Matthew records:

"And he took bread, and blessed it, and brake it, and gave it to the disciples, and said, Take, eat; this is my body. And he took the cup, and gave thanks, and gave it to them, saying, Drink ye all of it; For this is my blood of the new testament, which is shed for many for the remission of sins." (Matt. 26:28).

His "blood of the new testament" (Mark 14:24) is the blood he shed for the New Covenant. By partaking of the Lord's sacrament, believers in Christ are reminded that it is only through his precious blood that heartfelt efforts to do good are made "perfect" and "wellpleasing." The good works we are commanded to do are only good through Him:

"Our Lord Jesus, that great shepherd of the sheep, through the blood of the everlasting covenant, make you perfect in every good work to do his will, working in you that which is wellpleasing in his sight, through Jesus Christ; to whom be glory for ever and ever, Amen." (Hebrews 13:20-21).

Salvation by Grace through Faith. The gift of resurrection from the physical death is a free gift given to all (John 5:29). To receive the gift of salvation from sin and entrance into God's Kingdom, we must faithfully keep Christ's "everlasting covenant." We must meet all the contingent conditions set forth by the Savior himself. And as we follow the Lord faithfully with whole and unwavering effort, He promises to save us graciously.

Completing our list of covenant contingencies to receiving an exalting salvation—becoming "joint-heirs with Christ" (Rom. 8:17)—those who will receive this glorious and gracious gift must:

9) Make a New Covenant with Christ by being baptized as He was baptized,
witnessing their willingness to "walk in newness of life."
(Matt. 3:13-17; Mark 16:16; John 14:12; Rom. 6:3-5; Gal. 3:26-29).

10) Make a New Covenant with Christ by partaking of his body and
his blood (John 6:53-58), demonstrating a willingness to obey his
commandments (Matt. 19:16-17), and be a witness of his name
(Matt. 5:16; Acts 4:10-13).

Jesus is the bread of life. He is the well of living water and the fount of every blessing; he is the True Vine, the source of saving sustenance, the power by we draw our daily breath and the Grace by which we "abound to every good work." Without "relying wholly upon the merits of him who is mighty to save," and without making a New Covenant with Jesus the Christ, the Creator of heaven and earth—as to salvation from sin unto eternal life--we "can do nothing."
"Feast upon the words of Christ; for behold,
the words of Christ will tell you all things what ye should do."
* * * * * * *
The Greatest Prize
for Life's labors isn't
in material possessions
or impressive accomplishments,
but in the progress of personal character.
You labor for your own becoming, this is your richest reward.
Who You Become is your greatest possession,
make it your Masterpiece!
(Changing Your Stripes, 2nd Edition, page 274).
The book, "Changing Your Stripes" presents principles for getting out of
the ditch in which you've been dumped (the difficulties of which you are a victim), and
the ditch in which you've jumped (the difficulties for which you volunteer).
"Mastering a challenging situation
is ultimately a matter of
mastering yourself!"
- Matt Moody.
"Changing Your Stripes," teaches you the principles that lead to lasting change,
making you a new kind of creature capable of communicating
with calm, even as storms of contention swirl.
If these ideas resonate and ring true,
then . . . this book is for you!


Sold Exclusively
through this website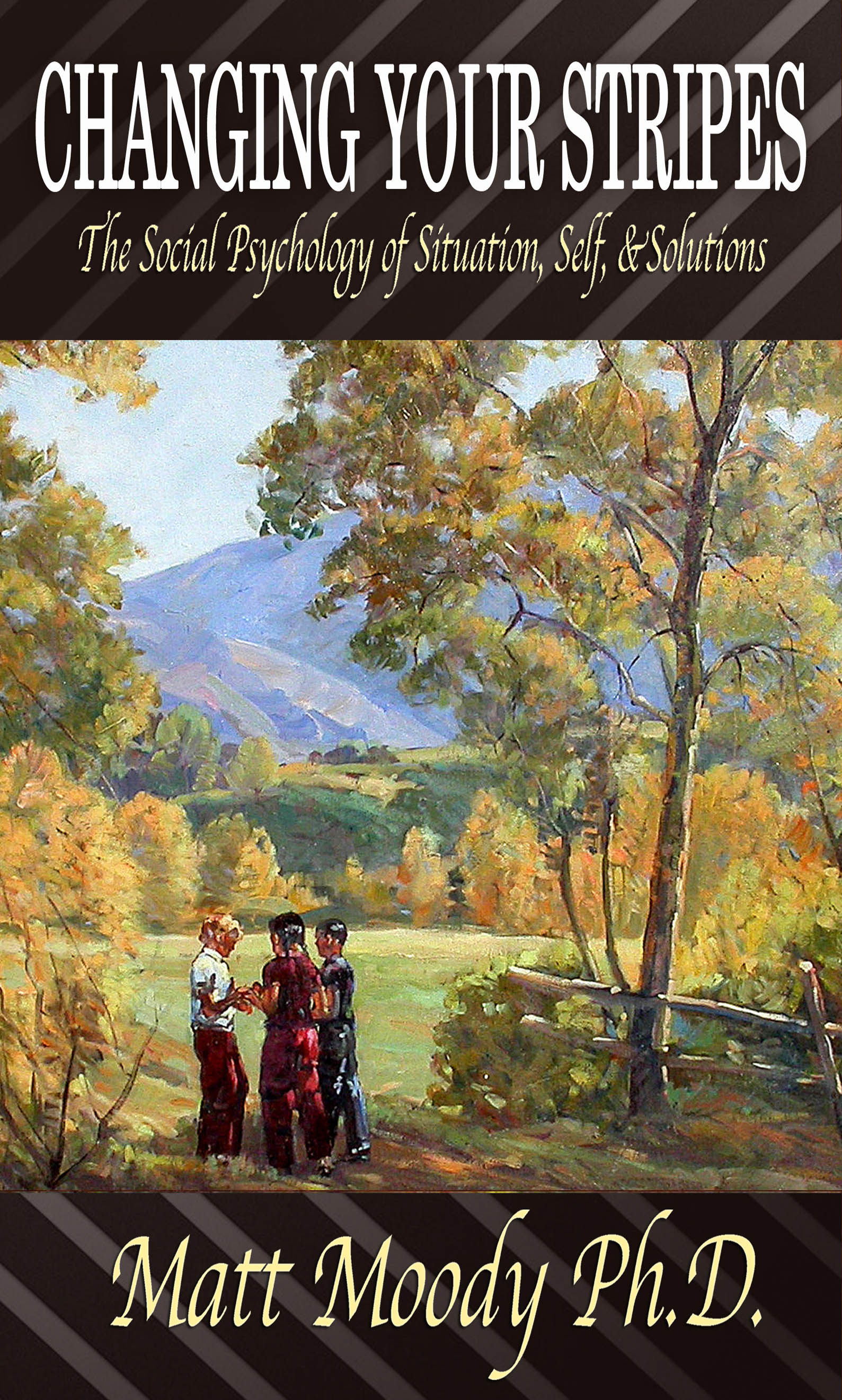 Changing Your Stripes is a
unique reference book that will help
you understand, . . . and solve all of
Life's ever-appearing problems
Here are more reasons to buy
Changing Your Stripes


Social Psychologist & Personal Advisor