The Works That I Do Shall Ye Do Also:
Our Side of the Saving Covenant
Through Our Faithfulness We
Gain Access to His Grace
His Light Shines Through Our Good Works..In the Sermon on the Mount, Jesus gave this invitation to His followers:

"Let your light so shine before men, that they may see your good works, and glorify your Father which is in heaven" (Matt. 5:16)
Without an openly observable action — some sort of proactive doing — this admonition from the Savior to "shine" cannot be accomplished. Faith in Jesus Christ is inseparable from doing the works of Christ; through the light of good works is "faith made perfect" (James 2:22). So adding to our list of contingencies to salvation from sin unto eternal life, believers in Christ will:
* Do the works that Jesus did (John 14:12); not walking in darkness,
but walking in his light (John 8:12), shining forth the good works of Christ (Matt. 5:16).

What does Doing Good Works look like? Again, contemporary interpretations need not be imported to understand what doing good might mean; Christ has clarified his Gospel. Jesus spoke of a judgment day when "a shepherd divideth his sheep from the goats." To the sheep on his right hand, the King said: "Come, ye blessed of my Father, inherit the kingdom prepared for you" (Matt 25:31-46).

Having Charity. What was the dividing difference between the sheep and the goats? Those on the right hand showed forth charity to their fellow beings; they ministered to even "the least of these." Whereas those on the left hand of the King were confused, "when saw we thee an hungred, or athirst, or a stranger, or naked, or sick, or in prison, and did not minister unto thee?" The Lord answered:

"Inasmuch as ye did it not to one of the least of these, ye did it not to me. And these shall go away into everlasting punishment: but the righteous into life eternal." (Matt. 24:45-46).

This parable establishes that receiving a divine inheritance in the Kingdom of God hinges upon whether we are charitable to "the least of these." Showing forth charity is one of the foundational ways believers do good works. Reaffirming the importance of being charitable, Paul preached, "And now abideth faith, hope, charity, these three; but the greatest of these is charity" (1 Cor. 13:13). And to Timothy, Paul said, "Now the end of the commandment is charity out of a pure heart" (1 Tim. 1:5).
Those charitable souls found on the Lord's right hand, are called "the righteous." This is the etymology of the word righteous: To be on the right hand of God. Those who love God and would be numbered among the righteous will show charity to all (1 John 4:20-21), especially to the "least of these."

Enduring to the End. Getting on the path of righteousness and then staying on it can be challenging; the Savior taught, "He that endureth to the end shall be saved." (Matt. 10:22; & 24:13). Through his many adversities Paul affirmed: "I have fought a good fight, I have finished my course, I have kept the faith: Henceforth there is laid up for me a crown of righteous-ness" (2 Tim. 4:7). The true teaching of enduring to the end is echoed in the writings of John the Revelator:
"To him that overcometh will I grant to sit with me in my throne, even as I also overcame, and am set down with my Father in his throne" (Rev. 3:21). "To him that overcometh will I give to eat of the tree of life" (Rev. 2:7). "And he that overcometh, and keepeth my works unto the end, to him will I give power over the nations" (Rev. 2:26). "He that overcometh shall inherit all things" (Rev. 21:7).

Enduring to the end is characteristic of covenant-keepers who will be saved in the Kingdom. James also taught the doctrine of enduring: "Blessed is the man that endureth temptation: for when he is tried, he shall receive the crown of life, which the Lord hath promised to them that love him" (James 1:12).

Suffering with Him. Glorious promises await those who faithfully endure trials of suffering:

"The Spirit itself beareth witness with our spirit, that we are the children of God: And if children, then heirs; heirs of God, and joint-heirs with Christ; if so be that we suffer with him, that we may be also glorified together" (Rom. 8:16-17).

Becoming "heirs of God" is clearly contingent upon a choice that mortals make: "if so be that we suffer with him." Contingent language used in the Bible is covenant language.

This previous scripture in Romans speaks of a suffering endured by those who would be "glorified." What does Paul mean by the phrase "suffer with him"? The words of Christ lend clarity to one aspect of suffering that receives a heavenly reward when endured faithfully:

"Blessed are they which are persecuted for righteousness' sake: for theirs is the kingdom of heaven. Blessed are ye, when men shall revile you, and persecute you, and shall say all manner of evil against you falsely, for my sake. Rejoice, and be exceeding glad; for great is your reward in heaven" (Matt. 5:10-12).

Having Childlike Humility. In addition to having charity and enduring faithfully through suffering and persecution, the Savior taught other attributes of believers who have "done good" (John 5:29); Jesus said:

"Verily I say unto you, except ye be converted, and become as little children, ye shall not enter into the kingdom of heaven. Whosoever therefore shall humble himself as this little child, the same is greatest in the kingdom of heaven." (Matt. 18:3-4).
The Savior's declaration as to entrance "into the kingdom of heaven" is given with unequivocal condition . . . undeniable contingency: "Except ye be converted, and become as
little children."

Being Converted. Before his invitation to become as "little children," Jesus said, "Except ye be converted." What does it mean to be converted? The Lord said to Peter, "Behold, Satan hath desired to have you, that he may sift you as wheat: But I have prayed for thee, that thy faith fail not: and when thou art converted, strengthen thy brethren." (Luke 22:31-32).

Peter was about to discover the limitations of his faith; Christ continued: "I tell thee, Peter, the cock shall not crow this day, before that thou shalt thrice deny that thou knowest me" (Luke 22:34). This prophecy was given even as Peter declared a bold commitment to Christ--but only with his lips: "Lord, I am ready to go with thee, both into prison, and to death." (Luke 22:33).

Although Peter desired to be converted, his faith had not yet been infused with unwavering action. The covenant contingency is emphatic: "Except ye be converted, . . . ye shall not enter into the kingdom of heaven."

Peter's transition from the apprehensive Apostle who denied Christ three times to a bold and powerful servant of God, happened in a pivotal meeting between Peter and the risen Lord:

"Jesus saith to Simon Peter, . . . lovest thou me more than these? He saith unto him, Yea, Lord; thou knowest that I love thee. He saith unto him, feed my lambs. . . . He saith unto him the third time, Simon, son of Jonas, lovest thou me? Peter was grieved because he said unto him the third time, Lovest thou me? And he said unto him, Lord, thou knowest all things; thou knowest that I love thee. Jesus saith unto him, Feed my sheep" (John 21:15-17).

Mirroring his three denials, Peter answered the Lord three times with his commitment of love. But this time Peter was able to back up his words of faith with action. Peter's conversion was manifest by his ability to do as Jesus directed: "Feed my sheep."

Having received "power" from Christ to "heal" and cast out "unclean spirits," (Matthew 10:1), Peter proceeded to faithfully feed the Lord's sheep. He worked mighty miracles "by the name of Jesus Christ" and with "boldness" declared to all men and even "the rulers of the people" that "there is none other name under heaven given among men, whereby we must be saved" (Acts 4:7-13). Some who rejected his message "laid hands" upon Peter and brought him before the rulers (Acts 4:1-5).

And when "the council" of rulers "conferred among themselves," they determined to "straitly threaten [him] . . . not to speak at all nor teach in the name of Jesus" (Acts 4:15-18). Peter replied:
"Whether it be right in the sight of God to hearken unto you more than unto God, judge ye" (Acts 4:19).
Having our faith infused with unwavering action, like Peter, is characteristic of being "converted," and thus becoming eligible to "enter into the kingdom of heaven" (Matt. 18:3).

Keeping the Commandments. The Savior was asked, "Good Master, what good thing shall I do, that I may have eternal life? And he said unto him, . . . if thou wilt enter into life, keep the commandments." (Matt. 19:16-17). The Savior's promise of "eternal life" is again contingent upon a choice that men make; it is dependent upon a covenant that men keep: "if thou wilt enter . . . keep the commandments."

Being rewarded in proportion to our works--our commandment keeping--is yet another uncomplicated and clear teaching of Christ:

"For the Son of man shall come in the glory of his Father with his angels; and then he shall reward every man according to his works" (Matthew 16:27).

Clear Contingencies to Salvation. To solve an interpretive puzzle and assemble a complete picture of salvation, it is wise to define the meaning of Paul's "hard to be understood" statements in light of the Savior's clarifications.

Here is how our puzzle of salvation is fitting together: The following are conditions of the New Covenant as set forth by the Savior; they are ways of doing good, ways that believers in Christ will "work the works of God" (John 6:28). Adding to our list of contingencies, the gift of eternal life is graciously given to those who:
* Administer to "the least of these" as one would to the Lord (Matt. 25:31-46).
* Overcome trial and temptation; faithfully enduring to the end (Matt. 10:22;
Rev. 2:26; & 3:5, 21; James 1:12).
* Suffer with Christ (Rom. 8:16-17), remaining true to the witness of Christ
in the face of persecution (Matt. 5:10-12).
* Become humble as a little child (Matt. 18:3-4).
* Are converted—infusing faith with unwavering action; committed to Christ
even unto death (Luke 22:31-34; Acts 4:7-13, & 18-20).
* Keep the commandments (Matt. 19:16-17).
Following Christ: One Whole Way of Being. Believing in Christ and doing Good Works have never been two different realities; rather they are two descriptive aspects of one whole and undivided Living Reality.

The word "faith" is associated to an attitude of enduring hope and belief; faith signifies sincere intents of heart and pure motives of mind. On the other hand, the word "work" is associated with action; works denote demonstrations of might and strength.

Establishing the first and great commandment, the Savior tied together heart, might, mind, strength, and soul (Deut. 6:5; Matt. 22:37) into a whole way of loving as He loved: "And thou shalt love the Lord thy God with all thy heart, and with all thy soul, and with all thy strength, and with all thy mind" (Luke 10:27).

It takes the pure purposes of the heart to breathe life into any work--thus making it a good work. To "enter the kingdom of heaven" we must give our "all" in doing "the will of my Father" (Matt. 7:21) with undivided wholeness (Matt. 6:22; James 1:8).

With all our Heart: Infusing Faith into Works. Paul speaks of "Gentiles, which have not the law," but "do by nature the things contained in the law." He explains that these Gentiles "shew the work of the law written in their hearts, their conscience also bearing witness." (Rom. 2:14-15). This is an important teaching, for it hits at the heart of how one infuses faith into works, thus making them good works. Jeremiah wrote:

"Behold, the days come, saith the Lord, that I will make a new covenant with the house of Israel, and with the house of Judah: Not according to the covenant that I made with their fathers in the day that I took them by the hand to bring them out of the land of Egypt, . . . But this shall be the covenant that I will make with the house of Israel; . . . I will put my law in their inward parts, and write it in their hearts" (Jeremiah 31:31-34).

This Old Testament prophecy speaks of a "new covenant"—a law written "in their hearts." This "new covenant," established by Christ, calls for obedience not only to the written Law revealed in scripture, but also obedience to the active voice of the Law-Giver.
When Jesus taught that "true worshippers" will worship "in spirit and in truth" (John 4:23), he was giving emphasis to the guiding voice of the Spirit as being the ultimate arbiter of our obedience. Thus the Law-Giver publishes a Law in our hearts "written not with ink, but with the Spirit of the living God; not in tables of stone, but in fleshy tables of the heart" (2 Cor. 3:3).
The 3rd article in this 4 part series clarifies a much misapplied notion: The Spirit of The Law. This phrase is not found in the Bible, and neither is a justification for its common mis-application. The next article also clarifies the much misunderstood principle of Grace.
* * * * * * *
The Greatest Prize
for Life's labors isn't
in material possessions
or impressive accomplishments,
but in the progress of personal character.
You labor for your own becoming, this is your richest reward.
Who You Become is your greatest possession,
make it your Masterpiece!
(Changing Your Stripes, 2nd Edition, page 274).
The book, "Changing Your Stripes" presents principles for getting out of
the ditch in which you've been dumped (the difficulties of which you are a victim), and
the ditch in which you've jumped (the difficulties for which you volunteer).
"Mastering a challenging situation
is ultimately a matter of
mastering yourself!"
- Matt Moody.
"Changing Your Stripes," teaches you the principles that lead to lasting change,
making you a new kind of creature capable of communicating
with calm, even as storms of contention swirl.
If these ideas resonate and ring true,
then . . . this book is for you!


Sold Exclusively
through this website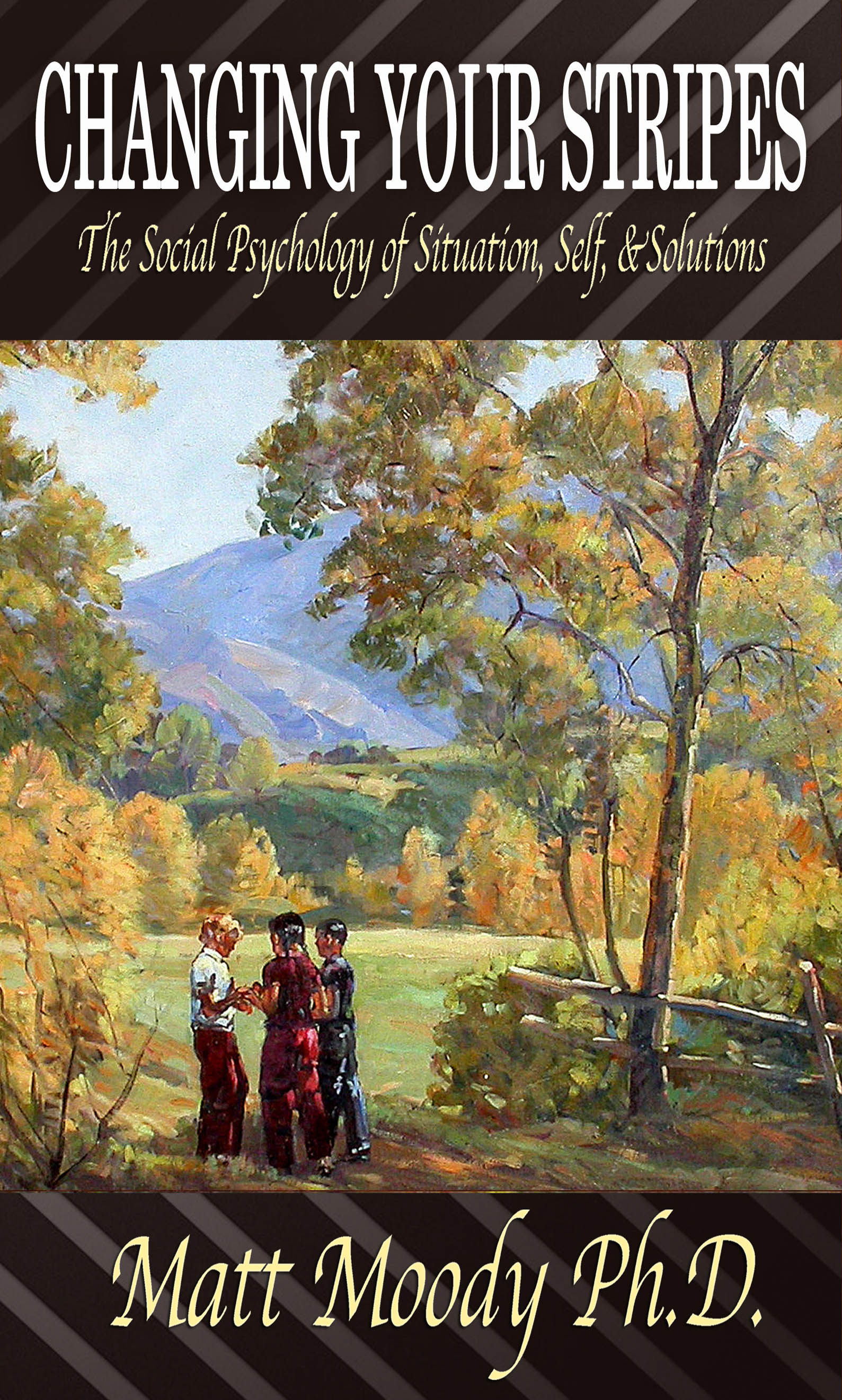 Changing Your Stripes is a
unique reference book that will help
you understand, . . . and solve all of
Life's ever-appearing problems
Here are more reasons to buy
Changing Your Stripes


Social Psychologist & Personal Advisor