Surely you are hiding the frequent conversations with your "ex" from your husband. Therefore, what you are doing is dishonorable — it shows a lack of integrity in you. And it also shows a lack of integrity in your "ex," . . . for you say he is also IN a relationship. So he's cheating on his girlfriend as he talks to you, and wishes he was with you.
Guess what? Every man who wants to have sex with the woman he's talking to . . . will say, "He is in a relationship that he doesn't want to be in." And when he GETS in a relationship with you . . . there will also be another woman that he will deliver the same worn-out line to (behind your back): "I'm in a relationship I don't want to be in."
What you SEE . . . is what you GET. He's cheating on his girlfriend NOW, and he will most likely cheat on you in the FUTURE, if you rekindle a relationship with him.
The way of Honor is this: To BE MARRIED . . . while you ARE MARRIED, and to give your whole heart to your husband. Since you believe in second chances, try giving your husband a second chance — but this time, put your whole heart into loving ONLY him.
Be honest with yourself: Right now, you are NOT giving your whole heart to your husband.
IF you can love your husband in a fully-committed way, then you show yourself to be a woman of integrity. Currently, you are "cheating"—at least emotionally, if not sexually.
The cheating cycle has to stop a some point in time, otherwise your entire life will be spent WANTING what's on the other side of the hill where the grass is always greener. This is precisely why one of the ten commandments is this:
"Thou shalt not covet" (Exodus 20:17)
God is perfectly wise! He knew that "coveting" would be a problem for many people—and He was right.
You will be most happy when you can live your life with complete honesty and integrity. While you are "married" it is inappropriate and dishonorable to be thinking in terms of "second chances" for a man who is NOT your husband.
Again, one of the primary reasons why you are presently "confused" . . . is because the thoughts you are entertaining are NOT good ones. When you DO the wrong thing . . . confusion is the result. In contrast, when you DO the right thing, you will live joyfully in your relationships, and have peace in your heart and clarity of mind.
I'm hoping that you will choose to CHANGE and if you're serious about this essential goal, my book will be a valuable "road map" in that most essential journey.
Live with honor! Let this be the legacy that you pass on to your children.
Sincerely,
Matt Moody, Ph.D.
Social Psychologist
* * * * * * *
The Greatest Prize
for Life's labors isn't
in material possessions
or impressive accomplishments,
but in the progress of personal character.
You labor for your own becoming, this is your richest reward.
Who You Become is your greatest possession,
make it your Masterpiece!
(Changing Your Stripes, 2nd Edition, page 274).
The book, "Changing Your Stripes" presents principles for getting out of
the ditch in which you've been dumped (the difficulties of which you are a victim), and
the ditch in which you've jumped (the difficulties for which you volunteer).
"Mastering a challenging situation
is ultimately a matter of
mastering yourself!"
- Matt Moody
"Changing Your Stripes," teaches you the principles that lead to lasting change,
making you a new kind of creature capable of communicating
with calm, even as storms of contention swirl.
If these principles resonate and ring true,
then . . . this book is for you!


Sold Exclusively
through this website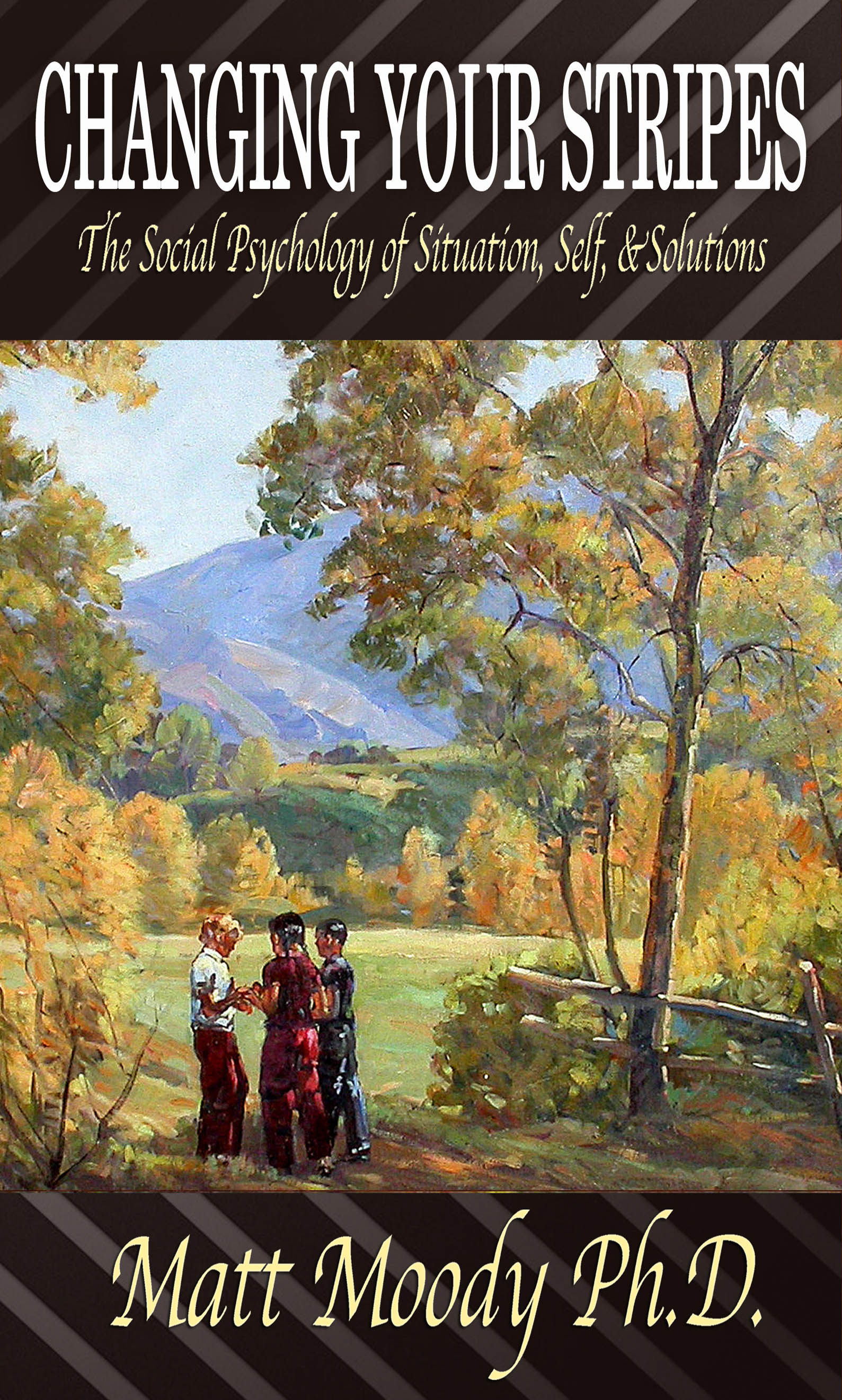 Changing Your Stripes is a
unique reference book that will help
you understand, . . . and solve all of
Life's ever-appearing problems.
Here are more reasons to buy
Changing Your Stripes


Social Psychologist & Personal Advisor