It may sound cruel but with this blunt statement, she communicated to her soon-to-be ex-husband that it was NOT her Response-Ability to make sure he didn't do self-destructive things.
The same self-destructive potential exists in your situation: As you fail to do what your wife is manipulating you to do, she may threaten to break things, cut herself, get depressed, or commit suicide — and she may even follow through with her threats. Committing suicide is every person's prerogative; it's absolutely the wrong thing to do and is only done by wrong-minded people.
Again, the best way to deal with your situation is this: You need to Change You . . . and not merely a superficial "head" change sufficient to develop the "nerve" to stand up to manipulative threats; better, you need to experience a fundamental change of "heart" and become a man of integrity and honor.
Living with Honor and Integrity does not necessarily require that you stay married to a manipulative woman; instead, integrity and honor means that you will no longer "enable" your wife in her manipulative and self-destructive behavior.
Currently, as you give into her manipulations, and accommodate them, you are reinforcing her bad behavior. You are like the person who continues pouring drinks for an alcoholic. As you continue to be manipulate-able and passive, you are an accomplice in crime with your wife—enabling her Crime of Manipulation.
I have much more to say about living with honor, and experiencing a fundamental change from the heart — too much to say in a single email. I invite you to read my book. Every principle you need to know, to become who you need to be . . . is thoroughly explained in my book, Changing Your Stripes.
If you leave your wife, you must do so because your wife will not join you in living with Honor and Integrity; this means, she refuses to give up her life of manipulation, cutting, depression, and suicide threats — she refuses to join you in becoming emotionally and spiritually healthy.
If you leave your manipulative wife so you can have a relationship with the "other woman," this does not demonstrate Integrity and Honor on your part. And of course, your "cheating" showed a lack of character in you in the first place. This is precisely why Changing You needs to be your primary focus.
Sincerely,
Matt Moody, Ph.D.
Social Psychologist
* * * * * * *
Dr. Matt offers telephone counseling that will fix your problems fast!
The Greatest Prize
for Life's labors isn't
in material possessions
or impressive accomplishments,
but in the progress of personal character.
You labor for your own becoming, this is your richest reward.
Who You Become is your greatest possession,
make it your Masterpiece!
(Changing Your Stripes, 2nd Edition, page 274).
The book, "Changing Your Stripes" presents principles for getting out of
the ditch in which you've been dumped (the difficulties of which you are a victim), and
the ditch in which you've jumped (the difficulties for which you volunteer).
"Mastering a challenging situation
is ultimately a matter of
mastering yourself!"
- Matt Moody
"Changing Your Stripes," teaches you the principles that lead to lasting change,
making you a new kind of creature capable of communicating
with calm, even as storms of contention swirl.
If these principles resonate and ring true,
then . . . this book is for you!


Sold Exclusively
through this website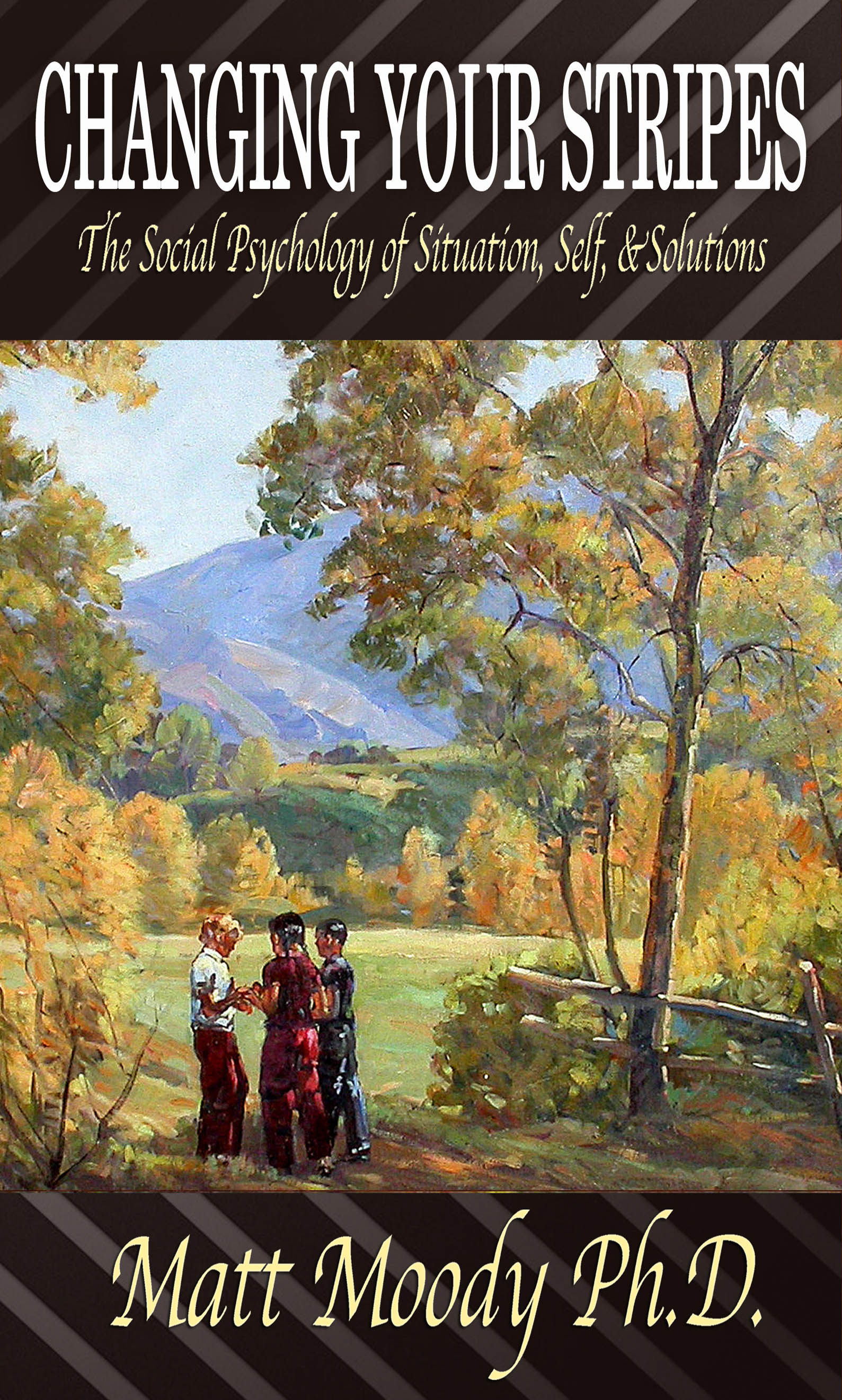 Changing Your Stripes is a
unique reference book that will help
you understand, . . . and solve all of
Life's ever-appearing problems.
Here are more reasons to buy
Changing Your Stripes


Social Psychologist & Personal Advisor