It pleases our Father in Heaven when we give our whole self to this question; Jesus taught that we should love God and Neighbor will all Heart, Mind, Soul, and Strength. As you and I waste time wrestling with thoughts of spiders, we are NOT giving our whole "Mind" to the aim of Loving God and Loving Neighbor — and that's precisely why the Powers of Darkness "haunt" us with thoughts (and dreams) of unimportant things.
The Powers of Darkness are very real, and very aware of the small details in your life that can be used to divert your attention away for the Highest Priority. Again, every moment we dwell upon unimportant questions, these are moments that you and I are NOT focusing upon the highest and best question: How can I Love God and Neighbor with all Heart, Mind, Soul, and Strength?
After two years of being haunted at bedtime, how did the thought of a huge spider finally come to an end? I prayed it away! In my prayers to Heavenly Father, I asked Him to take away the Useless Care of thinking about a spider. What a simply solution! Why didn't I think of that superior solution in the first place? Here's the answer:
I didn't KNOW that the Powers of Darkness were literally the reason why my thoughts were continually haunted every night before bedtime. But today I clearly understand that we "wrestle not against flesh and blood, but . . . against powers, against the rulers of the darkness of this world." Happily, you believe in Jesus, so this means your "spider dreams" are soon going to cease!
Again, the foundational meaning of your dream is this: Satan is real and will tempt you in any way that can divert you from God's Truth; further, the ending of your haunting dream means that God is good, that He is your loving Heavenly Father and will do exactly what He has promised 100% of the time:
"If anyone lacks wisdom, let her ask of God who gives to all liberally" (James 1:5).
"Ask, and you shall receive, that your joy may be full" (John 16:24).
"And in all things, whatsoever you shall ask in prayer,
believing, you shall receive" (Matt. 21:22),
As you read the previously Bible verses, realize that 75% of Americans believe in some form of Christianisty -- they Believe IN Jesus, but do they actually Believe Him ... if they don't live like they believe His promises in the Bible? This is precisely why the verse after James 1:5 cautions:
"But let him ask in faith, nothing wavering. For he that wavers is like a wave of the sea driven
with the wind and tossed. For let not that man think that he shall receive any thing
of the Lord. A double minded man is unstable in all his ways." (James 1:6)
Sincerely,
Dr Matt
Matt Moody, Ph.D.
Social Psychologist
* * * * * * *
Dr. Matt offers telephone counseling that will fix your problems fast!
The Greatest Prize
for Life's labors isn't
in material possessions
or impressive accomplishments,
but in the progress of personal character.
You labor for your own becoming, this is your richest reward.
Who You Become is your greatest possession,
make it your Masterpiece!
(Changing Your Stripes, 2nd Edition, page 274)
The book, "Changing Your Stripes" presents principles for getting out of
the ditch in which you've been dumped (the difficulties of which you are a victim), and
the ditch in which you've jumped (the difficulties for which you volunteer).
"Mastering a challenging situation
is ultimately a matter of
mastering yourself!"
- Matt Moody
"Changing Your Stripes," teaches you the principles that lead to lasting change,
making you a new kind of creature capable of communicating
with calm, even as storms of contention swirl.
If these principles resonate and ring true,
then . . . this book is for you!


Sold Exclusively
through this website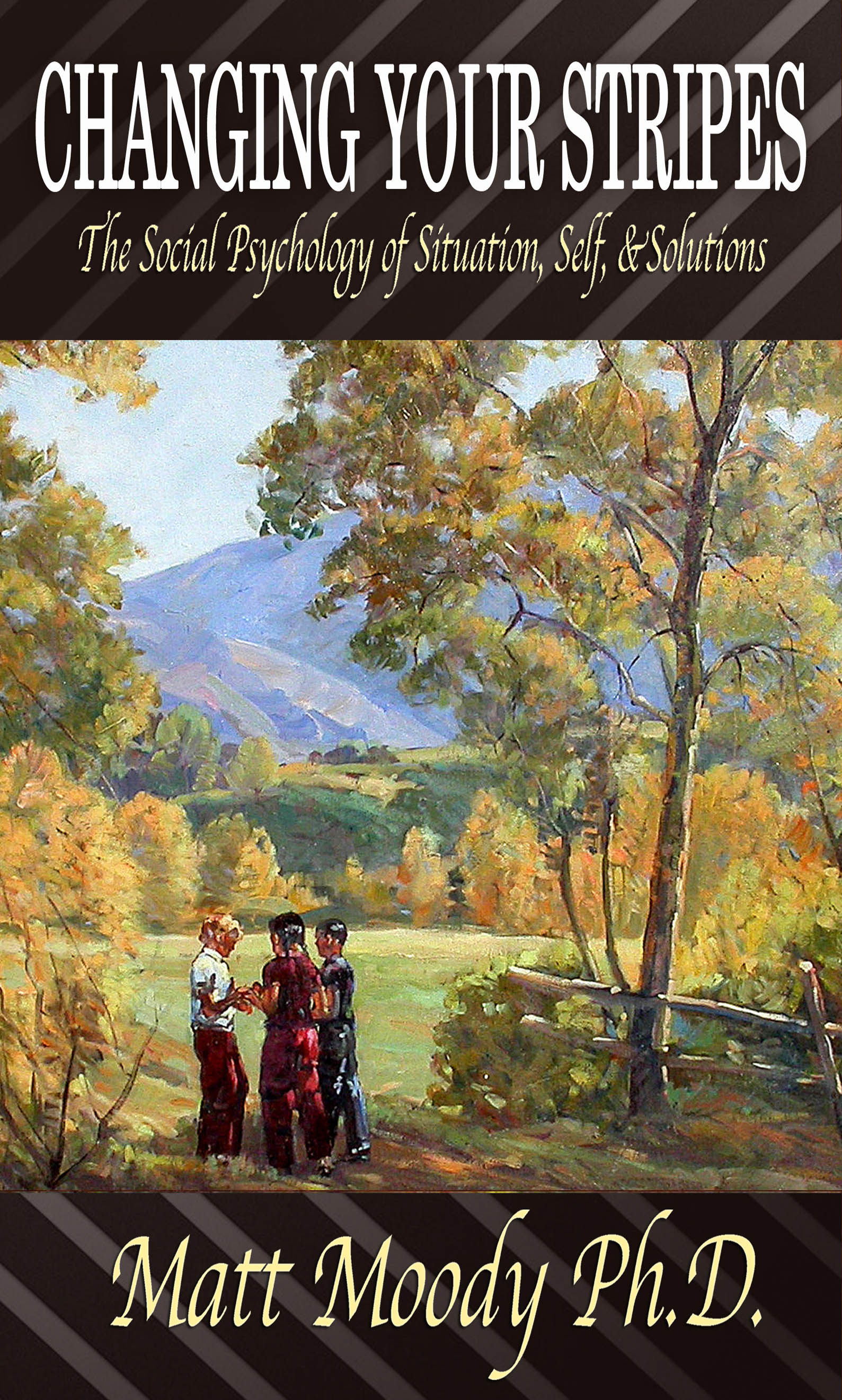 Changing Your Stripes is a
unique reference book that will help
you understand, . . . and solve all of
Life's ever-appearing problems.
Here are more reasons to buy
Changing Your Stripes


Social Psychologist & Personal Advisor