You can benefit from learning about what I call Response-Ability. As you realize that YOU are the author of your Responses, it is then that you understand that You possess free will to access the Root Remedy.
The Remedy is NOT about your ability to control your mind, and somehow create your own Reality, regardless of Constraints. No, that's not it! Instead the Remedy to your depressed feeling is about You drawing near to your Creator, and choosing the Truth that comes from the Creator; by so doing, you receive the Creator's healing peace. Here's an article that defines the contrast between Remedies of the Head versus remedies of the Heart.
I invite you to read the previous three articles and discover how certain ideas apply to your life. If you'd like to write back and tell me what you are learning, In the meantime, it is True Principles and NOT Pills that can cure the cause of Depression — that's precisely how the Creator designed our mortal journey.
The Journey
For this is the Journey that mortals make:
To find themselves. If they fail in this, it matters little
whatever else they may achieve: Money, Fame, Revenge, Pleasure.
When they end the Journey, they can put them all into
a bin marked "ashes." They mean nothing.
But if one has found that he has within him
a divine soul, if he has discovered the principles
upon which the fulfillment of that soul is based, and
if he implements those principles, then he has a mansion
within which he can live with dignity
and joy each day of his life.
Best Regards,
Matt Moody, Ph.D.
Social Psychologist
* * * * * * *
Dr. Matt offers telephone counseling that will fix your problems fast!
The Greatest Prize
for Life's labors isn't
in material possessions
or impressive accomplishments,
but in the progress of personal character.
You labor for your own becoming, this is your richest reward.
Who You Become is your greatest possession,
make it your Masterpiece!
(Changing Your Stripes, 2nd Edition, page 274)
The book, "Changing Your Stripes" presents principles for getting out of
the ditch in which you've been dumped (the difficulties of which you are a victim), and
the ditch in which you've jumped (the difficulties for which you volunteer).
"Mastering a challenging situation
is ultimately a matter of
mastering yourself!"
- Matt Moody
"Changing Your Stripes," teaches you the principles that lead to lasting change,
making you a new kind of creature capable of communicating
with calm, even as storms of contention swirl.
If these principles resonate and ring true,
then . . . this book is for you!


Sold Exclusively
through this website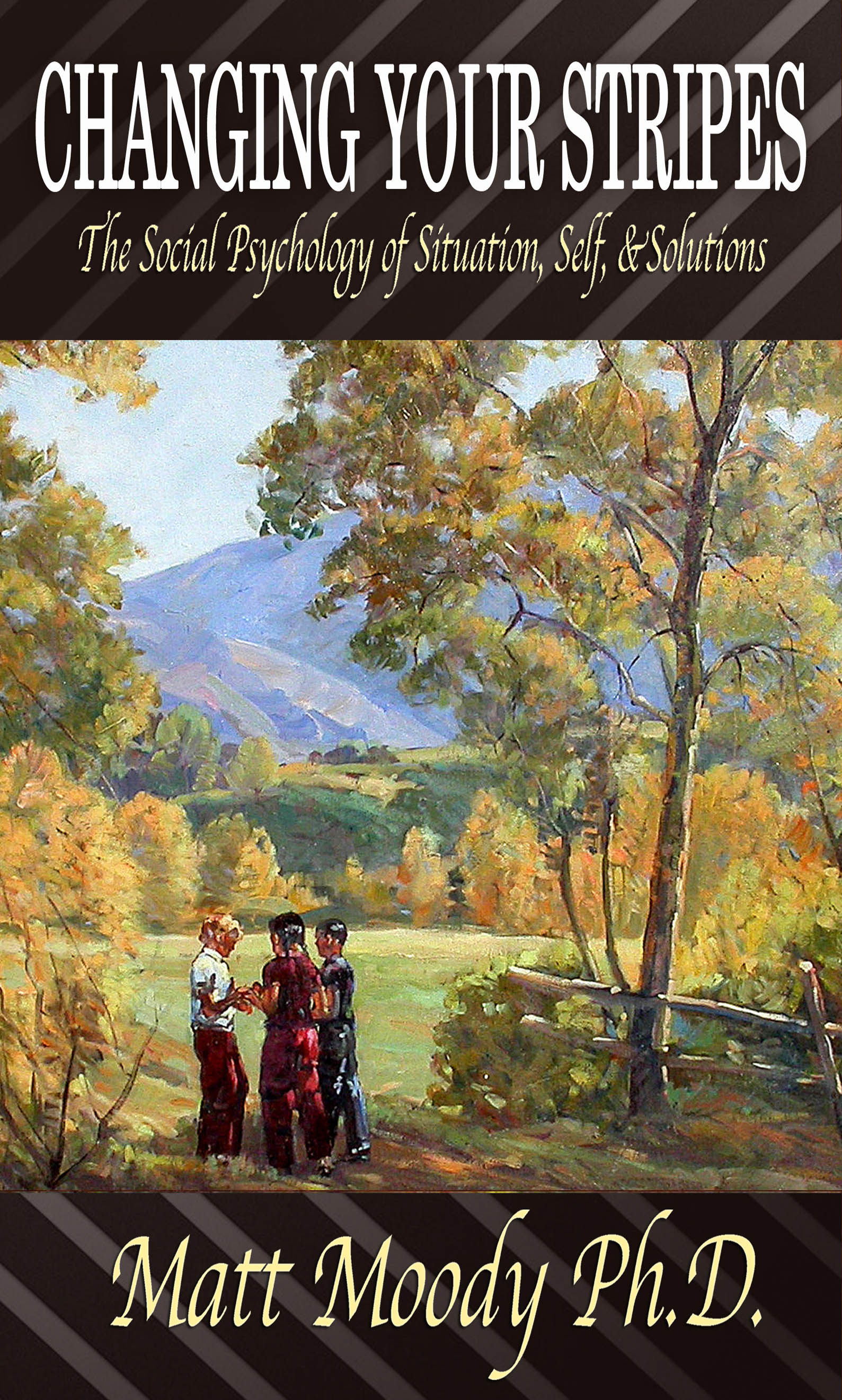 Changing Your Stripes is a
unique reference book that will help
you understand, . . . and solve all of
Life's ever-appearing problems.
Here are more reasons to buy
Changing Your Stripes


Social Psychologist & Personal Advisor