To be clear, I'm not drawing a parallel, or moral equivalence, between people assumed to be "natural born killers" and people who have a certain sexual inclinations, currently. No, what I'm doing is citing two examples where certain people justify their inclinations with the phrase: "I was Born This Way."
Besides being born with biological plumbing that cannot be changed (short of surgery), God created You and Me to "Be" Accountable for our choices — that is how an infinitely wise and loving God would do it, and has done it! Why? Because only within a world of complete accountability can there be Justice. And the history of choices that each person makes, combines to shape Who We Become, our Be-ing — the part of us that is not Fixed, but is Fluid, moldable, and changable.
But whether you believe that you are a child of God or the offspring of Evolution, you will come to know which ontological beginning is true, because Life Experience will naturally teach you! How so?
Observe the Correlations of Life: One Way of thinking and behaving will bear the satisfying fruit of fulfillment and happiness, and other ways will deliver something less, and leave you wanting. Krista, the way you experience your world is directly correlated to the choices You are making:
Choose well and your life will be well.
Choose worse and your life will be worse.
Pay attention to the consequences connected to your choices; these correlations will teach you whether your thinking and your actions are well or worse.
When you feel dark emotions — feel depressed, anxious, or confused — these emotional consequences reflect the choices you have made in prior days, these consequences reveal whether your choices were well or worse.
You and I exist for a higher purpose than to merely get high on hooking up with either men or women; we do not exist just to satisfy carnal urges — Life Consequences will eventually confirm the truth of my words. The pathway to finding our Purpose is discovered in a Journey:
The Journey
For this is the Journey that mortals make:
To find themselves. If they fail in this, it matters little
whatever else they may achieve: Money, Fame, Revenge, Pleasure.
When they end the Journey, they can put them all into
a bin marked "ashes." They mean nothing.
But if one has found that she has within her
a divine soul, if she has discovered the principles
upon which the fulfillment of that soul is based, and
if she implements those principles, then she has a mansion
within which she can live with dignity
and joy each day of her life.
Pay attention to the correlations in your Life: Pay attention to the consequences that result from your choices:
Choose well and your life will be well.
Choose worse and your life will be worse.
Sincerely,
Matt Moody, Ph.D.
Social Psychologist
* * * * * * *
Dr. Matt offers telephone counseling that will fix your problems fast!
The Greatest Prize
for Life's labors isn't
in material possessions
or impressive accomplishments,
but in the progress of personal character.
You labor for your own becoming, this is your richest reward.
Who You Become is your greatest possession,
make it your Masterpiece!
(Changing Your Stripes, 2nd Edition, page 274)
The book, "Changing Your Stripes" presents principles for getting out of
the ditch in which you've been dumped (the difficulties of which you are a victim), and
the ditch in which you've jumped (the difficulties for which you volunteer).
"Mastering a challenging situation
is ultimately a matter of
mastering yourself!"
- Matt Moody
"Changing Your Stripes," teaches you the principles that lead to lasting change,
making you a new kind of creature capable of communicating
with calm, even as storms of contention swirl.
If these principles resonate and ring true,
then . . . this book is for you!


Sold Exclusively
through this website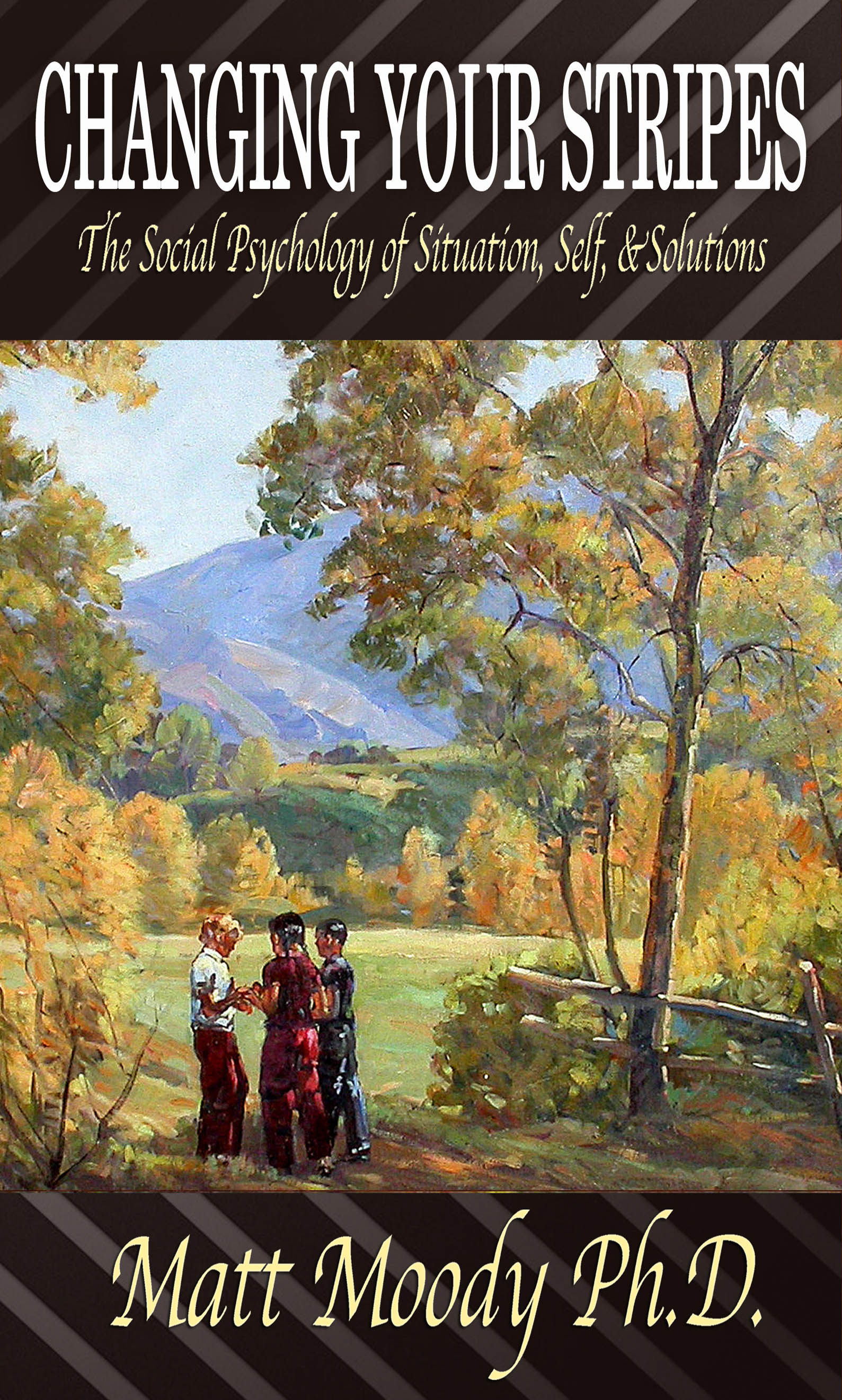 Changing Your Stripes is a
unique reference book that will help
you understand, . . . and solve all of
Life's ever-appearing problems.
Here are more reasons to buy
Changing Your Stripes


Social Psychologist & Personal Advisor