Sincerely,
Dr Matt

Amanda Answers the Question:
Dr Matt,
I answered pretty positively to the questions. I think that I exist because God created me and wanted to give me a job on this earth. I think the purpose of living is to have fun and enjoy the miracle of life that God gave me. The best way to personal fulfillment is to find our happiness and enjoyment.
Dear Amanda:
Your answers are aimed in the Right direction. Good for you! But there are other important ideas to know, to make your understanding complete; and thus, you will know how to feel better about yourself AND know how to escape Anxiety and Panic.
Here are some ideas to think about, that will help you see a more complete picture:
1) If the purpose of living is primarily to have fun and enjoy the miracle of life that God has given, then why does human Life include Anxiety and Panic Attacks?
2) You write that the best way to personal fulfillment is to find your "happiness and enjoyment." Your answer leads us to another question: What is the best way to "happiness and enjoyment"?
If these same questions were posed to a 1,000 people, you would get a wide range of responses. So, here is another vital question:
3) How can you know if your answers and assumptions are correct?
If you are living at home with your parents, then share what I've written with one or both of them. One key to happy Living is this: Always be open and honest in what you say, and what you do. Those who have nothing to hide, . . . hide nothing!
If one or both of your parents give their approval, I will continue to help you understand through a few more emails; this will give you a foundation from which you can have high self-esteem and be rid of anxiety and panic. I am willing to give you a starting point and a correct foundation for free.
Once you understand the correct foundation, it is up to you to build from there. Between the information in my book and hundreds of pages at my website, if you will read and study, you can progress far on your own.
Life is Self-Correcting. When you are not doing Life right, . . . Life will not do you right either. It's the Law of the Farm: If you sow Weed Seeds, you should NOT expect to harvest Apples. Instead of hoping for Magic, put in Hard Work . . . and eventually good things will happen, you will harvest Happiness and you sow the Seeds that grow Happiness. Here is your Journey:
For this is the Journey that men make:
To find themselves. If they fail in this, it matters little
whatever else they may achieve: Money, Fame, Revenge.
When they end the Journey, they can put them all into
a bin marked "ashes." They mean nothing.
But if one has found that he has within him
a divine soul, if he has discovered the principles
upon which the fulfillment of that soul is based, and
if he implements those principles, then he has a mansion
within which he can live with dignity
and joy each day of his life.
Regards,
Dr Matt
Matt Moody, Ph.D.
Social Psychologist

* * * * * * *
Dr. Matt offers telephone counseling that will fix your problems fast!
The Greatest Prize
for Life's labors isn't
in material possessions
or impressive accomplishments,
but in the progress of personal character.
You labor for your own becoming, this is your richest reward.
Who You Become is your greatest possession,
make it your Masterpiece!
(Changing Your Stripes, 2nd Edition, page 274).
The book, "Changing Your Stripes" presents principles for getting out of
the ditch in which you've been dumped (the difficulties of which you are a victim), and
the ditch in which you've jumped (the difficulties for which you volunteer).
"Mastering a challenging situation
is ultimately a matter of
mastering yourself!"
- Matt Moody
"Changing Your Stripes," teaches you the principles that lead to lasting change,
making you a new kind of creature capable of communicating
with calm, even as storms of contention swirl.
If these principles resonate and ring true,
then . . . this book is for you!


Sold Exclusively
through this website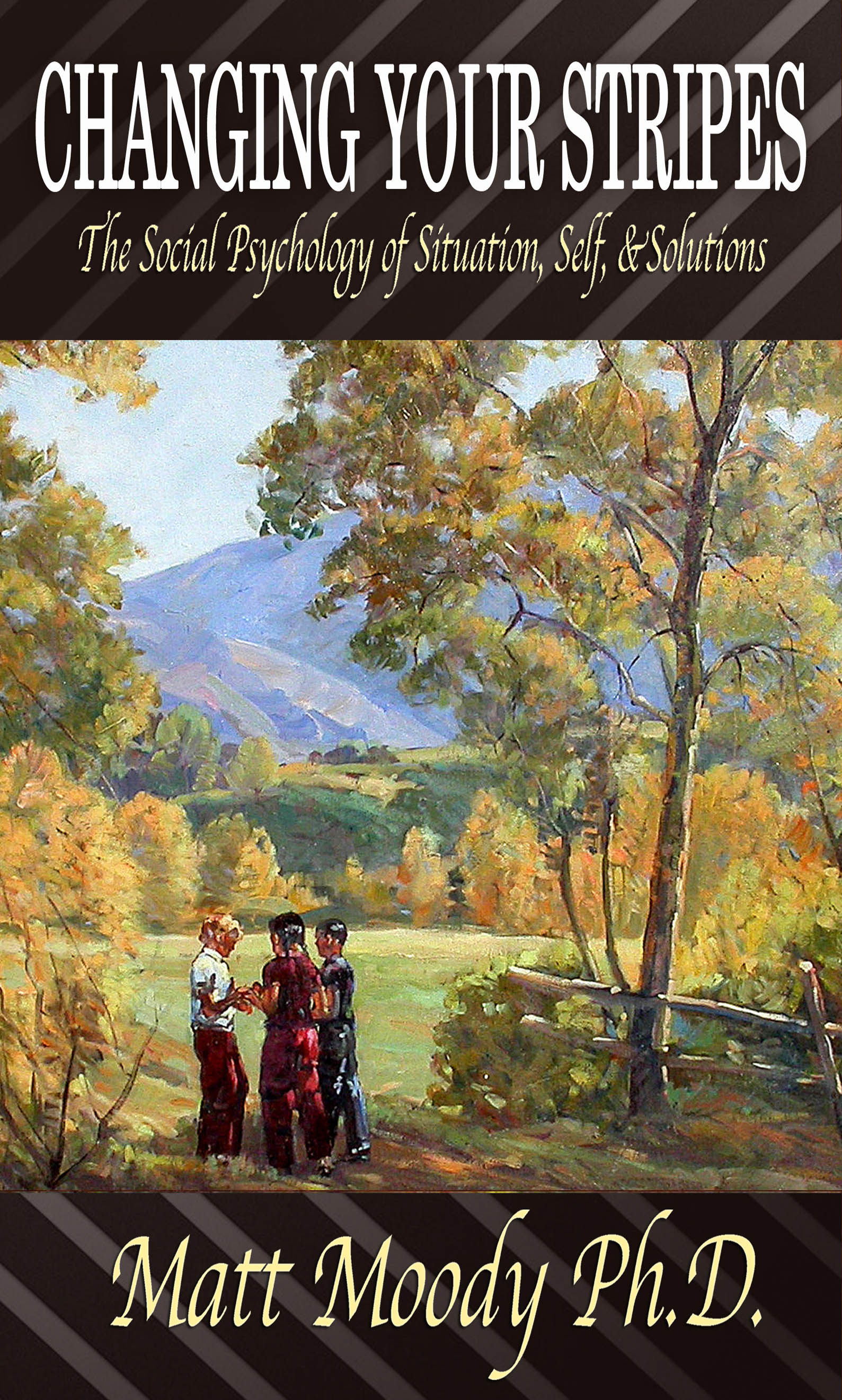 Changing Your Stripes is a
unique reference book that will help
you understand, . . . and solve all of
Life's ever-appearing problems.
Here are more reasons to buy
Changing Your Stripes


Social Psychologist & Personal Advisor