After Twenty-Five Years of Marriage, My Husband
is Leaving Me and Filing for Divorce
Dear Dr Matt:
Hello, Dr. Matt. I am thankful to have been lead to your website. I have ordered the book, and eagerly await its arrival. I have devoured many of the excerpts on your site, and feel helped already. My name is Mollee, I have been married for 25 years. We have had ups and downs like all people, we are ages 44 and 46; we live in Boston, Mass.
I have always felt that my husband and I needed to communicate better. Last year my husband had a very stressful year due to work, he was injured at work and had to have surgery. Through his therapy, he became involved in an emotional affair — I know for a fact that it is that much, and it's hard for me to imagine that there could be more. One way or the other, there is something inappropriate going on with my husband.
I finally asked him to be honest about the whole thing, he became angry and abusive to me and our son, and I told him he should leave. I didn't mean permanently, but just for him to cool off. Well, he left, and has been gone for a month now. We don't know where he is living (big secret). He rarely will speak to me, and seldom talks to our son. He has filed for divorce.
The family is heartbroken. I love the man and told him I could forgive whatever is going on, and that this could be an opportunity for us to become better. I know I can only "fix" myself, but is it possible to encourage him to communicate with me to avoid the divorce? It is hard to imagine throwing away 25 years of a life together for selfishness.
I look forward to talking with you! Have a blessed day.
Thank You,
Mollee
Dear Mollee:
A copy of Changing Your Stripes was shipped on the same day you ordered it. Hopefully, it will arrive in Boston very soon. When the book arrives, let's schedule a time to talk on the phone.
In the mean time, I'd like to comment on what you have written about your situation: "It is hard to imagine throwing away 25 years of a life together for selfishness."
In terms of your life, twenty-five years will not be thrown away regardless of the decisions your husband makes, if you remain faithful and true to your intuitions of truth. the years of our Lives are never wasted as we live true to the Truth. Your richest Life fulfillment in within your control and according to your choosing — it is NOT in the hands of others and what they choose to do.
Consider the wise words of King Solomon:
Keep thy heart with all diligence; for out of it
are the issues of life (Proverb 4: 23).
Staying true to the intuitions of your heart is entirely within your control, and is the key to solving "the issues of life." Because your husband has been abusive toward you lately, the following scriptural words apply to your situation:
thou hast suffered afflictions and much sorrow, because of the rudeness of thy brethren.
Nevertheless,... thou knowest the greatness of God; and he shall
consecrate thine afflictions for thy gain. (2 Ne. 2:1-2).
Through the atonement of Jesus Christ, as you are faithful, you will be redeemed through your afflictions and all things will work together for your good — just as "good" came of Joseph's abusive treatment at the hands of his brother (Genesis 50: 20). You will become a better person NOT in spite of your afflictions, but because of your afflictions.
You cannot control the choices of your husband, but you can influence his choices — just as Heavenly Father and His Son do every day by inviting all humanity to their salvation and eternal life. They prompt and persuade all to live in Love and Light: To learn through experience to discern between good from evil, and to choose the good; to learn obedience by the things which we suffer, just as Jesus (Hebrews 5: 8); and live worthy to receive all that the Father has (Romans 8: 16-17).
In the end, your husband may not respond to your invitations and persuasions. Time will tell. Keep your focus upon the Savior and NOT on hoping that your husband will return — his return is beyond your control.
It is vital to keep your focus upon your Savior: Jesus has not only suffered for your sins, but he has also suffered for every infirmity and affliction that is possible to experience in mortal life — Jesus knows how to comfort you as well as redeem you!
I look forward to talking with you on the phone. Let me know when the book arrives!
Sincerely,
Matt Moody, Ph.D.
Social Psychologist
* * * * * * *
Dr. Matt offers telephone counseling that will fix your problems fast!
The Greatest Prize
for Life's labors isn't
in material possessions
or impressive accomplishments,
but in the progress of personal character.
You labor for your own becoming, this is your richest reward.
Who You Become is your greatest possession,
make it your Masterpiece!
(Changing Your Stripes, 2nd Edition, page 274).
The book, "Changing Your Stripes" presents principles for getting out of
the ditch in which you've been dumped (the difficulties of which you are a victim), and
the ditch in which you've jumped (the difficulties for which you volunteer).
"Mastering a challenging situation
is ultimately a matter of
mastering yourself!"
- Matt Moody
"Changing Your Stripes," teaches you the principles that lead to lasting change,
making you a new kind of creature capable of communicating
with calm, even as storms of contention swirl.
If these principles resonate and ring true,
then . . . this book is for you!


Sold Exclusively
through this website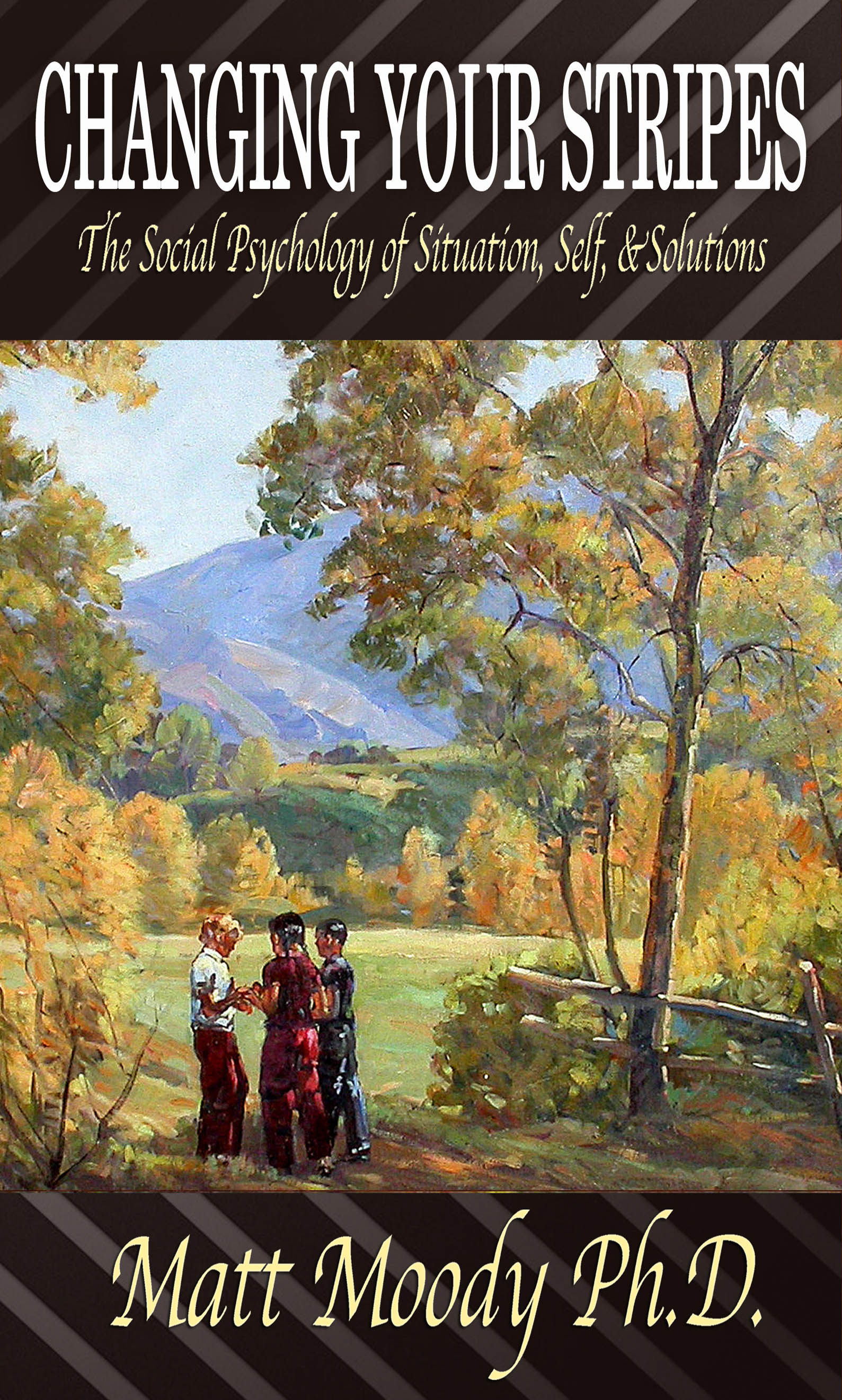 Changing Your Stripes is a
unique reference book that will help
you understand, . . . and solve all of
Life's ever-appearing problems.
Here are more reasons to buy
Changing Your Stripes


Social Psychologist & Personal Advisor