What Do You Think of Tapping Techniques
for Clearing Negative Emotions of Depression and Anxiety ?

Dear Dr Matt:
My name is Melissa, I live in Manhattan, New York. I am 28 years old and married with one daughter.
Recently, I received an invitation to attend a seminar where the presenter was teaching about "tapping techniques." The seminar presenter said that she could "clear" out emotions of anxiety and depression such as "feeling alone, despair, hopelessness, and low self-worth."
I was curious to know what you thought of this therapeutic approach?
Sincerely
Melissa
Dear Melissa:
If a person is suffering from diabetes or a broken arm, that person can be helped by professionals who can supply insulin or set an arm in a cast. If a person has a toothache, a Dentist can help! On the other hand, if a person is "feeling alone, despair, hopelessness, and low self-worth," these heavy emotions can be directly healed through Faith in Christ — and techniques cannot really bypass the Savior. Why?
The Lord's Prayer confirms that "thine is ... the power" (Matt. 6:13). And access to the Father, thus access to His Power comes exclusively through the Son of God. Christ declared, "I am the way, the truth, and the life: no man cometh unto the Father, but by me" (John 14:6). The Savior also said:
"I am the true vine, . . . Abide in me, and I in you.
As the branch cannot bear fruit of itself, except it abide in the vine;
no more can ye, except ye abide in me. I am the vine, ye are the branches:
he that abideth in me, and I in him, the same bringeth forth much fruit:
for without me ye can do nothing." (John 15: 1-5)
Christ is our Creator! And He intentionally created the human possibility of anxiety for a purpose (Job 23:10-14 2 Nephi 2:15-16). Through Faith in the True Vine, you and I can find "rest" and "peace."
The scriptures do not directly promise that toothaches, broken arms, or diabetes will be healed — although through Faith in Christ, the blind see, the lame walk, and the dead have been raised. However, the scriptures do directly promise "peace" and "rest." This means, heavy emotions of "feeling alone, despair, and hopelessness" are absolutely healed, as we exercise Faith in the Savior.
The scriptures set forth truth that appears to contradict the premise of Tapping Techniques:
For example, why would anyone need Jesus to lift and heal heavy emotions, when they can simply have those same emotional burdens "cleared" through tapping? Here is the Savior's invitation:
"Come unto me,
all ye that labour and are heavy laden,
and I will give you rest. Take my yoke upon you, and learn of me;
for I am meek and lowly in heart: and ye shall find
rest unto your souls." (Matt. 11:28-29)
In addition to lifting our burden of sin and providing victory over the grave via resurrection, there are other reasons why Jesus suffered and died for us:
"And behold, he shall be born of Mary, at Jerusalem . . . she being a virgin, a precious and chosen vessel, . . . and bring forth a son, yea, even the Son of God. And he shall go forth, suffering pains and afflictions and temptations of every kind; and this that the word might be fulfilled which saith he will take upon him the pains and the sicknesses of his people."
"And he will take upon him death, that he may loose the bands of death which bind his people; and he will take upon him their infirmities, that his bowels may be filled with mercy, according to the flesh, that he may know according to the flesh how to succor his people according to their infirmities."
(Alma 7:10-12)
The meaning of the word "succor" is intriguing and instructive:
Succor = Assist and support in times of hardship and distress; providing relief, aid, and help.
Etymology: from Latin succurrere "to run to the rescue." This is an essential reason why
the Son of God chose to directly experience mortality:
"For in that he himself hath suffered being tempted,
he is able to succour them that are tempted." (Hebrews 2:18)
In light of the specific promises Jesus has given to the faithful, when any helping professional causes clients to put their focus and faith into "tapping" or hypnosis or chiropractic or prescription drugs, instead of the Son of God, then that so-called therapist is enabling clients to fail in faith.
In terms of restoring and maintaining emotional well-being, every good therapy will supply secondary support to the Gospel of Jesus Christ; and will never substitute the wisdom of the world for what we can accomplish through Faith in our Savior — particularly when the Gospel gives direct promises that certain heavy emotions can be healed, not just in eternity, but also during mortality.
"But the fruit of the Spirit is love, joy, patience, peace
... And the peace of God, which passes all understanding,
will guard your hearts and your minds through Christ Jesus."
(Gal. 5:22 Phil. 4:7)
Sincerely,
Matt Moody, Ph.D.
Social Psychologist
* * * * * * *
The Greatest Prize
for Life's labors isn't
in material possessions
or impressive accomplishments,
but in the progress of personal character.
You labor for your own becoming, this is your richest reward.
Who You Become is your greatest possession,
make it your Masterpiece!
(Changing Your Stripes, 2nd Edition, page 274).
The book, "Changing Your Stripes" presents principles for getting out of
the ditch in which you've been dumped (the difficulties of which you are a victim), and
the ditch in which you've jumped (the difficulties for which you volunteer).
"Mastering a challenging situation
is ultimately a matter of
mastering yourself!"
- Matt Moody
"Changing Your Stripes," teaches you the principles that lead to lasting change,
making you a new kind of creature capable of communicating
with calm, even as storms of contention swirl.
If these principles resonate and ring true,
then . . . this book is for you!


Sold Exclusively
through this website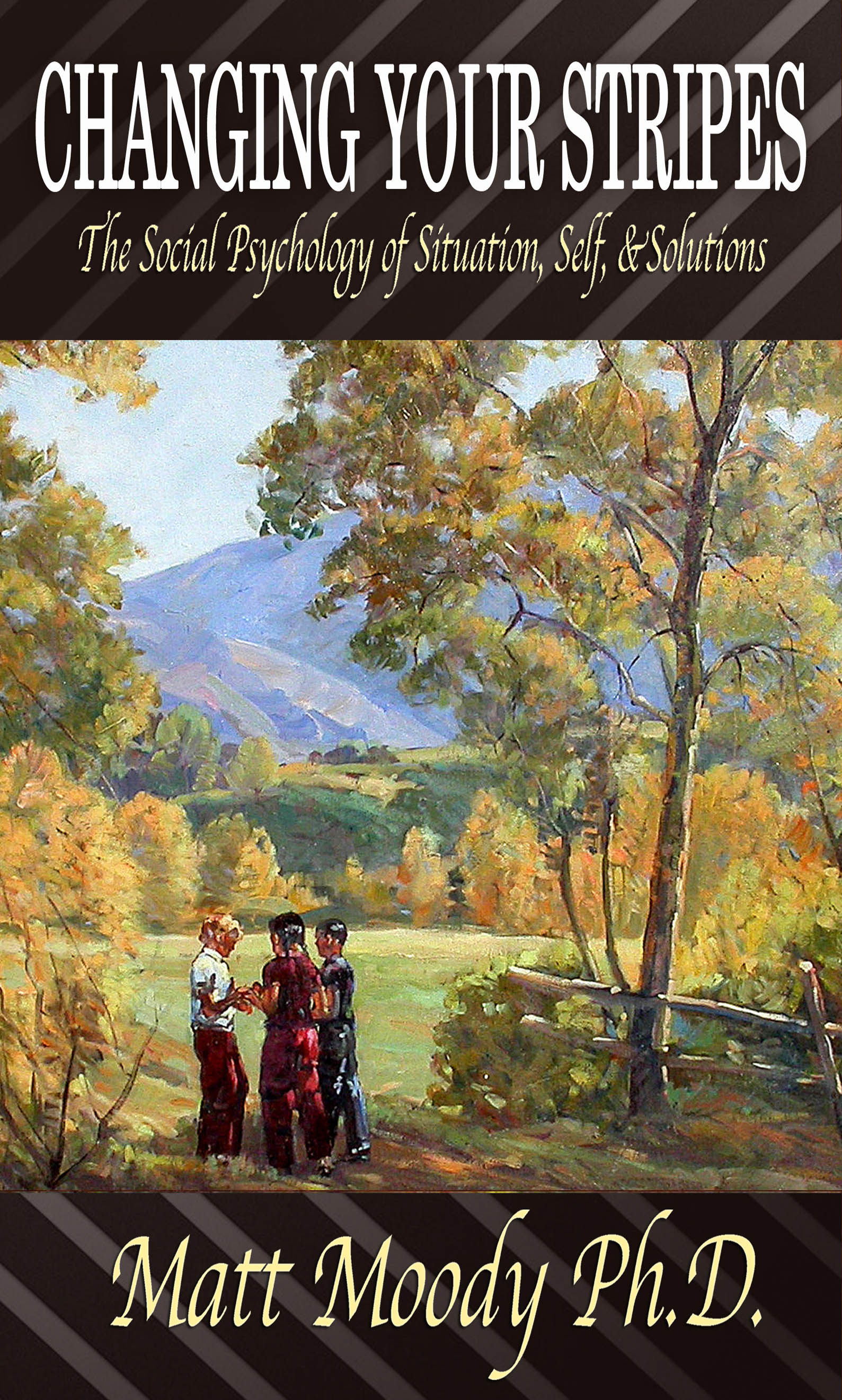 Changing Your Stripes is a
unique reference book that will help
you understand, . . . and solve all of
Life's ever-appearing problems.
Here are more reasons to buy
Changing Your Stripes


Social Psychologist & Personal Advisor