No more Coping: A Cure for Anger
Psychology's general approach to anger is thus: Because anger is normal and natural, people can never completely rid themselves of it—all they can ever do is try to CONTROL it and COPE with it.
Through the Atonement of Jesus Christ there is a complete cure for angry emotions. One no longer needs techniques to COPE with an unavoidable anger that is assumed to be "natural" for all humanity; instead, through Christ there is a perfect brightness of HOPE that "all bitterness, and wrath, and anger" can be "put away" from us. Because the Lord gives no commandment save He prepares a way to accomplish it (1 Nephi 3:7), we know that anger can be repented of, and eliminated from our lives.
Only a mind that is beset with a Migraine Mental Block (explained on p. 176, CYS) will imagine that eliminating anger is impossible, and it IS impossible for the "natural man." The complete elimination of anger from our lives is governed by a very simple principle taught by the Savior:
Ye shall know them by their fruits. Do men gather grapes of thorns, or figs of thistles? Even so every good tree bringeth forth good fruit; but a corrupt tree bringeth forth evil fruit. A good tree cannot bring forth evil fruit, neither can a corrupt tree bring forth good fruit.
~ Matthew 7:15-20
A parallel teaching is given in the Book of Mormon.
Wherefore, a man being evil cannot do that which is good; neither will he give a good gift. For behold, a bitter fountain cannot bring forth good water; neither can a good fountain bring forth bitter water; wherefore, a man being a servant of the devil cannot follow Christ; and if he follow Christ he cannot be a servant of the devil.
~ Moroni 7:10
The Apostle James ties these two analogies together:
Doth a fountain send forth at the same place sweet water and bitter? Can the fig tree, my brethren, bear olive berries? either a vine, figs? so can no fountain both yield salt water and fresh."
~ James 3:11-18
Anger is corrupt fruit that grows on evil trees. Because "all have sinned, and come short of the glory of God" (Romans 3:23), at one time or another, we have all given into angry emotions that are judgmental, selfish, or controlling.
But the fruits of anger cannot grow, and neither can they flow, when we repent of our sins and are purified through Christ's precious blood. As it is written, evil fruit and bitter water "cannot" grow or flow, as we are "good." Through Christ we can become pure fountains from which freely flow the sweet water of loving emotions.
Further, by Walking in the Spirit, the sweet fruits of the Spirit is our harvest: Love, Joy, Peace, Patience, Gentleness, Goodness, Faith, Meekness, Temperance (Galatians 5:22) -- Godly fruits that represent the very opposite of man's imperfect Anger.
Read Matt's Easter Sunday Talk at Church: It covers the topic of Anger too, as well as what the scriptures teach about speaking Godly and Kind Words, and having Christ-Centered Thoughts.
* * * * * * *
The Greatest Prize
for Life's labors isn't
in material possessions
or impressive accomplishments,
but in the progress of personal character.
You labor for your own becoming, this is your richest reward.
Who You Become is your greatest possession,
make it your Masterpiece!
(Changing Your Stripes, 2nd Edition, page 274).
The book, "Changing Your Stripes" presents principles for getting out of
the ditch in which you've been dumped (the difficulties of which you are a victim), and
the ditch in which you've jumped (the difficulties for which you volunteer).
"Mastering a challenging situation
is ultimately a matter of
mastering yourself!"
- Matt Moody.
"Changing Your Stripes," teaches you the principles that lead to lasting change,
making you a new kind of creature capable of communicating with calm,
even as storms of contention swirl.
If these principles resonate and ring true,
then . . . this book is for you!
Sold Exclusively
through this website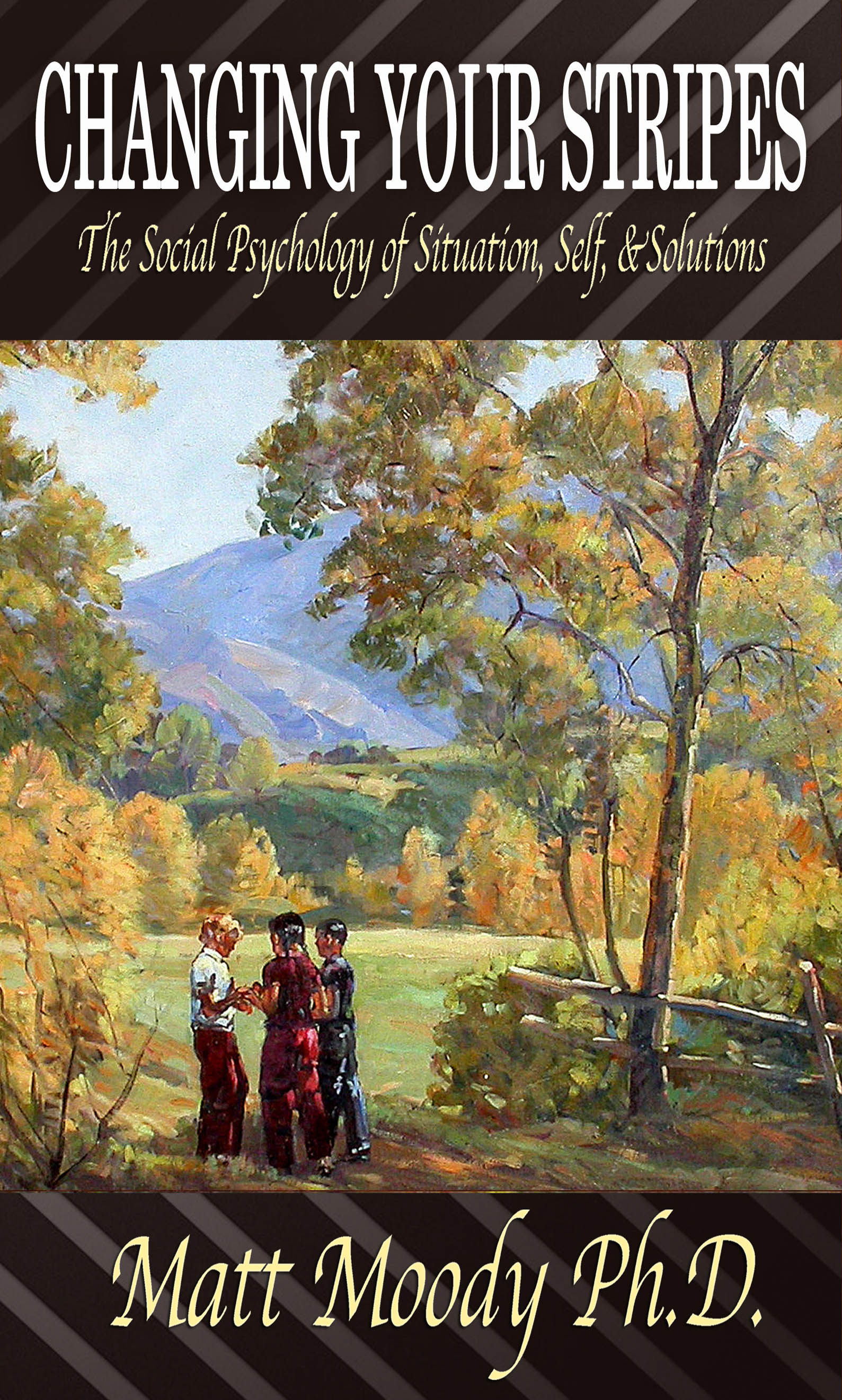 Changing Your Stripes is a
unique reference book that will help
you understand, . . . and solve all of
Life's ever-appearing problems
Hare are more reason to buy
Changing Your Stripes


Social Psychologist & Personal Advisor