How To Do Genealogy Online
at FamilySearch.org
by Matt Moody, Ph.D.
Checking for Possible Duplicates and Merging Duplicates
You can check for Possible Duplicates at any stage of the research process. Of course, it's important to check for Duplicates before you Print Ordinance Cards -- because if there is a Duplicate with Temple Ordinances complete, then Printing that particular card would not be necessary. You can also check for Duplicates at the start of your research. Sometimes the Duplicates that you will find, will have with additional information of which you were previously unaware.
When you Click the "Possible Duplicates" Link, you will see a result similar to this:
So the question arises: Is Mary E. Root wife of Thomas Brown the Same Person as . . . Mary Root daughter of Kezia? Both records have the same First and Last Names, both were born 1824 in Ohio. By Clicking "Review Merge" you will see more details that will help you determine if these two records represent the Same Person.
Below, I've Clicked on the names of both Marys to see the Ordinance Status of each record. If these two record represent the Same Person, then the patron who Printed the Temple Cards in 2010 will not need to proceed to do the Temple Ordinances.
After Clicking "Review Merge," the two records that may represent the Same Person, will appear side by side.
If the two records below end up being Duplicates of the Same Person, then Merging them will "delete" the record on the right, while the information on the left becomes a "surviving record." So it's important that all unique and accurate information in the right-hand record be "Added" to the left hand record (by clicking "Replace" and/or "+ Add." For example, the record of mother "Kesia" is unique; so if these two records represent the Same Person, then the info about "Kesia" would be moved from right to left, by clicking "+ Add."
If the two records represent the Same Person, then Kezia will be the mother in both cases. We know that Kesia is the mother of Mary Root (PID# 9NSW-2R1), and now we discover that Kesia was born in Delaware. This piece of information is KEY, because U.S. Census records will often record the Birth Place of a person's Parents (even if the parents are not named). If we can find a Census for Mary E. Root (PID# L7XP-NBB), we will will learn whether these two Marys are the Same Person.
Let's see if there is Census Info for Mary E. Root. By navigating to Tree View we will be able to visually see if there are "Record Hints."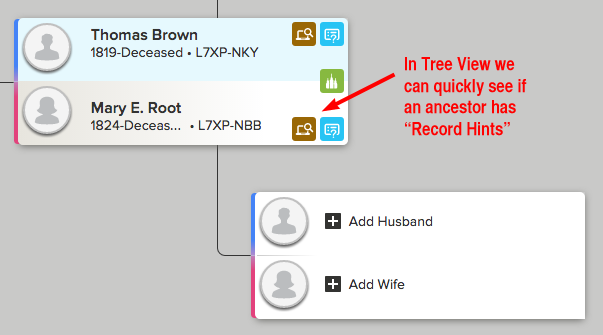 From the Person Page we can take a closer look at the Record Hint. BINGO! The 1880 U.S. Census will have the information we need to determine if Mary E. Root (PID# L7XP-NBB) and Mary Root (PID# 9NSW-2R1) and are the Same Person: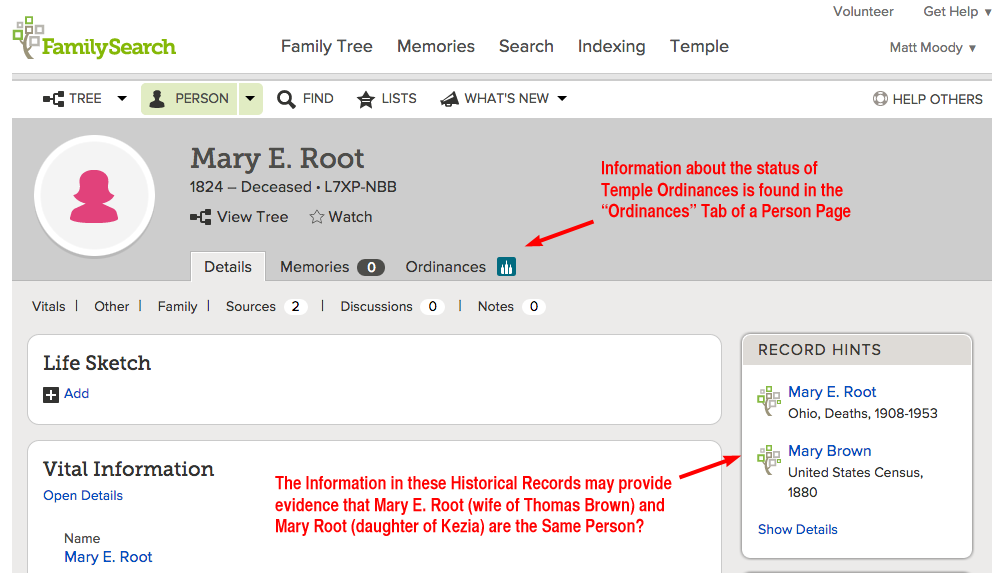 In the Record Hints box, Click the U.S. Census Link to see the Details:
Mary E. Root's mother was born in Ohio, and not Delaware. So at this point, the two Marys appear to be different individuals.
However, just because a record claims certain Family connections (like "Kesia" is Mary Root's mother), doesn't always mean that the information is accurate. So, let's document whether Kesia is Mary Root's mother. Let's take a look at "Family Members" section of Mary Root's Person Page:
If we did not go to Tree View, we could click in and out of a half dozen records to detect any Record Hints. But by simply going directly to Tree View, we discover what we need to know in a hurry:
From Cordelia Root's Person Page, we click the Link to an 1850 U.S. Census that confirms the identity of Mary Root's mother, and that "Kesiah" was indeed born in "Delaware." This Census suggests that Kesiah was born "about 1801" (instead of what is currently entered in her record, 1795). Through the experience of examining hundreds of Census records, we learn that people will not always tell a Census Taker the truth about their age. So when Kesiah reported age "49" -- this may have been a moment of vanity on her part?
We also discover the name of Mary Root's father: Spafford Root born about 1896 in Vermont. When a birth year is gleaned from a U.S. Census, that year will be entered as "about 1896," because we don't yet know whether Spafford's actual birthday is before or after when the Census was taken. If Spafford's birthday is after the date of the Census, then his birth year would be 1895 -- because he would be 55 years old during the year of the Census, 1850.
By clicking "Review and Attach" we can kill two birds with one stone: We can attach the 1850 U.S. Census to the Person Pages of family members, AND we can also Add the name of Mary Root's father through what is called the "Source Linker." I'll show you how this is done.
But first let's establish that the records representing Mary E. Root and Mary Root are "Not a Match." To do this, first navigate to the Person Page of either Mary, and click the "Possible Duplicates" link. The results will look like this. Just below Review Merge, click the Not a Match link.
Description Here:
Even though these two records for two different women named "Mary Root" will never be paired in a Duplicate Search, if a mistake were made, these two records could be "Merged by ID." I've personally merged dozens of records that were actually a Match, but particular patrons had mistakenly designated them "Not a Match." The determining factor in deciding Merging and Matching (and un-Matching) is in thorough and well-documented research.
Now that we've taken care of the two Mary Roots and determined that they are different individuals, in that process, we've discovered many loose ends that need tying, for example the Duplicate Records for the Keziah and Kesia, as well as the Duplicates among her children:

It's important to Merge the Duplicates of Kesiah and Matilda, to prevent FamilySearch patrons from mistakenly repeating temple work for individuals who already have their temple ordinances done. You will be looking to Merge records that show Ordinances:
Available
or Reserved

or Printed
-- then then find Duplicate records that have Ordinances Completed
.
Merging Duplicates by ID Number
Because we've visited Cordelia Root's Person Page (immediately above), we know that there are two records with the first name "Keziah" Deford and "Kezia" -- and both ladies have given birth to the same children. But when we check for Possible Duplicates, this is the result we get for these two records of the Same Person:
When we check for Duplicates from Kesiah Deford's Person Page, we get the same result:
The only way to get these duplicate records Merged, is to perform the "Merge by ID."
During the Merge Process, two possible duplicates are aligned side by side, so details can be compared. Remember that the record on the right will be deleted at the end of the Merge, so unique and accurate information needs to be moved to the left side -- which is called the "surviving person."

When all of Kezia's children are moved from the right side, to the left side, then click Continue Merge. During a Merge, I treat wrong "information" different from wrong "people" -- wrong information I leave on the right side of the Merge, so it will be deleted by the end of the Merge. In contrast, even if a person on the right doesn't belong on the left (like a wrong child), I will move that person to the left anyway during the Merge, so I can keep track of that person until I discover where he or she belongs. In the case of a wrong child, you can eventually delete the relationship with the wrong parents, and then re-connect this lost child with the correct parents.
It's easier to do it this way, because you can keep the record of the wrong child in front of your eye balls. For example, notice how I kept Job Thurston attached to the wrong parents (he's at the very bottom of the list of children). And I will keep him there until I am able to find his correct parents -- again, this keeps Job in front of my eye balls so I don't forget about him. Recall that Job Thurston was the faux-child that was born when his alleged mother was 92 years old, AND she had been dead for 25 years.
Below we see how the children of Kesia are moved from the right to the Surviving Record on the left
After clicking Continue Merge, the final step to complete a Merge involves entering a "Reason This Merge Is Correct."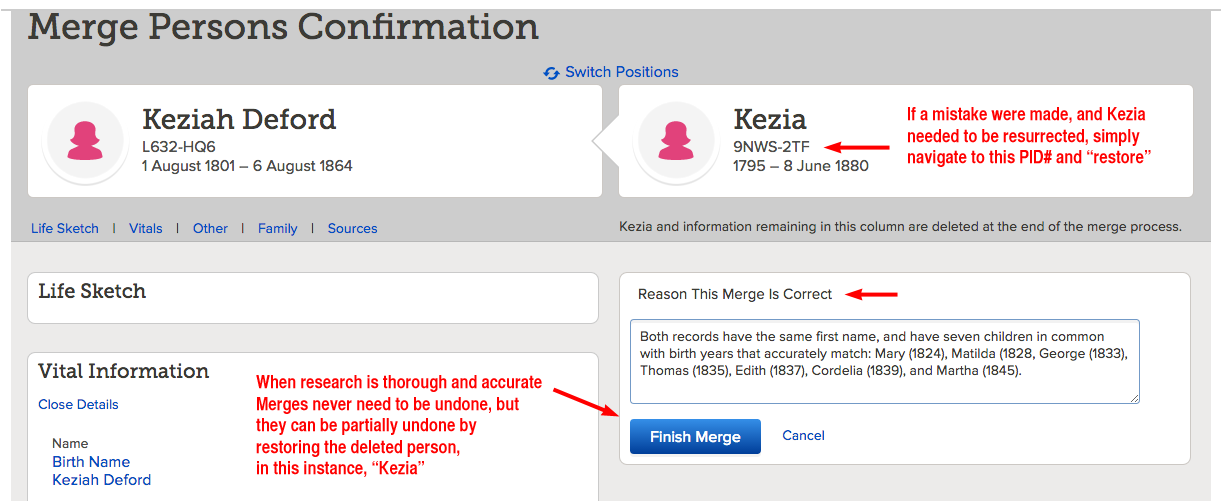 Every entry and change made at FamilySearch can be updated and corrected. So you do the best you can with what you know, and if you discover new information that shows you've made a mistake, then ALL MISTAKES at FamilySearch.org can be corrected.
For example, here's how you would restore the Kezia's record, if you discovered that, for some valid reason, she should be resurrected. Note the Link in the lower right-hand corner. Click "Restore Person."
To find a "Person Deleted," simply navigate to the Person Page of the "Surviving Person" and click the "Latest Changes" link.

At FamilySearch.org everything that can be done, can also be un-done. So do you best, knowing that mistakes can be corrected. Now, if your "best" means that you don't every document the entries and changes that you make, then you need to update the definition of "doing your best" to ... "doing what needs to be done" according to recommended and productive practices.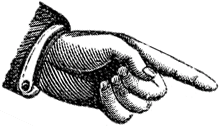 * Learning Computer Basics Necessary for Online Family History
* How to Search the FamilySearch.org Historical Database.
* Attaching Vital and Census Records to an Ancestor's Person Page.
* Entering or Editing Vital Information for each Ancestor.
* Cleaning Up and Correcting a Confused Family Tree.
* Merging Duplicate Records within the Family Tree Database.