How To Do Genealogy Online
at FamilySearch.org
by Matt Moody, Ph.D.
Adding Parents, Spouses, Siblings, Children and
their Vital Information: Birth & Death Dates, Places, etc.
At FamilySearch.org there are certain Locations you will go, and Links you will click, again and again -- like Tree View and Person Page. So let's become familiar with these two Locations and Links. After logging into FamilySearch.org, you will see the following options:
Click "Family Tree"... this will take you what is called "Tree View" -- which is a Traditional Pedigree Chart of your family ancestry. If you've just opened your account, your Family Tree Pedigree will not be connected. So begin by adding the Names of your Parents.


If your name were John McLain or Margaret McGowen, and you just opened a FamilySearch.org account, your Tree View would look something like this:
Now click "Add Husband" or "Add Wife" and you this will commence a Search within the Family Tree Database for the names of your Parents. If they are deceased, the names of your parents may already be entered in the Database; and if so, you will simply select that pre-existing record. If the names of your parents are not in the Family Tree Database, then you will choose the "Add" option, and enter their vital information: Name, Birth Date & Place, Death Date & Place.
If you parents are living, then the record you Add will be unique to your account -- no one else will be able to view the information you enter about your living parents, siblings, or children -- according to a FamilySearch's confidentiality policy. Only deceased relatives can be viewed by other FamilySearch.org patrons.
Because the living relatives you personally enter can only be seen by you, for this reason, other online services like Ancestry.com or MyHeritage.com are better suited for entering an extensive family tree of living relatives -- a tree of living relatives that can be easily viewed by other family members. The software program "Roots Magic" is another option for organizing the records of hundreds or even thousands of relatives, living and deceased. Roots Magic is software that is "approved" by FamilySearch.org as compatible; meaning, information from Roots Magic can be readily exported into FamilySearch.org -- and vice versa.
FamilySearch.org is best used for creating a Family Tree of deceased ancestors. And if you are a Latter-day Saint, FamilySearch.org is exclusively used for preparing names for performing Temple Ordinances in behalf of your kindred dead.
Once in Family Tree, navigate to the Person Page of an ancestor. The Person Page is the place you will enter: Birth Date & Place, Death Date & Place, Marriage Date & Place, as well as the Names of Parents, Siblings, Spouses, and Children.
Let's take a look at the Person Page for Moses, the Old-Testament Prophet. To view Moses's Vital Info and Family Members, go to FamilySearch.org and navigate to Family Tree, then click the FIND Link, which has a magnifying glass next to it ...
like this:
then click the "ID Number" Tab, and enter PID# LV54-LHB* then click Find -- "PID" stands for "Personal ID."
* FamilySearch has removed this record from public view, and has made it a "confidential record" that only I can see from my FamilySearch account.
You could also Find Moses by clicking the "Full Name" Tab, and searching by Name, Birth Date and Birth Place, Name of Parents, Name of Spouse. But when you know the ID Number, using that number via Copy & Paste is quick and convenient.
Below, you see the top part of a Person Page.
#1 - The "Temple" Link (red arrow) will access an organizing file where the temple ordinances you have reserved are kept. To Print temple ordinance cards, you will first click this Temple Link, then from a list of names, you will check a box to indicate which names you want to Print. You can also Share your reserved ordinances with the Temple Sharing System, and you can Unreserve ordinances as well.
#2 - "View Tree" will show you a pedigree-orientation of a Family Tree, to include wives, parents, and children.
#3 - The specific FamilySearch patron who originally entered, or last edited, the Name information is displayed. By clicking the patron's name, you will usually see that patron's email address, so if questions or discrepancies arise you can contact this person.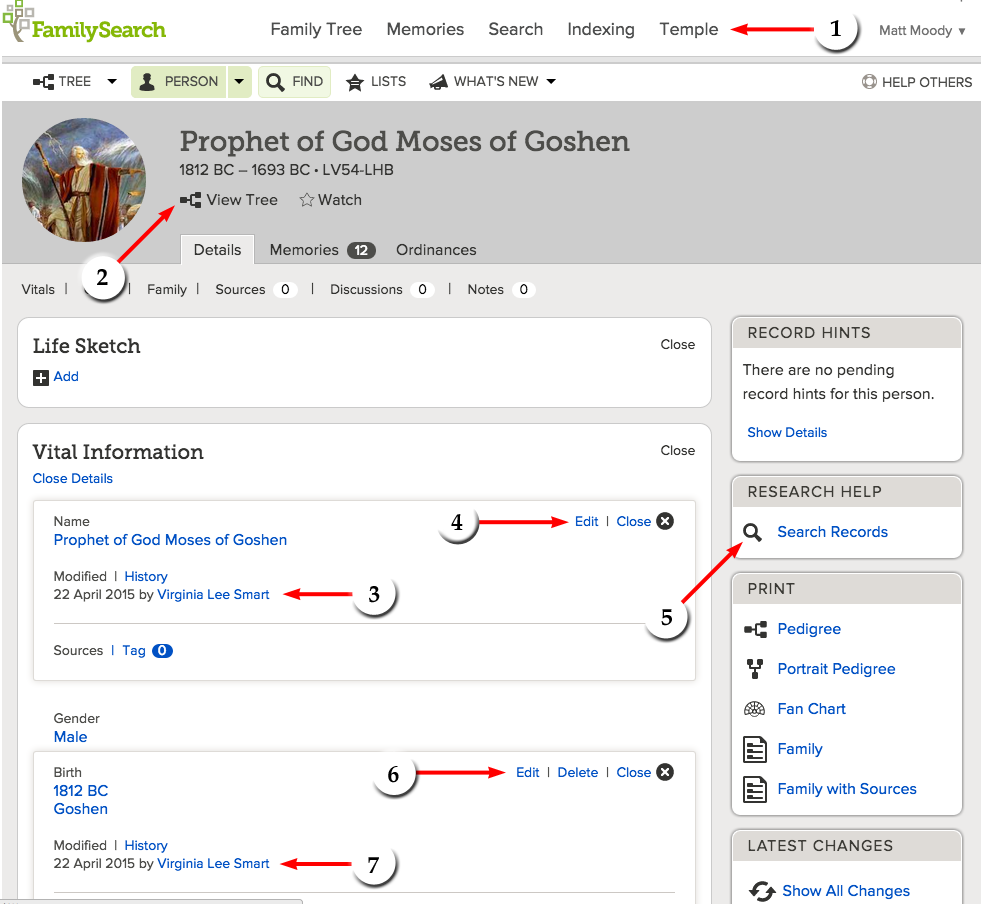 #4 - The "Edit" option only appears as a Name or a Date is clicked (within the Vital Info section); after which, by clicking "edit," updates can be made. When information is edited, the person who updates a Name, Date, or Place will give a "Reason this Information is Correct." Information should be changed based upon solid sources. While some sources may be weak, still, any source is better than no source -- realizing that most information at FamilySearch.org can be edited and updated at anytime, and by anyone!
#5 - In the process of doing online genealogy, the "Search Records" Link is used frequently. Different from the "Search" Link (located left of the "Temple" Link), "Search Records" will automatically enter the Name, Date of Birth and Place of Birth of the person belonging to any particular Person Page. In contrast, by using the "Search" Link, you will have to manually type Names, Dates, and Places to conduct a Search. So with one simple Click, "Search Records" will search FamilySearch's massive database of billions of Vital and Census Records.
#6 - This "Edit" Link allows a patron to update Birth information about the person who belongs to a Person Page. Again, when this information is updated, patrons need to supply documentation why their entry is correct. For example, below is the documentation from a Death Record for the son of Abraham Lincoln. You will rarely need to hand-type a Source; by simply using Copy and Paste any reference can quickly be entered into the "Reason this Information is Correct" Box.
Citing this Record
"Vermont, Vital Records, 1760-2008," index and images, FamilySearch (https://familysearch.org/pal:/MM9.1.1/KFB9-DHJ : accessed 23 April 2015),
Abraham Lincoln in entry for Robert Todd Lincoln, Death, 26 Jul 1926, Manchester, Bennington, Vermont, United States; derived from Vermont birth,
marriage, and death databases and images, 1909-2008, Ancestry (http://www.ancestry.com : 2010); citing Vital Records Office, Vermont Dept. of
Health, Burlington; New England Historic Genealogical Society, Boston.
#7 - The Name of the person who last updated the information shows here; and by clicking on that patron's Name, an email address will usually be displayed. So as questions or discrepancies arise, that person can be contacted.
Unfortunately, it is common for FamilySearch Patrons to not cite some source to document an entry. While certain sources will be more reliable than others, any source is better than no source. And whenever another patron is able to find a superior source at a future date, then new and better information can entered at that time, along with the supporting sources. Below, you can see how I've updated the Vital Information at Moses of Goshen's Person Page: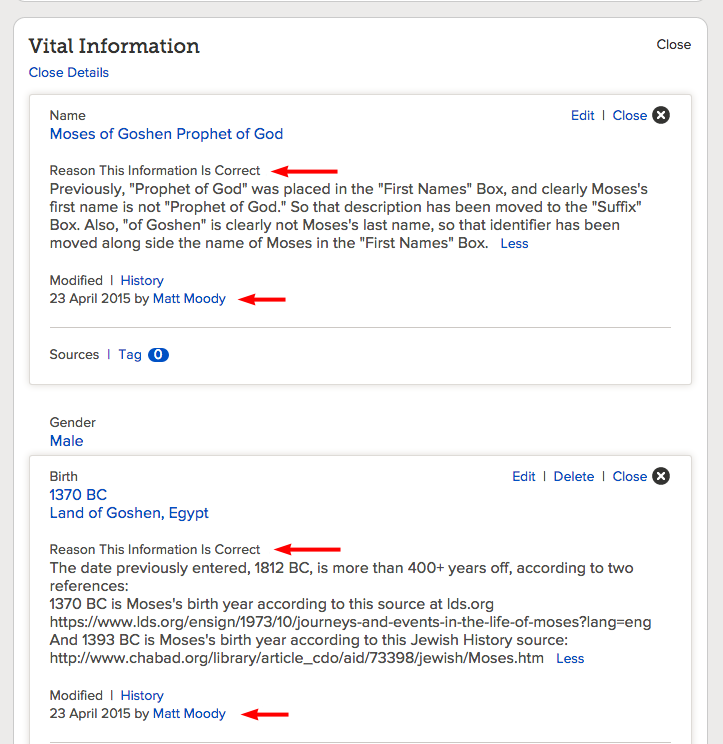 I found two solid sources to document an approximate birth year for Moses of Goshen. One source was lds.org and the other was a Jewish History website. Again, any documentation is better than no documentation. And if someone else finds a superior source in the future, then information can be updated at that time. Now that we've updated Moses's Birth Year, his Death Year needs to be corrected.
Again, you must click the Date of Death listed in the Vital Info section, in order for the "Edit" option to appear. When entering Dates and Places, you should enter a Date and a Place that fits within a Standard Format (indicated by the Green Bar just below your entry), so that entry will be recognizable by the FamilySearch Computer System. Note the documentation I've entered for Moses's Death Date: Deuteronomy 34:7 -- since Moses lived more than 3,000 years ago, the Bible solid Source.
At the top of a Person Page is the Vital Information for a particular person -- Birth and Death Dates and Places.
Scrolling down a Person Page, another key Location that will be visited again and again is the "Family Members" part of the Person Page. This is the best Location at FamilySearch from which you will Add Spouses, Parents, and Children. The "Family Members" part of the Person Page looks like this:
The words "Add Spouse " or "Add Parent " or "Add Child " are Linked to a page from which you can do three things:
1) Directly Add the Person, if you know the Name and basic vital information: birth date and place, etc.
2) Find the Person by searching the Family Tree Database, providing any information you know so far.
3) Enter the ID Number of the Person that you've already located in the Family Tree Database.
If you do #1 or #2, an automatic search of the Family Tree Database will happen; if the individual is in the Database, then you will simply Select that person from among Search Results. And if an individual is not in the FamilySearch Database, then you will click an option to Add a new person to the Database.

If we wanted to enter a Marriage Date and Place for Moses and Zipporah, we would click the "EDIT COUPLE" Link. And if we knew the name of Moses's second wife from Ethiopia (Num. 12:1), we could click "Add Spouse" and add her as a Family Member. The Bible identifies two sons of Moses. So let's Add Gershom and Eliezer.
After clicking "Add Child" and entering the name "Gershom" with father "Moses" and mother "Zipporah," I did not find Gershom in the Family Tree Database, so I Added his name. Below, I have entered a reason why the approximate Birth Year of 1329 BC is a reasonable estimate.
Because I failed to identify Gershom's Gender when I first entered his info into Family Tree, I had to update that information:
The categories of Male and Female can only be updated by the person who originally entered a Name into the Family Tree Database. Since I entered the Name "Gershom," I was able to correct my oversight and update his Gender to "Male."
After becoming familiar with doing genealogy at FamilySearch.org, you will notice that an individual's gender is sometimes entered incorrectly. Again, Gender can only be changed by the person who originally entered an individual's Name -- with one exception. Once a temple ordinance is completed for a person, from that point on, the Gender cannot be changed. For example, the temple ordinances are completed for a man named "Thomas Stegge Jr., but his information has been entered with the wrong gender.
So when the Gender is entered incorrectly, and any of the temple ordinances has been completed, then that same Name coupled with the correct Gender must be Added again to the Family Tree Database, and the temple ordinance will need to be performed a second time. The root of the word "Ordinance" is ... "Order" -- that is why Temple Ordinances are invalid when done for the right Name, but for the wrong Gender -- as indicated by Pink (Female) and Blue (Male) ordinance cards.
Now let's Add the second son of Moses, Eliezer. Below, you can see the "Reason This Information Is Correct" is confirmed by the Bible. And you can also see who entered the Name and when it was entered.
When entering a Information, it's important for the Date and Places to receive a green "Standard" designation. When a date is not made "Standard," the Family Tree System will not correctly recognize it -- which means Duplicate Checks will not function correctly. To make the Birthplace "Standard" I discovered that the Bible spelling of "Midian" is different from the Standard spelling of "Midyan."
Be consistent with entering a "Reason This Information Is Correct" -- this way, other FamilySearch patrons will understand your reasoning, and can evaluate the accuracy of your entries and sources.
After adding the two sons of Moses and Zipporah, the "Family Members" section of Moses's Person Page looks like this: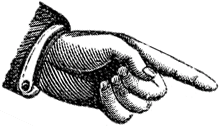 * Learning Computer Basics Necessary for Online Family History
* How to Search the FamilySearch.org Historical Database.
* Attaching Vital and Census Records to an Ancestor's Person Page.
* Entering or Editing Vital Information for each Ancestor.
* Cleaning Up and Correcting a Confused Family Tree.
* Merging Duplicate Records within the Family Tree Database.