How To Do Genealogy Online
at FamilySearch.org
by Matt Moody, Ph.D.
Detaching a Child from the Wrong Parents
You can see below how Barbara E Taylor has been Added as a child. And since we've found evidence that it is impossible for Beullah (spelled with 2 "l's" in the 1940 Census) to be a Child of Joseph and Pearl, we begin to "delete" this incorrect Parent-Child relationship by clicking the "Edit Parents" link.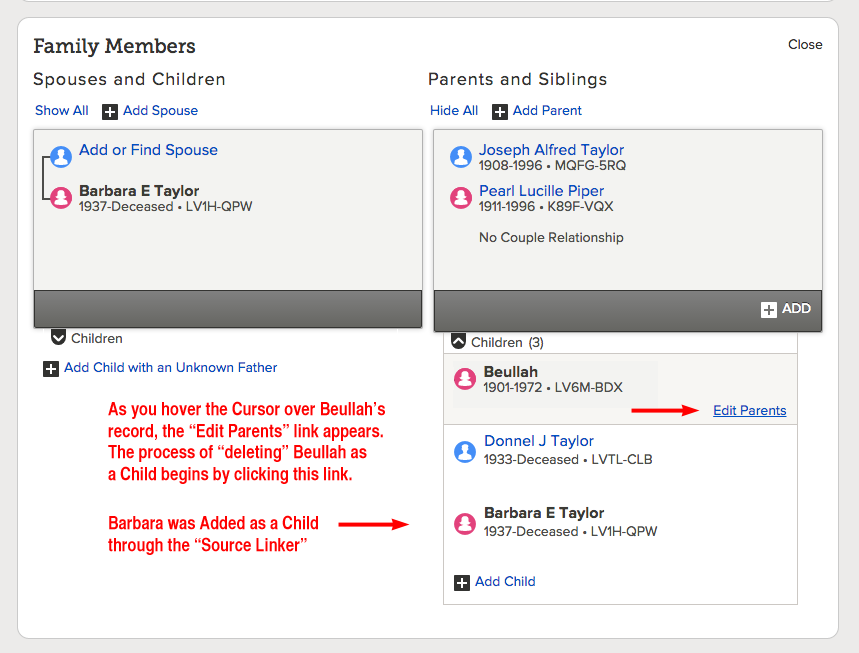 On the next page that appears, click the "Delete Relationship" link.
After clicking "Delete Relationship" you are asked if you have reviewed "other relationships for these individuals," and also asked to give a reason why "this relationship should be deleted." Enter the documentation that confirms "confident" conclusions. And as a matter of being thorough, it's good to Copy & Paste the links to any Vital or Census Records referred to in the "reason statement" (1940 Census for Beullah and the 1940 Census for Joseph & Pearl). This way, those who double-check your research can independently confirm that it is correct.
Anything that is done at FamilySearch.org can be UN-done. So don't be afraid to boldly do your best to get things right, knowing that whenever you make a mistake, you can correct it -- and in this case, the correction is made with one click.
Finally, because Beullah and her family are not connected to my Family Tree, then in keeping with the Church Policy, I'm not reserving their temple ordinances. Instead, it's important that a direct-line descendant find Beullah through her sons Jack and Robert, and do their temple work at that time.
If this explanation didn't answer all your questions, here's a video on How To Detach Children from the Wrong Parents.
Detaching a Spouse from the Wrong Marriage Relationship
The process by which you detach a spouse from a wrong husband or wife is similar to detaching a child from the wrong parents. BUT here's the difference: before you can delete a marriage relationship between two individuals, you must first detach any children that are listed below the incorrect couple. This usually involves making a record of all the PID#s for the children, which is easily done via Copy & Paste to a word processing document.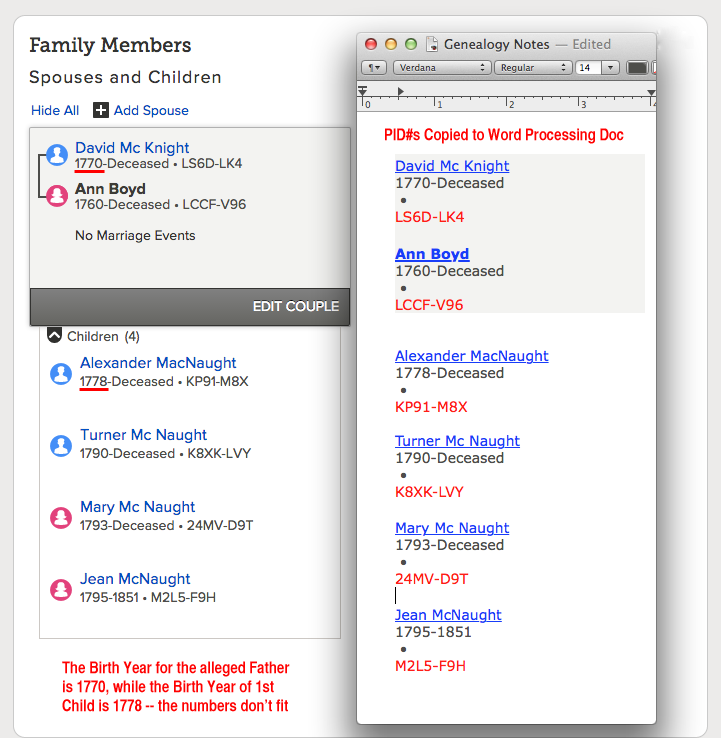 By parking the PID#s in a word-processing document, you can conveniently FIND the children again, and Add them back to the correct couple. And of course, you will Add the Children back via "ID Number." This can be a very time-consuming process, so make sure that you have solid evidence of the correct relationships before you attempt this kind of Family-Tree Surgery.
So here are just two items of evidence, among others, that David Mc Knight is not the Father of the "McNaught" Children, nor is he the Husband of Ann Boyd -- a woman who is 12 years older than David Mc Knight.
The first thing that popped in my mind was: maybe the husband's name is David Alexander Mc Knight (or McNaught)? But further research suggests that David and Alexander are two different people born many years apart (from 13 to 24 years). To research Family History questions, when birth years go back to the 1600s and 1700s, I can usually find helpful information at rootsweb.com.
After the children are detached from the wrong couple (even though one spouse/parent may be right), then you detach the wrong spouse from the marriage relationship by clicking "Edit Couple"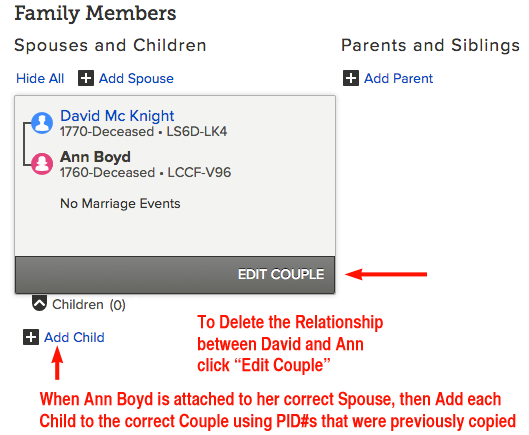 Click "Delete Relationship"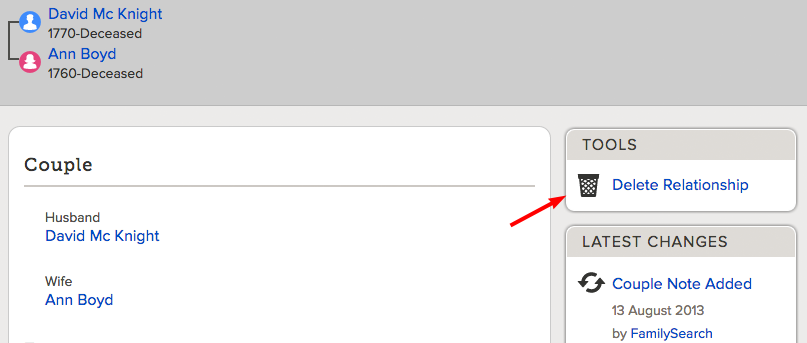 Enter the documentation to indicate that the relationship between David and Ann is incorrect, and should be deleted.
On the other hand, maybe David Mc Knight was a 2nd husband to Ann Boyd after her first husband died in 1798? Ann would have been 40+ years old, and David about 28+ years old? I haven't actually clicked the "Delete" button yet. I'll research that possibility before I do. However, because of Birth and Christening records for the children, it's clear that David Mc Knight was not the father of James, John, Turner, Mary, Jean, and Alexander Jr.
I did the needed Research and discovered that David Mcknight was married to a woman named Jean Orr, according to this Christening record for their child, Janet Mcknight. In the 1700s this Christening occurred when Janet was just months old:
Historical records suggest that David Mcknight was married to his wife, Jean Orr, and likely remained married through the years he would raise his daughter, Janet Mcknight -- which are the very same years that he might have been married to Ann Boyd, but wasn't. The only reason Ann Boyd and David Mcknight appear to be married at FamilySearch, is because someone made an ill-advised Merge, combining two different persons -- Alexander McNaught and David Mcknight into ONE record.
When two separate persons are Merged into One record, this is called a "Hijacking" -- specifically when the Wrong Person has commandeered and over taken the Right Person's record. Thru a "Find " search for Alexander McNaught, born between 1746 and 1757 in Kilmarnock, Ayrshire, Scotland, with spouse "Ann Boyd," the following four duplicate records were found at the top of the search results:
Of the 4 duplicates above, 3 have all individual temple ordinances completed. Record #LS6D-LK4 has most likely been "Hijacked," through an incorrect Merge; which means that David Mcknight's Name, Birth Year and Birth Place have commandeered the correct Name, Birth Year and Birth Place.
And how do I know this record has been Hijacked for sure? By examining the "LATEST CHANGES" history, we can see evidence of the the Hijacking. The LATEST CHANGES link is located in the right-hand column of a Person Page:
After scrolling down through the history of hundreds of entries and changes, this is what was found at the very bottom and very beginning:
The Hijacking is confirmed as we click on the name "Alexander McNaught" PID# LS6D-LK4 and view the Summary Box; low and behold, a different Name pops up: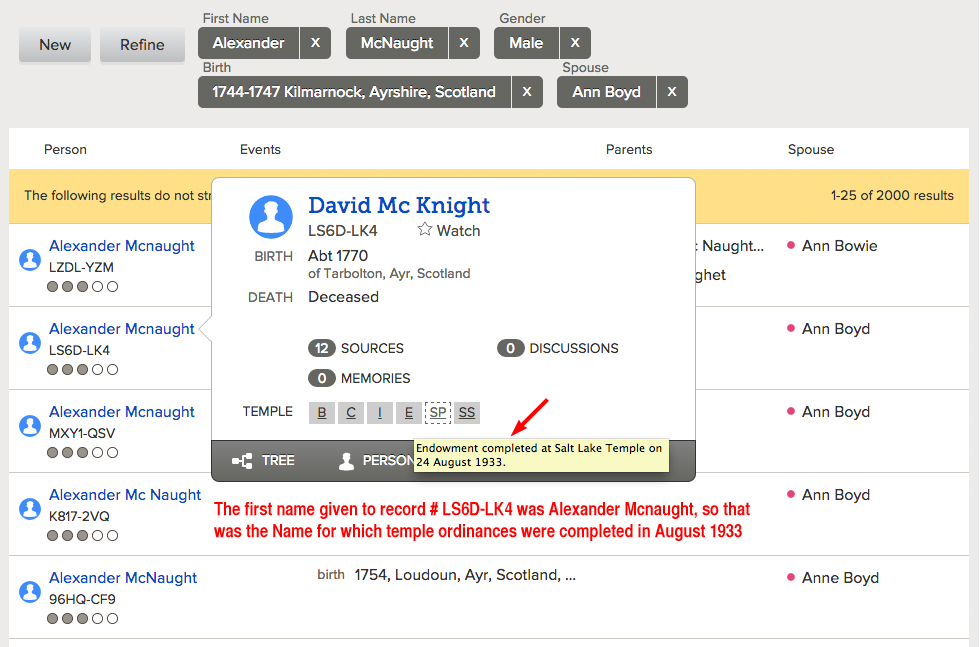 The Solution to this Hijacking is to make sure David Mc Knight (1770) has his own record (even if a new one must be created) with the following relationships Added: spouse, Jean Orr (1770), and daughters, Janet Mc Knight (1800) and Jean Mc Knight (1802). But creating a new record will not be necessary, because David Mc Knight has 3 duplicate records that were easily found thru a "Find " search.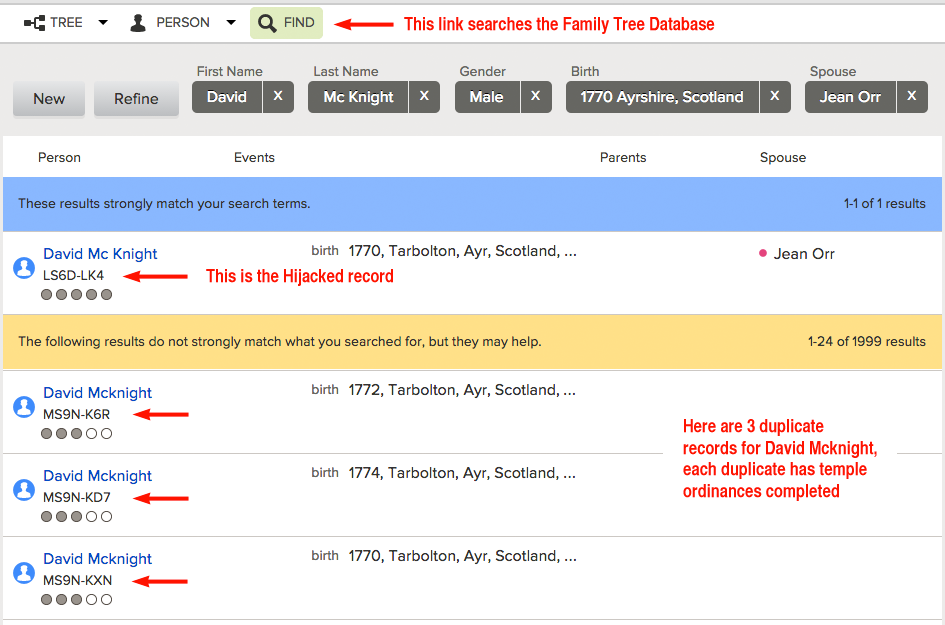 What needs to be done now, is to detach David's spouse, Jean Orr, from the Hijacked record, and then Add her by ID# to one of the three duplicate records. Then do the same for the children: detach them from the Hijacked record, and then Add them by ID# as children of the newly resurrected couple.
When the incorrect spouses and children have been detached from the Hijacked record, then go to the LATEST CHANGES history (to the very bottom and beginning), and Restore the correct Name and Birth Info to the record of Alexander McNaught PID # LS6D-LK4.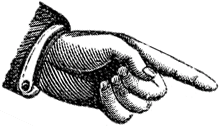 * Learning Computer Basics Necessary for Online Family History
* How to Search the FamilySearch.org Historical Database.
* Attaching Vital and Census Records to an Ancestor's Person Page.
* Entering or Editing Vital Information for each Ancestor.
* Cleaning Up and Correcting a Confused Family Tree.
* Merging Duplicate Records within the Family Tree Database.