How To Do Genealogy Online
at FamilySearch.org
by Matt Moody, Ph.D.
Searching Historical Records with One-Click from a Person Page
On every Person Page in the right-hand column you will find a "Search Records" Link under the heading RESEARCH HELP. Here's the advantage of using this Search Link when Record Hint are not available: The name and birth year of the person you are searching for is automatically entered into the search. Let's find Gladys Pearl Monroe's parents using "Search Records."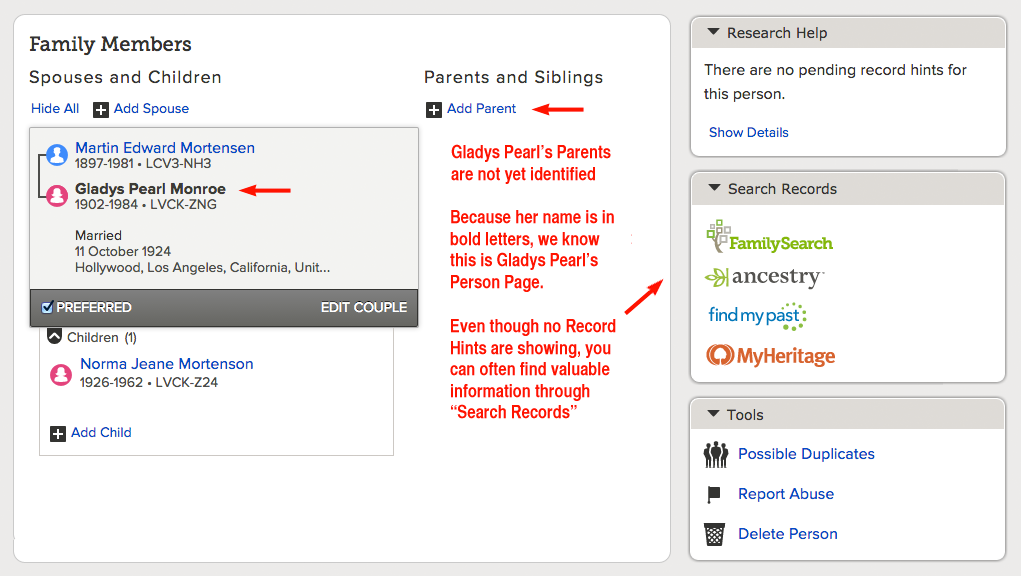 After just one click of the "Search Records" link, we discover the name of Gladys Pearl's mother and younger brother.
Below is a transcription of the 1910 U.S. Census -- transcribing involves examining the original U.S. Census document, and deciphering what was written by the Census Taker; sometimes the writing is very clear and sometimes it's very sloppy beyond recognition. Census Takers will occasionally record information incorrectly, and at times indexers (or transcribers) will decipher incorrectly. When there are conflicts and question if usually pays to examine the original document.
Once we can discern that this Census has correctly recorded Gladys Pearl Monroe when she was 8 years old, then Attach to Family Tree is the wise thing to do. This Census identifies Gladys Pearl's mother, younger sister, and the place where her father was born. When you attach this Census to Gladys Pearl's Person Page, then this information can be readily referred to in the future.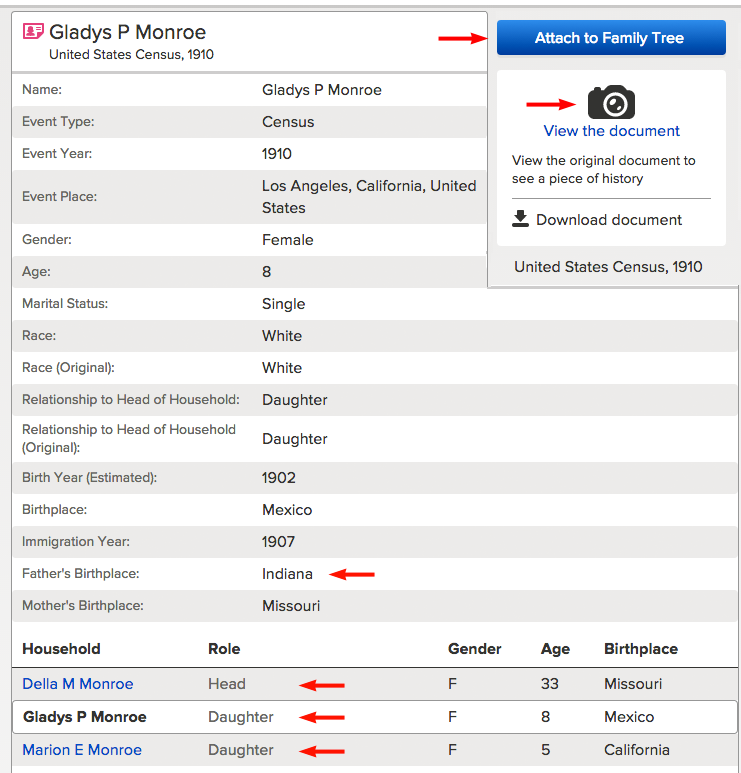 Here's a photo of the actual 1910 Census document. I wanted to confirm that Gladys Pearl's father was born in Indiana. Note that "Marion E Monroe" is listed as a "Daughter" and in the next column is written an "F" for female. At the age of 5, Marion may have looked like a girl but he grew up to be a man, who married Olive L. Brunings -- and in the 1910 U.S. Census, Olive is described as "F" for female.
When we find Gladys Pearl's father, the birth place of "Indiana" will be confirming evidence that we've found the right person.
After adding the name of Gladys Pearl's mother to the Search parameters, and coming up with no results, then I entered the same information in a Search at Ancestry.com
The search results at Ancestry.com revealed the likely name of Gladys Pearl's father, and her mothers maiden name:
Returning to FamilySearch.org, I do a FIND search for the name "Otis Elmer Monroe," birthplace "Indiana," and spouse "Della M Hogan. "FIND " searches the Family Tree database where individuals are already connected to, or waiting to be tied to, a Family Tree; in contrast "Search" explores a database of historical records: Birth, Death, and Marriage records, as well as Census records -- this massive database also includes passenger lists, military registrations, civil war pensions, among many other historical records.
Bingo! Both parents are already in the Family Tree Database. Note that Otis Elmer was born in Indianapolis, which is in Indiana -- a confirming piece of the puzzle.
By clicking on Otis Elmer Monroe's Name, a Summary Box appears, and present an option to navigate to Otis's Person Page, or to Tree View. From Tree View we can see that Otis and Della, and both sets of Parents have Record Hints available.
Doing genealogy online requires navigating to numerous locations. Now that we've researched and answered the question "who is Gladys Pearl's parents," we return to the place where we started. By clicking the triangle immediately right of PERSON, we see a list of the last 40 persons we've visited within Family Tree.
At Gladys Pearl's Person Page we will Add her Parents by ID number.
After Adding Otis Elmer Monroe, I then Copied Della Mae Hogin's PID# and Pasted in into the box shown above. After clicking "Find " here are the results for both persons
After Adding her Parents, the Family Members section of Gladys Pearl Monroe's Person Page looks like this:
Curiously, the 1910 U.S. Census lists "Marion E Monroe" as being a "Daughter" and "F" for female. This is why it's important to examine multiple vital and census records before drawing conclusions.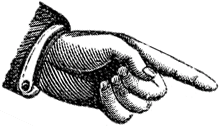 * Learning Computer Basics Necessary for Online Family History
* How to Search the FamilySearch.org Historical Database.
* Attaching Vital and Census Records to an Ancestor's Person Page.
* Entering or Editing Vital Information for each Ancestor.
* Cleaning Up and Correcting a Confused Family Tree.
* Merging Duplicate Records within the Family Tree Database.