The Possibility of Responding with
Positive Emotions in Negative Moments

Dear Dr. Matt,
My name is Bev, I'm from Manatoba, Canada. I'm a single female, 32 years old.
As I've been reading your book, I get the impression that you are suggesting that people can actually have positive emotions come out of them, in response to negative moments. I'm confused about this, how am I supposed to be happy, when someone mistreats me or hurts me? Please explain?
Thanks,
Bev
Dear Bev:
When someone mistreats you, or hurts you, happiness is NOT the positive emotion that anyone is likely to experience. Normal people are NOT supposed to feel happy when abused. So, to answer your question: "No, feeling happy is NOT the positive emotion that the Lord would have you and I feel in challenging times."
Being mistreated by others is hard to bear; nevertheless, it is possible to feel positive and pure emotions flowing through us, even during tough times. Consider these words from the Bible:
My brethren, count it all joy when ye fall into divers temptations;
Knowing this, that the trying of your faith worketh patience.
Here's an idea from my book that likely spurred your question:
We know when we are following the Light and doing what is Right,
because positive emotions accompany every good and loving choice.
In contrast:.
We know when we walk in the shadows of Deception,.
because negative emotions flow through us.
Question: What positive emotion might we feel, when others mistreat us?
Answer: Emotions of Love!
Weigh these words from the Bible:
Charity suffereth long, and is kind; charity envieth not; charity vaunteth not itself,
is not puffed up, Doth not behave itself unseemly, seeketh not her own, is not easily provoked,
thinketh no evil; Rejoiceth not in iniquity, but rejoiceth in the truth; Beareth all things, believeth all
things, hopeth all things, endureth all things. Charity never faileth: . . . And now abideth faith,
hope, charity, these three; but the greatest of these is charity. . . . Wherefore, cleave
unto charity, which is the greatest of all, for all things must fail —
But charity is the pure love of Christ.
As our spiritual integrity is in order, we will feel Christlike love for those who try to hurt us and abuse us. Jesus provided the supreme example: When He was physically abused in a most violent manner, the Savior refrained from feeling bitter emotions; instead, Jesus showed compassion for those who beat him, mocked him, and crucified Him:
Then did they spit in his face, and buffeted him; and did strike him with the palms of their hands . . .
And when they were come to the place, which is called Calvary, there they crucified him, . . . Then said Jesus, Father, forgive them; for they know not what they do. . . . And the rulers also with
them derided him, saying, He saved others; let him save himself, if he be Christ, the chosen
of God. And the soldiers also mocked him, coming to him, and offering him vinegar.
Take time to reflect upon moments in your life when you have felt Emotions that fall short of Love and Light. On page 196 of Changing Your Stripes you will find a list of positive and negative emotions: One set represents the emotions we feel as we follow the Light, and the other set of emotions are felt when we are deceived by Darkness.
We know that emotions of suspicion, fear, and confusion are negative emotions, because they fall short of the peaceful clarity associated with the warmth and love of God. Emotions of suspicion and confusion are first cousins to fear; the Bible teaches us about fear:
Beloved, if God so loved us, we ought also to love one another. . . .
If we love one another, God dwelleth in us, and His love is perfected in us.
Hereby know we that we dwell in him, and he in us, because he hath given us of his Spirit. . . .
Whosoever shall confess that Jesus is the Son of God, God dwelleth in him, and he in God.
God is love; and he that dwelleth in love dwelleth in God, and God in him.
Herein is our love made perfect, that we may have boldness
in the day of judgment: because as He is,
so are we in this world.
There is no fear in love;
but perfect love casteth out fear:
because fear hath torment. He that feareth
is not made perfect in love. (1 John 4: 11-18)
For God hath not given us the spirit of fear;
but of power, and of love, and of a
sound mind. (2 Tim. 1: 7)
As we live true by walking in the Light, you and I can respond with loving words and deeds, and feel peace within, even amid abusive situations. My book, "Changing Your Stripes," teaches the principles that lead to lasting change, making you a new kind of creature capable of responding with calm, even as storms of adversity swirl.
Best Regards,
Matt Moody, Ph.D.
Social Psychologist
* * * * * * *
Dr. Matt offers telephone counseling that will fix your problems fast!
The Greatest Prize
for Life's labors isn't
in material possessions
or impressive accomplishments,
but in the progress of personal character.
You labor for your own becoming, this is your richest reward.
Who You Become is your greatest possession,
make it your Masterpiece!
(Changing Your Stripes, 2nd Edition, page 274).
The book, "Changing Your Stripes" presents principles for getting out of
the ditch in which you've been dumped (the difficulties of which you are a victim), and
the ditch in which you've jumped (the difficulties for which you volunteer).
"Mastering a challenging situation
is ultimately a matter of
mastering yourself!"
- Matt Moody
"Changing Your Stripes," teaches you the principles that lead to lasting change,
making you a new kind of creature capable of communicating
with calm, even as storms of contention swirl.
If these principles resonate and ring true,
then . . . this book is for you!


Sold Exclusively
through this website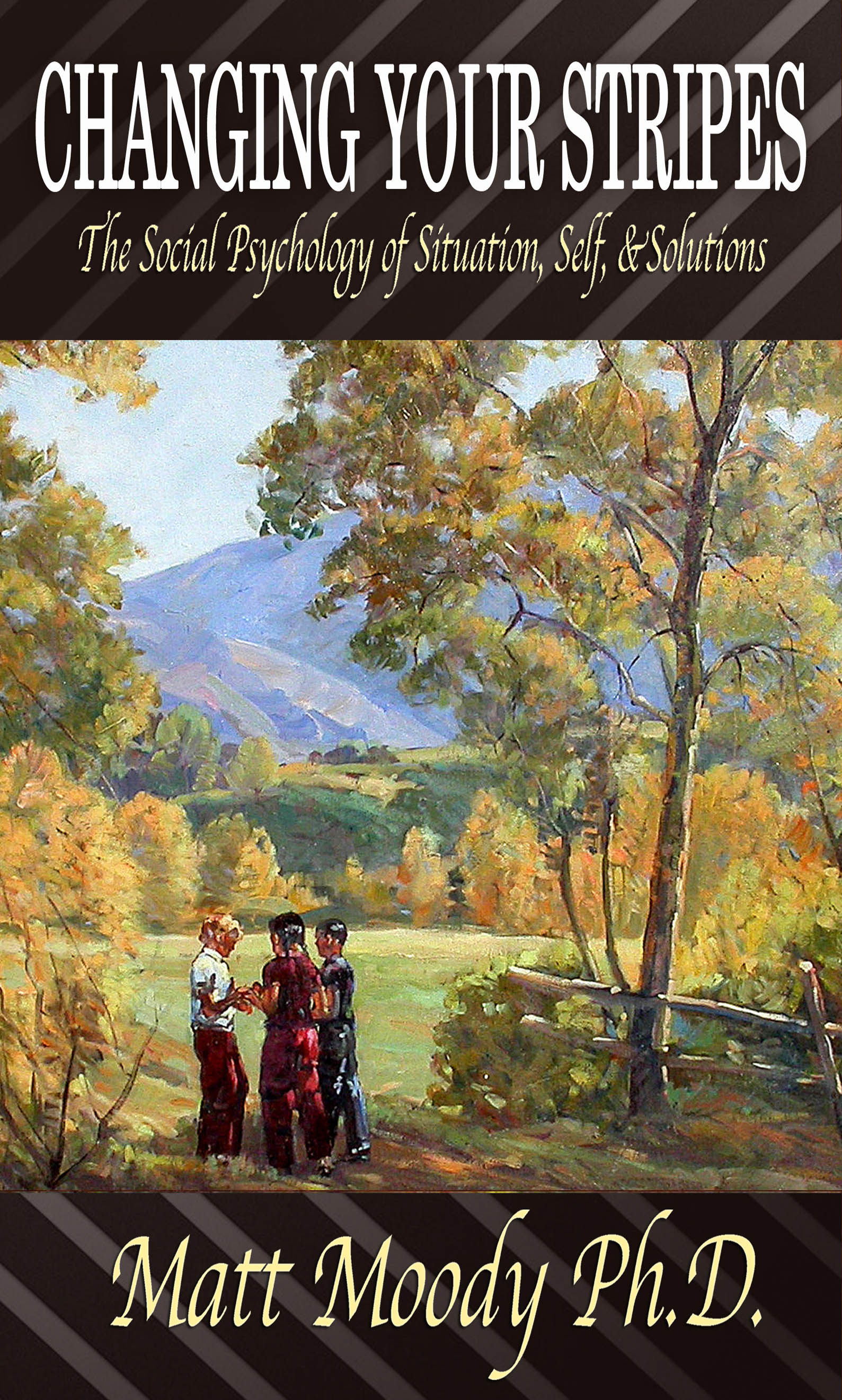 Changing Your Stripes is a
unique reference book that will help
you understand, . . . and solve all of
Life's ever-appearing problems.
Here are more reasons to buy
Changing Your Stripes


Social Psychologist & Personal Advisor