Ask and Ye Shall Receive: Pushing Aside Doubt and Unbelief

Dear Dr. Matt,

My name is Lori, I live in Little Rock, Arkansas. I am 23 year old and single. I'm waiting on a promise God gave me about my future.
How do you keep doubt and unbelief from hindering a miracle manifesting in your life? I desperately need God to fulfill a promise He made to me that is in of itself a miracle, because it involves the lives of other people whom I care about and love very greatly. I know that God always keeps His promises, but according to Matthew 21:22, I must believe in order to receive it. It's not that I don't believe that He can do the impossible; I do in fact, but as Christ said in Matthew 26:41 "the spirit is willing, but the flesh is weak" and I am struggling with doubt, fear, and unbelief in my mind because I don't see any physical manifestation, though in my heart, soul, and spirit, I know He has already done what I have asked because of His promise. I just don't want my mind and my physical eyes (my humanness) to keep me from receiving what my heart longs for.
Thanks,
Lori

Dear Lori:
God is our Father. He is the literal Father of your eternal spirit, and mine. You are His daughter (see Romans 8: 16, 17). As a Father, God knows how to give good gifts to His children (Matt. 7: 9-11). God does not play games. He loves His children and always does what is best for each of them -- always.
It is clear to me that you want the thing you are asking for, and you believe that God has promised to give it to you. If this is so, and your faith is sufficient (Matt 17: 20), then it will happen according to His timetable.
On the other hand, is it very common for you and I to imagine that God has communicated particular personal messages . . . that He really has NOT communicated. We imagine these answers to prayer because we so urgently hope, and want, certain things to be God's will. So, we essentially answer our own prayers with thoughts that we create in our head, according to our will, . . . instead of God's will.
If what you have asked for, and are hoping for, does not come about, it is most likely that you have asked "amiss."
"Ye ask, and receive not, because ye ask amiss." (James 4: 3)
Notice that the following scripture does NOT say that God will give us what we want; instead, God will give liberally "wisdom" to them that lack.
"If any of you lack wisdom, let him ask of God, that giveth to all men liberally,
and upbraideth not; and it shall be given him." (James 1: 5)
Be prepared to learn Godly wisdom through the process of understanding this situation — in the way God wants you to understand it. I recommend that you "let go" of what you think was God's promise yesterday, and focus upon what His Will IS today! Live is the moment and let God say . . . what ever He will say, today. We must all follow the example of Jesus:
"And he went a little further, and fell on his face, and prayed,
saying, O my Father, if it be possible, let this cup pass from me:
nevertheless not as I will, but as thou wilt." (Matt. 26: 39)
Keep your eye single His Glory, and set your heart upon His Will to be done — completely putting aside thoughts of your own will:
"I can of mine own self do nothing: . . . I seek not mine own will,
but the will of the Father which hath sent me." (John 5: 30)
"Jesus saith unto them, My meat is to do the will of him that sent me,
and to finish his work." (John 4: 34)
Finally, it is important to understand the full context of Matt. 21: 22. This passage appears to say that our Father in Heaven will give us anything we ask for, as we ask in faith. This is NOT the full meaning of this scripture. There are three additional ideas that clarify conditions of our prayerful asking:
Whatsoever thing ye shall ask the Father in my name, which is good
in faith believing that ye shall receive, behold, it shall be done unto you.
And whatsoever ye shall ask the Father in my name, which is right,
believing that ye shall receive, behold it shall be given unto you.
Whatsoever ye ask the Father in my name it shall
be given unto you, that is expedient for you.
In other words, ALL our prayerful asking must be in harmony with His Will and His Wisdom. What I have written at this page of my website will also be helpful to you. It's goes to a misinterpretation of Matt. 21: 22 as applied by advocates of The Secret.
Let me know how God's will is revealed to you, in regard to this situation.
Sincerely,
Dr Matt
Matt Moody, Ph.D.
Social Psychologist
* * * * * * *
Dr. Matt offers telephone counseling that will fix your problems fast!
The Greatest Prize
for Life's labors isn't
in material possessions
or impressive accomplishments,
but in the progress of personal character.
You labor for your own becoming, this is your richest reward.
Who You Become is your greatest possession,
make it your Masterpiece!
(Changing Your Stripes, 2nd Edition, page 274).
The book, "Changing Your Stripes" presents principles for getting out of
the ditch in which you've been dumped (the difficulties of which you are a victim), and
the ditch in which you've jumped (the difficulties for which you volunteer).
"Mastering a challenging situation
is ultimately a matter of
mastering yourself!"
- Matt Moody
"Changing Your Stripes," teaches you the principles that lead to lasting change,
making you a new kind of creature capable of communicating
with calm, even as storms of contention swirl.
If these principles resonate and ring true,
then . . . this book is for you!


Sold Exclusively
through this website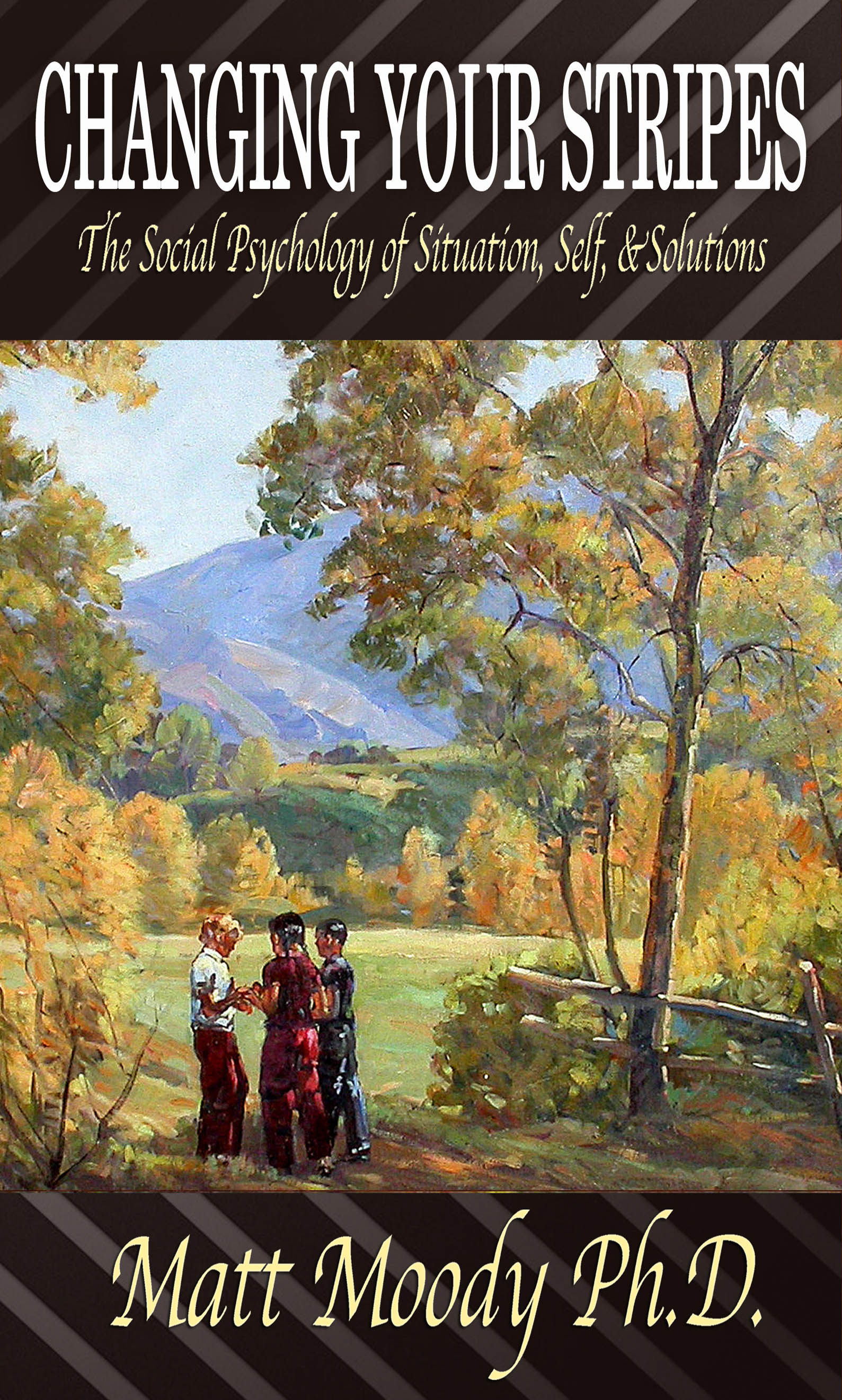 Changing Your Stripes is a
unique reference book that will help
you understand, . . . and solve all of
Life's ever-appearing problems.
Here are more reasons to buy
Changing Your Stripes


Social Psychologist & Personal Advisor