How Do I Stop Worrying

Dear Dr Matt:
My name is Barbara. I live in the state of New York. I am an 18 year old, single female.
How do I stop worrying about school? I always worry to the point that I cry. I have the anxiety that I will fail, or something. Please help and please answer as soon as possible.

Thanks in advanced,
Barbara
Dear Barbara:
The words "fear" and "worry" are descriptions that point to the same emotional reality. Here is a true principle for eliminating fear and worry from you life:
"There is no fear in love;
but perfect love casteth out fear:
because fear hath torment. He that feareth
is not made perfect in love." (1 John 4: 18)
The key to eliminating your worries . . . is to allow the love of God to fill your heart, and thus, all fear and worry will be cast out. Every feeling of peace, happiness, and love comes from the God who created you:
"For God hath not given us
the spirit of fear; but of power, and of love,
and of a sound mind." (2 Timothy 1: 7)
In contrast, every feeling of anxiety, fear, and worry comes from the influence of the opposite source:
"For we wrestle not against flesh and blood, but against principalities,
against powers, against the rulers of the darkness of this world,
against spiritual wickedness in high places." (Ephesians 6: 12).
In this same epistle from the Paul, the Apostle encourages us to "put on the armour of God"—which is a metaphor to represent precisely the same action of letting the Love of God into your Heart. The Love of God will both cast our the worry that now consumes you, AND protect you in future days against the powers of darkness—as you are enticed to take up worry and fear again.
My book, Changing Your Stripes, details the way to letting God's Love into your Heart; AND how you can push aside every useless care of anxiety, worry, or fear.
Barbara, at the base of every psychological or emotional trouble, is a spiritual problem. This is why I have advised you to embrace a spiritual principle. The key to overcoming your worries in about your Heart and NOT your Head. Every Head remedy that you attempt will eventually fail, but the Spiritual Remedy that I am recommending is absolute and sure—it will not fail.
Sincerely,
Matt Moody, Ph.D.
Social Psychologist
* * * * * * *
Dr. Matt offers telephone counseling that will fix your problems fast!
The Greatest Prize
for Life's labors isn't
in material possessions
or impressive accomplishments,
but in the progress of personal character.
You labor for your own becoming, this is your richest reward.
Who You Become is your greatest possession,
make it your Masterpiece!
(Changing Your Stripes, 2nd Edition, page 274).
The book, "Changing Your Stripes" presents principles for getting out of
the ditch in which you've been dumped (the difficulties of which you are a victim), and
the ditch in which you've jumped (the difficulties for which you volunteer).
"Mastering a challenging situation
is ultimately a matter of
mastering yourself!"
- Matt Moody
"Changing Your Stripes," teaches you the principles that lead to lasting change,
making you a new kind of creature capable of communicating
with calm, even as storms of contention swirl.
If these principles resonate and ring true,
then . . . this book is for you!


Sold Exclusively
through this website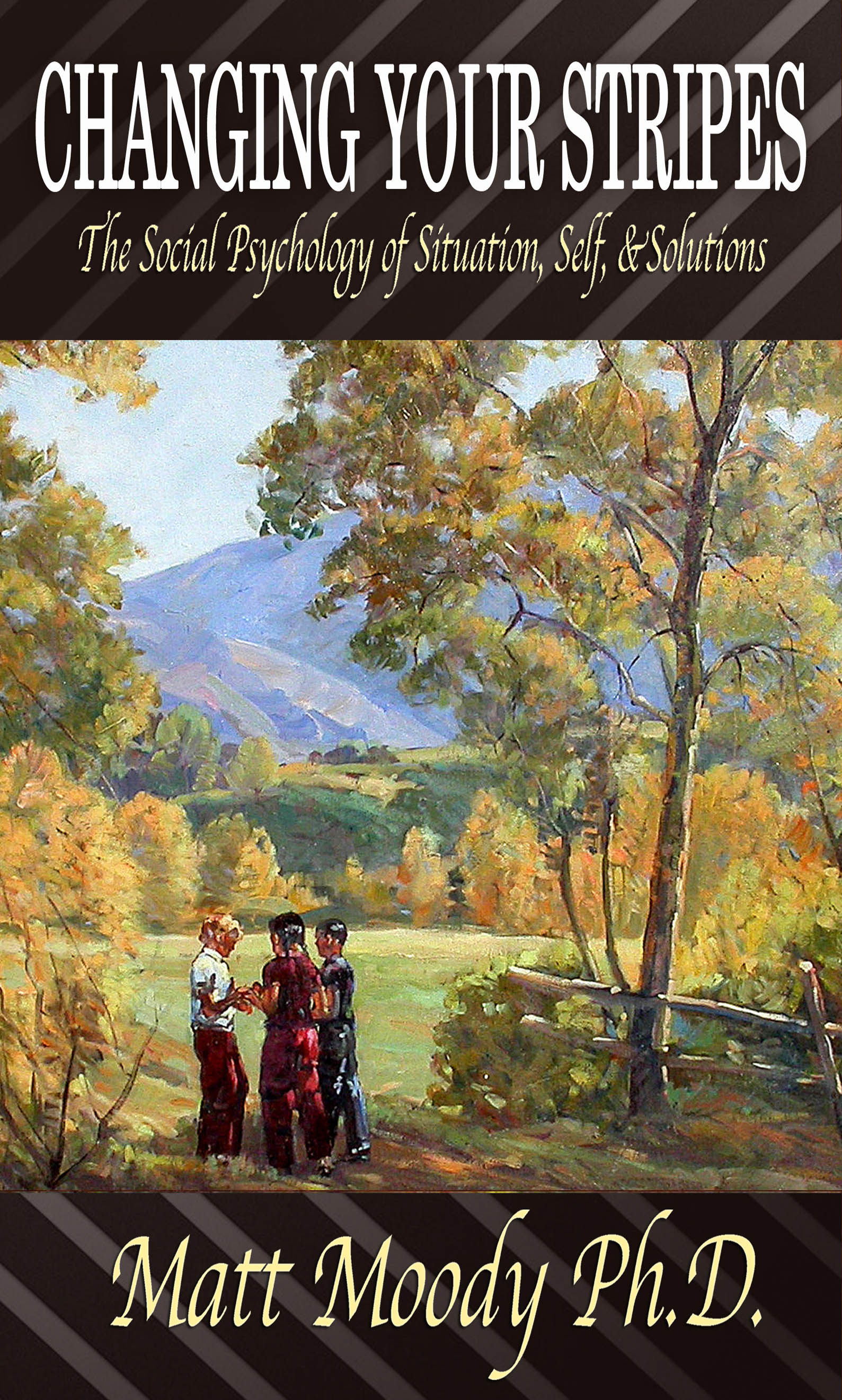 Changing Your Stripes is a
unique reference book that will help
you understand, . . . and solve all of
Life's ever-appearing problems.
Here are more reasons to buy
Changing Your Stripes


Social Psychologist & Personal Advisor