Should I be Fearful about Un-Friendly Food
Dear Dr. Matt:
It seems as if food is no longer a friendly substance: Bird Flu, Mad Cow,
E Coli, Tainted Tuna, Spammed Spinach, . . . yada, yada, yada.
Do you think fouled up food can be cleaned up by a blessing—a prayer over the food?
Do you ever feel concerne about the food you are eating?
Most fruits and veggies we American eat actually come from Mexico or China, or anywhere other than the Unitied States. Do you think we should be concerned about where the food we eat has been grown?
Thanks
Mandesa, 29, Single, from Mississippi.


Hello Mandesa:
Question #1 - Blessing of food: When we have done all we can practically do to be prudent according to the guidance of His Spirit, then for those who are faithful in following Christ, His Grace is sufficient to give to those who ask of Him, that which is "good," "right," and "expedient."
Remember, God will not give to us anything we ask for, but only that which is wise according to His time-table and His eternal purposes.
For those who will "trust in the LORD with all thine heart; and lean not unto thine own understanding," protection from impurities is his promise: "health to thy naval, marrow to thy bones" (Proverbs 3: 5-8). The Almighty commands the elements, and every element obeys His Voice. He prospers those who love Him (Psalms 122: 6); He protects those who obey Him (Genesis 15: 1; Leviticus 26: 3-6).
But, before food is even blessed, what food we buy and how we prepare this food can be guided by the Spirit. Because those who love and obey God are engaged in an ongoing dialogue with the Father—they "pray always" (Luke 21: 36)—these people can avoid situations where a "blessing on the food" requires a miraculous overruling of our carelessness.
The Lord will not always save us from our willful neglect and foolishness, but will allow natural consequences to occur, that we might know to repent of our careless and uninspired ways. The "Life is Self-Correcting" Principle will occur for our sake, so we can know which paths are not productive:
Life is Self-Correcting
Whenever you're not doing Life right,
Life will make sure you are properly notified.
But here's an interesting truth, even though we may ignorantly do dumb things, sometimes our stupidity will not receive full "notification" of consequences because of our childlike intent of Heart and faith in Him—by His Grace we are sometimes saved from disastrous consequences. You see, being humble as a little child and having brightness of hope in Him . . . IS doing Life right! Thus, childlike faith can override ignorance.
God especially protects and prospers those who love Him; God also protects us even when we are not worthy of this blessing, and do not directly ask for this blessing (Matt. 5: 45). Why does the Father do this? According to His infinite wisdom, He gives graciously and liberally to His children—because we ARE His children (Rom. 8: 16).
Question #2. Am I ever concerned about the food I am eating? No. Although I did offer an especially sincere blessing on the food, before eating an Ostrich egg that was 6 months old.
Question #3. Do I want to know where my food has been grown? No. It doesn't matter, and for the following reason:
I know that the Lord would have us put primary focus upon His Purposes (Matt. 6: 22, 24, & 33), seeking first the kingdom of God, knowing that all else will be added--to include the obtaining of "friendly" food and how to prudently prepare it.
After we have been diligent to obey every subtle whispering of the Heart, the Lord, who can turn water into wine, can also make contaminated food, friendly.
Because of latter-day pollutants and pestilence, do the following words of Jesus cease to apply?
Therefore I say unto you, take no thought for your life, what ye shall eat, or what ye shall drink; nor yet for your body, what ye shall put on. Is not the life more than meat, and the body than raiment?
Behold the fowls of the air: for they sow not, neither do they reap, nor gather into barns; yet your heavenly Father feedeth them. Are ye not much better than they?
And why take ye thought for raiment? Consider the lilies of the field, how they grow; they toil not, neither do they spin: And yet I say unto you, That even Solomon in all his glory was not arrayed like one of these.
Wherefore, if God so clothe the grass of the field, which to day is, and to morrow is cast into the oven, shall he not much more clothe you, O ye of little faith?
Therefore take no thought, saying, What shall we eat? or, What shall we drink? or, Wherewithal shall we be clothed? (For after all these things do the Gentiles seek)
For your heavenly Father knoweth that ye have need of all these things.
But seek ye first the kingdom of God, and his righteousness; and all these things shall be added unto you (Matt. 6: 25-34).
What follows lends a larger context to perceiving a spiritual perspective, and also reasons why we should live by faith and not allow thoughts and actions to be influenced by fear of unfriendly food.
Because we inhabit temporal bodies, we eat temporal food, we build temporal houses, we raise temporal cattle and temporal wheat; we contend with temporal weeds, and with temporal enemies in our soil—and all this according to His Plan of Life—therefore we should not separate the temporal from the spiritual.
We should look to the Lord for answers to temporal matters, else we separate what was Wisdom suggests we should not separate—that is, we do not separate them if we want to please our Creator and receive His promised blessings.
The Apostle Paul further established a priority between the temporal and the spiritual:
For all things are for your sakes, that the abundant grace might through the thanksgiving of many redound to the glory of God. For which cause we faint not; but though our outward man perish, yet the inward man is renewed day by day.
For our light affliction, which is but for a moment, worketh for us a far more exceeding and eternal weight of glory; While we look not at the things which are seen, but at the things which are not seen: for the things which are seen are temporal; but the things which are not seen are eternal (2 Cor. 4: 15-18).
So, in keeping with the priority of having an eye single to His Purposes (Matt. 6: 22, 24, & 33), I take seriously the following admonition:
Be still, and know that I am God.
This admonition to "be still" in inclusive of every adverse threat or fear we might face. We can also learn much by pondering the context from which these powerful words come:
God is our refuge and strength, a very present help in trouble.
Therefore will not we fear, though the earth be removed, and though the mountains be carried into the midst of the sea; though the waters thereof roar and be troubled, though the mountains shake with the swelling thereof. . . . God is in the midst of her; she shall not be moved: God shall help her, and that right early.
The heathen raged, the kingdoms were moved: he uttered his voice, the earth melted. The Lord of hosts is with us; the God of Jacob is our refuge. Come, behold the works of the LORD, what desolations he hath made in the earth.
He maketh wars to cease unto the end of the earth; he breaketh the bow, and cutteth the spear in sunder; he burneth the chariot in the fire.
Be still, and know that I am God . . . The LORD of hosts is with us;
the God of Jacob is our refuge. (Psalm 46).
I know that God is infinitely wise and all powerful: "he uttered his voice, the earth melted." If He can make "wars to cease" . . . He can also cease the spread of any disease, from food sources or any other source, for the benefit of those who love Him, and obey Him.
He allows the spread of disease, and even commands the spread of disease, to chasten his children, that they might remember Him.
But if ye will not hearken unto me, and will not do all these commandments, . . . I will even appoint over you terror, consumption, and the burning ague, that shall consume the eyes, and cause sorrow of heart: and ye shall sow your seed in vain, for your enemies shall eat it. And I will set my face against you, and ye shall be slain before your enemies (Leviticus 26: 14-17).
And it will come to pass that ye shall be afflicted with all manner of diseases because of your iniquities (Mosiah 17: 16).
The Lord chastens his children with many afflictions; He visits them with death, terror, famine, and all manner of disease because they will not remember Him. Yet, on the other hand, He stops the spread of disease and heals His children as they repent and return to Him:
If thou wilt diligently hearken to the voice of the LORD thy God, and wilt do that which is right in his sight, and wilt give ear to his commandments, and keep all his statutes, I will put none of these diseases upon thee, which I have brought upon the Egyptians: for I am the LORD that healeth thee. (Exodus 15: 26).
Bless the LORD, O my soul, and forget not all his benefits: Who forgiveth all thine iniquities; who healeth all thy diseases (Psalm 103: 2, 3).
Will the Lord protect us and heal us as he has in prior centuries? Yes! He will do for us today according to His irrevocable promises:
God is not a man, that he should lie; neither the son of man, that he should repent: hath he said, and shall he not do it? or hath he spoken, and shall he not make it good? (Numbers 23: 19).
Have miracles ceased because Christ hath ascended into heaven? No! Neither have angels ceased to minister. For it is by faith that miracles occur; and it is by faith that angels appear and minister; therefore, if these things have ceased, it is because of unbelief.
The Lord plays no favorites with His children:
Then Peter opened his mouth and said, of a truth I perceive that God is no respecter of persons: But in every nation he that feareth him, and worketh drighteousness, is accepted with him (Acts 10: 34, 35).
Knowing that whatsoever good thing any man doeth, the same shall he receive of the Lord, whether he be bond or free. . . . neither is there respect of persons with him (Ephesians 6: 8, 9).
What He says to one, He says to all. According to His promises, the highest blessings of protection and prosperity are reserved for those that love Him and obey Him.
This is precisely why temporal concerns should not be separated from spiritual priorities—the question of the purity of our food and the sources from which they are grown is not an issue that we should separate from the guidance and inspiration of the Lord:
Look unto me in every thought; doubt not, fear not.
Now if a person is fearful about food—for whatever reason—then that person has not "looked" to the Savior sufficiently, for He will always faithfully show the way to go that we might "escape" every threat or fear (1 Cor. 10: 13).
Because God is "no repecter of persons" (Acts 10: 34), I am completely confident that there is no disadvantage in receiving the Lord's richest blessings for those who cannot afford supplements, or organically grown produce, or purified water, or any other product aimed to enhance health.
Nor is there any disadvantage to people who do not have means or access to information from the Internet, television, or magazines. The Lord's choicest blessings of health are available to all who will simply Trust in Him:
Trust in the LORD with all thine heart; and lean not unto thine own understanding. In all thy ways acknowledge him, and he shall direct thy paths. Be not wise in thine own eyes: fear the LORD, and depart from evil. It shall be health to thy navel, and marrow to thy bones (Proverbs 3: 5-8).
Finally, the words of Jesus reinforce a focus upon eternal priorities, over temporal concerns:
And he called the multitude, and said unto them, hear, and understand: Not that which goeth into the mouth defileth a man; but that which cometh out of the mouth, this defileth a man.

Then came his disciples, and said unto him, knowest thou that the Pharisees were offended, after they heard this saying? But he answered and said, every plant, which my heavenly Father hath not planted, shall be rooted up.
Let them alone: they be blind leaders of the blind. And if the blind lead the blind, both shall fall into the ditch.
Then answered Peter and said unto him, declare unto us this parable. And Jesus said, Are ye also yet without understanding? Do not ye yet understand, that whatsoever entereth in at the mouth goeth into the belly, and is cast out into the draught?
But those things which proceed out of the mouth come forth from the heart; and they defile the man. For out of the heart proceed evil thoughts, murders, adulteries, fornications, thefts, false witness, blasphemies: These are the things which defile a man: but to eat with unwashen hands defileth not a man (Matt. 15: 10-20).
For those who love Him and faithfully follow Him with exactness and honor, the Lord will assist them in simplifying temporal concerns, so they might consecrate time and talents to His most important priorities. The Lord will take care of basic needs so that the acquiring of food, and its preparation, might be simple; that our hearts might be set and single to His Purposes; that we might put more time and attention the weightier matters of life.
So what of unfriendly food? For me, I will put complete faith and confidence in the rich meaning of His words:
"Be still, and know that I am God."
Sincerely,
Matt Moody, Ph.D.
Social Psychologist
Dr Matt has written another response to this "Food Fear" question that cites passages from The Book of Mormon, and the Doctrine and Covenants.
* * * * * * *
The Greatest Prize
for Life's labors isn't
in material possessions
or impressive accomplishments,
but in the progress of personal character.
You labor for your own becoming, this is your richest reward.
Who You Become is your greatest possession,
make it your Masterpiece!
(Changing Your Stripes, 2nd Edition, page 274).
The book, "Changing Your Stripes" presents principles for getting out of
the ditch in which you've been dumped (the difficulties of which you are a victim), and
the ditch in which you've jumped (the difficulties for which you volunteer).
"Mastering a challenging situation
is ultimately a matter of
mastering yourself!"
- Matt Moody
"Changing Your Stripes," teaches you the principles that lead to lasting change,
making you a new kind of creature capable of communicating
with calm, even as storms of contention swirl.
If these principles resonate and ring true,
then . . . this book is for you!


Sold Exclusively
through this website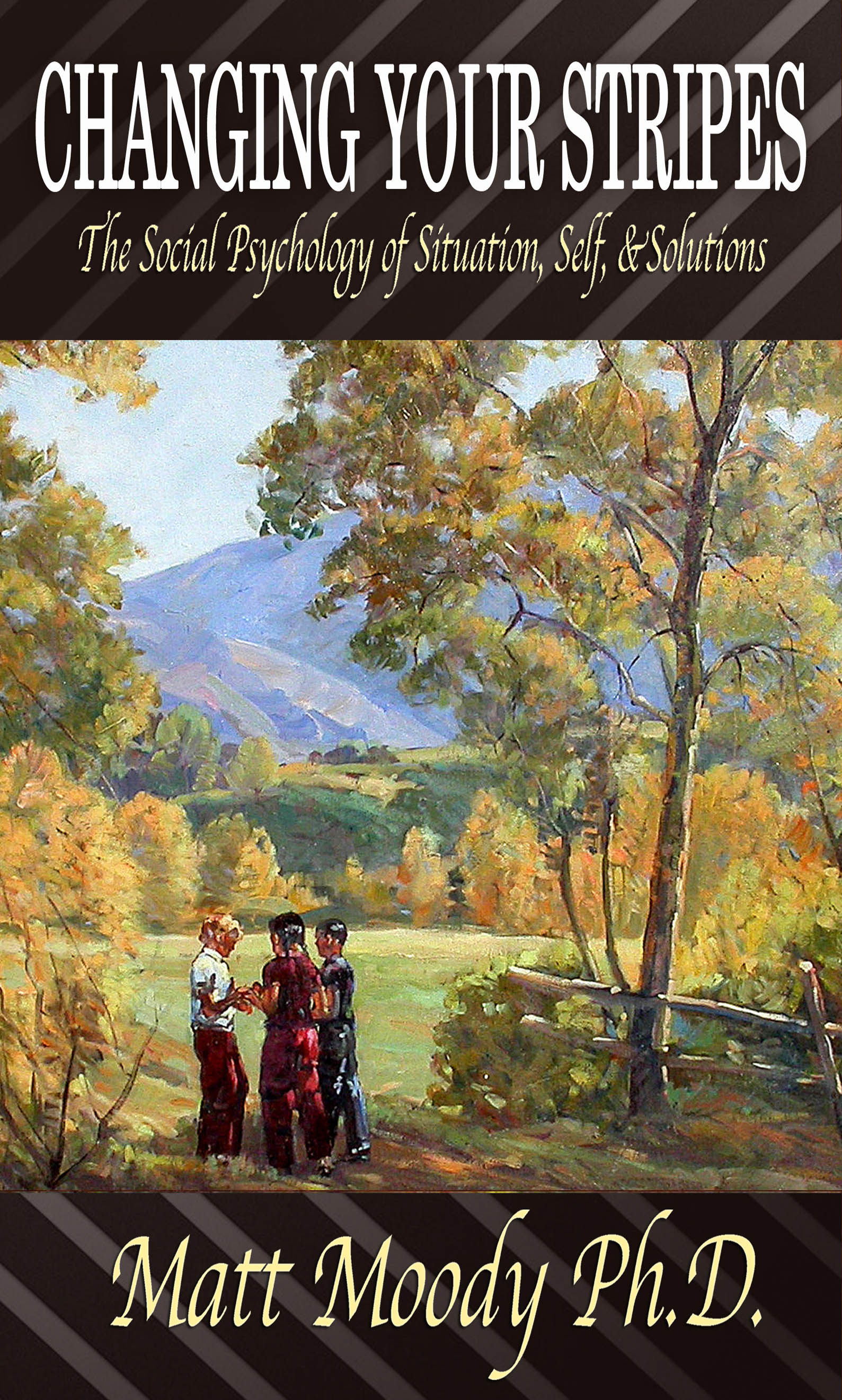 Changing Your Stripes is a
unique reference book that will help
you understand, . . . and solve all of
Life's ever-appearing problems.
Here are more reasons to buy
Changing Your Stripes


Social Psychologist & Personal Advisor