Wedding Snub: What To Do when Disrespected?
Dear Dr. Matt,
My name is Kevin I am 35 years old I have been in a relationship for over twenty years with a wonderful women and we have been married for twelve years. We have two children 7 and 9, both girls. We live in Wisconsin.
My wife has a brother who is getting married. My wife's brother had asked if our two daughters would be flower girls in his wedding. We said of course. On the day we went to pay for the dresses we found out that every male on both sides of the family is going to be in the wedding party except for me. I have known my wife's brother since he was three years old, and we never had a cross word I truly considered him a brother.
We have found out that the other brother in law is not only in the wedding he is the best man. This has hurt my wife very badly and to be honest it has hurt my feelings just as bad. My wife's family has a history of treating us poorly but we always looked the other way. For instance when my wife was graduating from High School her parents would not allow her to go to the prom with me. They felt I was no good. The truth is I come from a poor family.
We feel past prejudices are still haunting us and we dont know what to do. We have told my wife's brother about how we feel and he said he was sorry but that was it. We don't want to go to the wedding. The problem is it will hurt our kids feelings, but we feel we must draw the line.
If I had done something to deserve this in any way, as a man, I could accept it. But truly I have not. I have always tried my very hardest to be part of the family and it is just not working out. I feel that if I let my kids be in this wedding they would be taking part in the disrespect.
We have already not went to two family functions because we don't feel like we are equal parts of the family. This really is hurting our family and we do not know what to do.
Kevin and Carol

Dear Kevin & Carol:
Let me first respond to the matter of your daughters participation. You write:
"I feel that if I let my kids be in this wedding they would be taking part in the disrespect."
The truth is that your daughters will be taking part in the wedding—and not in "the disrespect." The reality of the wedding for your two young girls is centered in their direct experience of it, which is colored by their intent of heart as they participate. Since they have no ill feelings, then the wedding for them is as pure and innocent as they are.
Pulling your daughters out of the wedding is precisely the way you can pass on your prejudices to the next generation. It may be a fact that your sister's brother is NOT showing due respect, but this is his personal shortcoming to bear and God will judge him for his unkindness—he will eventually reap as he has sown.
If you will live life to its fullest, you must learn to return love even in the face of unkindness. If you can do this, you join the company of a select few have demonstrated this depth of compassion: Mother Teresa, Ghandi, and Jesus.
There are many in this world who profess to believe in God and claim to "know him," but when it comes down to obeying His word, they cannot do it. Thus, their belief in God is shallow and according to the Apostle John, their professed belief is a lie (1 John 2: 4, 5). Further, Jesus taught:
"But I say unto you, Love your enemies, bless them that curse you, do good to them that hate you, and pray for them which despitefully use you, and persecute you; that ye may be the children of your Father which is in heaven: for he maketh his sun to rise on the evil and on the good, and sendeth rain on the just and on the unjust. For if ye love them which love you, what reward have ye?"
It is ultimately more important to be part of God's eternal family, and be "treated equally" within these everlasting relationships. As the scripture promises:
That ye may be the children of your Father which is in heaven.
Ask yourself this question: Was Jesus treated "equally" during his mortal life? No!
So, you're in good company! In light of His loving example, this is what I recommend that you do:
Humble yourself before your Creator and do as He would have you do—serve your brother-in-law in any capacity that he asks of you. By so doing, you will also be serving and loving your Creator (Matt 25: 40). You will be setting an example of love to be passed down to your daughters.
If you can leave a legacy of love to your daughters, you will fulfill God's higher purposes.
You stand at the cross roads of a life-changing decision. One road leads to years of useless resentment and contention, and the other road leads to your personal peace, and peace within your family relationships.
Read more about how to end a vicious cycle.
What I'm encouraging you to . . . is something few can do: Return love in the face of unfairness. If people round the world could embrace this simple principle, such could bring an end to the mindless quarrels between Catholics and Protestants in Ireland; it would bring peace between Sunnis and Shiites in Iraq, and would heal centuries of hatred between Jews and Palestinians in Israel.
Kevin, please do not pass on a pattern of contention and resentment to the next generation. Instead, leave a legacy of love.
Sincerely,
Matt Moody, Ph.D.
Social Psychologist
* * * * * * *
The Greatest Prize
for Life's labors isn't
in material possessions
or impressive accomplishments,
but in the progress of personal character.
You labor for your own becoming, this is your richest reward.
Who You Become is your greatest possession,
make it your Masterpiece!
(Changing Your Stripes, 2nd Edition, page 274).
The book, "Changing Your Stripes" presents principles for getting out of
the ditch in which you've been dumped (the difficulties of which you are a victim), and
the ditch in which you've jumped (the difficulties for which you volunteer).
"Mastering a challenging situation
is ultimately a matter of
mastering yourself!"
- Matt Moody
"Changing Your Stripes," teaches you the principles that lead to lasting change,
making you a new kind of creature capable of communicating
with calm, even as storms of contention swirl.
If these principles resonate and ring true,
then . . . this book is for you!


Sold Exclusively
through this website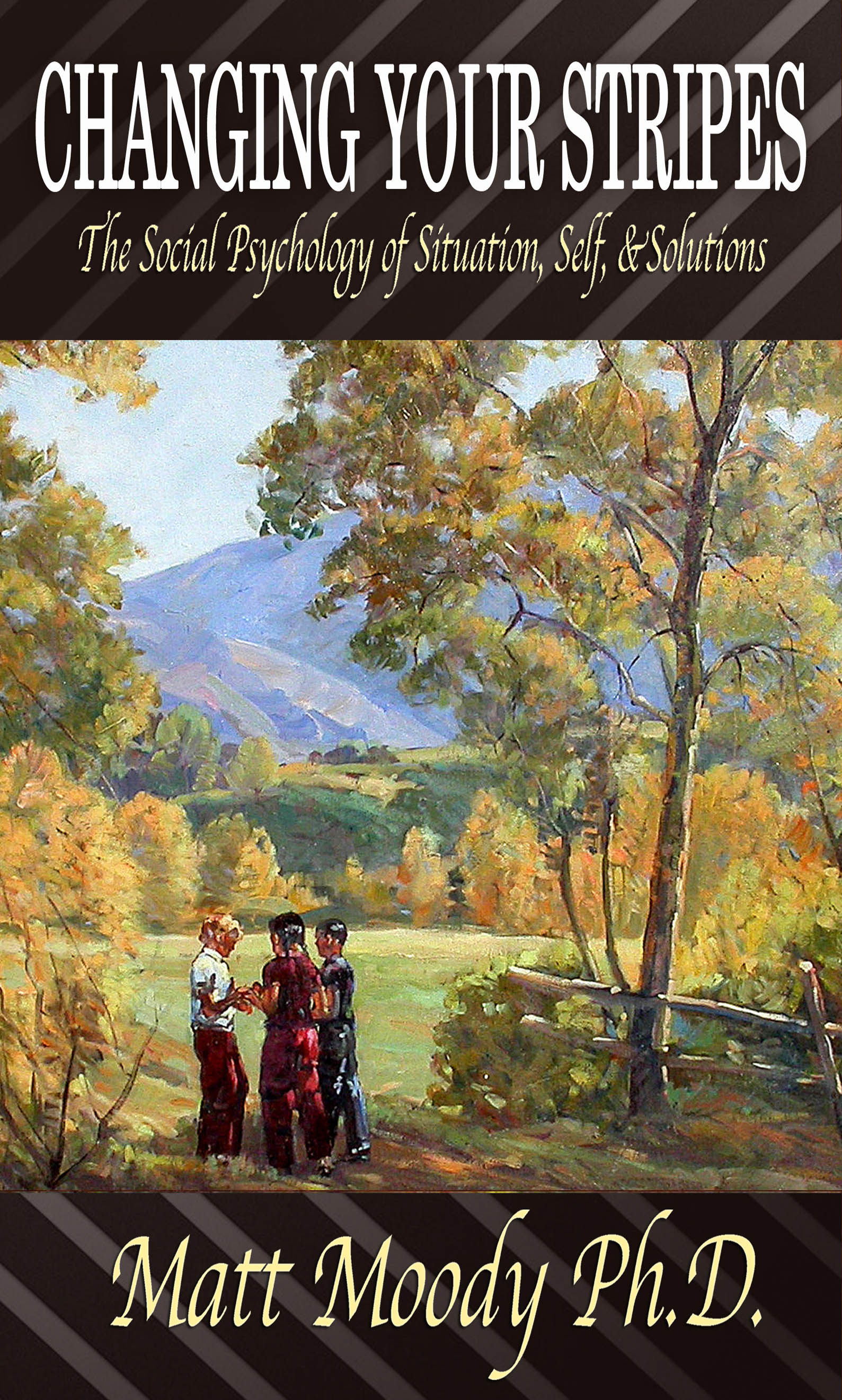 Changing Your Stripes is a
unique reference book that will help
you understand, . . . and solve all of
Life's ever-appearing problems.
Here are more reasons to buy
Changing Your Stripes


Social Psychologist & Personal Advisor