As you get your life moving in the right direction, you will influence and encourage your mother to do the same. Since, she IS an alcoholic, she will not be able to pull herself out of her addiction via will power. Please read what I've posted at my website on about the Heart, and about Addiction.
As you are faithful in following the impressions of your Heart, you will be guided to your greatest personal growth and happiness, and guided in giving your mother the optimal invitations that will open the way to a live-saving miracle. Yes, a miracle is what it will take.
Mental Health Therapy is powerless to help people escape the strangle-hold of addiction. This is precisely why the "AA" approach to overcoming addiction is fruitful--becasue nothing is impossible with God (Matt 19: 26).
I invite you to schedule a free phone consultation, where I can further support you in making choices of the Heart, for everyone's best benefit.
Sincerely,
Matt Moody, Ph.D.
Social Psychologist
* * * * * * *
The Greatest Prize
for Life's labors isn't
in material possessions
or impressive accomplishments,
but in the progress of personal character.
You labor for your own becoming, this is your richest reward.
Who You Become is your greatest possession,
make it your Masterpiece!
(Changing Your Stripes, 2nd Edition, page 274).
The book, "Changing Your Stripes" presents principles for getting out of
the ditch in which you've been dumped (the difficulties of which you are a victim), and
the ditch in which you've jumped (the difficulties for which you volunteer).
"Mastering a challenging situation
is ultimately a matter of
mastering yourself!"
- Matt Moody
"Changing Your Stripes," teaches you the principles that lead to lasting change,
making you a new kind of creature capable of communicating
with calm, even as storms of contention swirl.
If these principles resonate and ring true,
then . . . this book is for you!


Sold Exclusively
through this website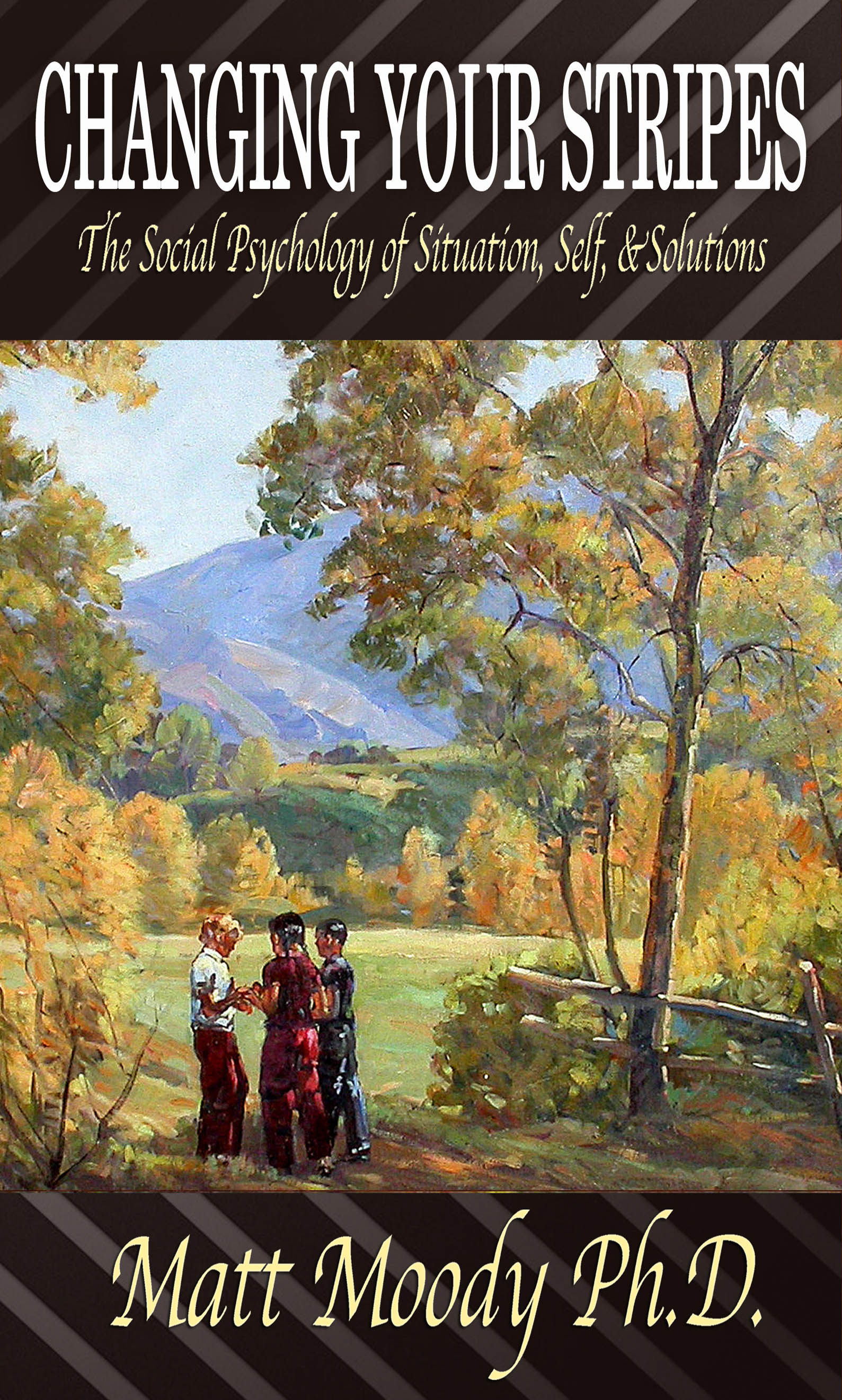 Changing Your Stripes is a
unique reference book that will help
you understand, . . . and solve all of
Life's ever-appearing problems.
Here are more reasons to buy
Changing Your Stripes


Social Psychologist & Personal Advisor